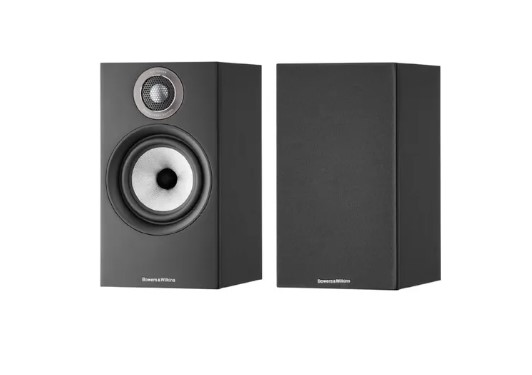 Twenty-five years ago Bowers & Wilkins launched a new line of affordable loudspeakers, the 600 series. The range has been tweaked from time to time since its inception and now B&W's latest offering is an improved 'S2 anniversary edition'.
The 607s are the smallest speakers in the line, and that makes them the most accessible. At 16.5cm wide they are easy to accommodate in any space. Although B&W recommend you use them on their STAV 24 stands to improve bass clarity and sound isolation they'll still deliver if you place them on a sideboard or TV stand. One area in particular in which these speakers thrive is the stereo-imaging; Compared to other bookshelf speakers you get a wide soundstage even with an unconventional speaker placement. Position them with care and the image is enormous! The stereo imaging can largely be attributed to the improved crossovers and decoupled double dome aluminium tweeter. With no hint of distortion you can really hear all the detail in your music, all the way up to the top of your hearing range (and beyond)! Bowers & Wilkins have pioneered R&D into tweeters, and the decoupled double dome tweeter is decades in the making, something your ears will thank you for.
Despite their relatively small stature, the bass response is very impressive. The deep bass guitar notes on Sault – "Wildfires" push through and the texturous bassline on BOP – "Insight" floods the room with warmth. According to the tech specs the speakers go down to 52Hz which is lower than offerings from some of their competitors. You'll really struggle to find something this size capable of producing such impactful bottom-end. Not only is the bass deep, but it's also dynamic so long as you position the speakers 30cm from the wall. Less expensive speakers can sometimes rumble in the low-end but the 607's are punchy. If you want an even greater dynamic range then you can perhaps consider the larger 606s, which many regard as the sweet-spot of the range, but if space is at a premium and you want maximum bang for your buck then I'd look no further than the 607s.
Aside from the words '600 Series Anniversary Edition' engraved around the tweeter, the 607 S2 looks much the same as the 2018 version. This means it features the same silver continuum mid-bass driver and an identical cabinet. Alongside the white and black finishes, you can purchase the 607 in a new and modern oak finish, which we appreciate. Contrary to what we are used to from B&W, these speakers have clean straight lines and blend in rather than stand out, just google '805 D3' or 'Nautilus' and you'll understand! The brilliant magnetic grilles neutralise the speakers into an inoffensive cuboid. On the back, and hidden from view, you'll see Bowers' patented 'flowport' reflex port which regulates the air movement in and out of the speaker. You'll also spot two pairs of metal connections for your speaker cable to plug into, you only need to use one pair of terminals, but a true Hi-Fi buff will cherish these bi-wireable binding posts.
At 8 ohms impedance these speakers are easy to pair with an amplifier. We tested them on an Audiolab 8300a and were presented by a wall of sound, but if you are in the market for an amplifier, you needn't break the bank. We'd recommend the Rotel A11 Tribute or if you want a more clinical sound then the Cambridge Audio CXA61 or AXA35 amplifiers will satisfy your needs.
Ultimately, the high-quality electrical components in the crossovers really allow the speaker to pronounce its character. The rich bass is complemented by a tweeter that really sings. If you regularly listen to music at low volumes there are better options out there with a higher sensitivity rating. I'd recommend these speakers to anyone, particularly those short on space but wanting premium speakers at a not-so premium price. Click to find your local Richer Sounds store and give us a call to see if these speakers might be what you are looking for.
Click to find out more about the Bowers & Wilkins 607 S2 Speakers.
Author: Matthew, Kingston store