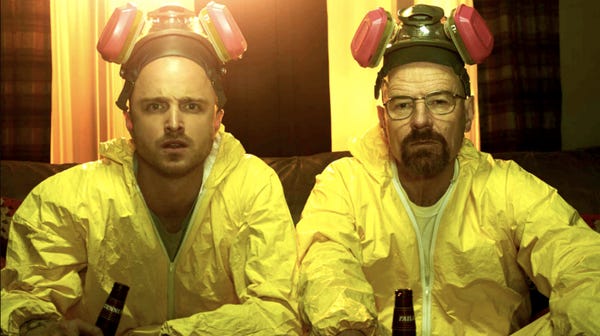 Streaming television made 'binge-watch' a household phrase, bringing scores of series (new and old) to people's homes, now easier to find than ever before. In this list, I will highlight two of the best box sets for each of the UK's top 5 streaming services. While many great shows on these services are still going, this list will exclusively cover those shows that have since finished satisfactorily, making for a complete, quality watch (we're looking at you, Game of Thrones).
Netflix:
The streaming service of choice for many, Netflix is home to many original series as well as other TV classics. Below are two brilliant binges:
1. Breaking Bad (2008-2013, Rated 18):
Perhaps the forefather of the binge-watch by being one of Netflix's earliest acquisitions, Breaking Bad follows inconspicuous chemistry teacher Walter White (Bryan Cranston) as he transforms into the ruthless drug baron known as Heisenberg. Cranston's performance is one of the finest to grace any screen, as is that of Aaron Paul playing his crime partner (and former student) Jesse Pinkman, the pair elevating Breaking Bad to stratospheric levels of entertainment, suspense, and drama. While the show can take some time to sink its hooks in, by the time it reaches its phenomenal final season you simply cannot think of anything else, making Breaking Bad into one of the best TV box sets. Make sure to also check out its brilliant epilogue movie El Camino, also available on Netflix.
2. Friends (1994-2004, Rated 12):
One of the most iconic and beloved shows ever made is available in its entirety on Netflix, with the service undoubtedly gaining (and holding) many subscriptions simply by virtue of having Friends on it. Though it will always have its detractors (anything popular does), it's impossible to ignore why Friends is so enduringly adored. The core six friends are casting perfection; each bringing a consistently flawless characterisation with spot-on comedic timing. As a box set, Friends achieves the distinction of being easy to watch in any mood while being legitimately well-written, entertaining and thoughtful, making it one of the best binges (and re-binges) around.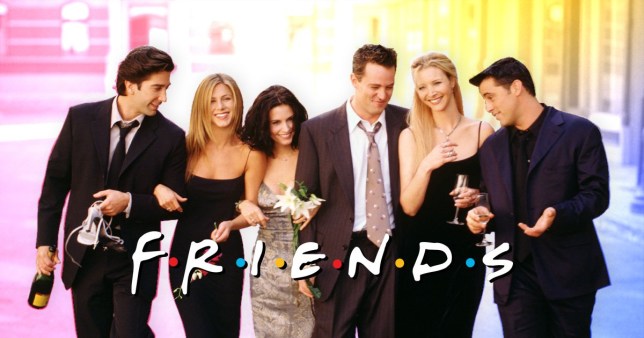 Amazon Prime Video:
Amazon's Prime Video has long offered a fantastic range of licensed shows as well as some brilliant originals. Here are two fantastic picks, included in your Prime membership:
1. Mr Robot (2015-2019, 15):
A critically-acclaimed thrill from start to finish, Mr Robot follows Elliot Alderson (played by the brilliant Rami Malek), a cyber-security engineer and hacker who suffers from extreme social anxiety and clinical depression. When Elliot is recruited by the mysterious anarchist 'Mr Robot' to help tear down a financial conglomerate, he must tackle chaos and confusion in both his own mind and the world around him. With timely themes, acute social commentary and a surprising amount of heart, Mr Robot is a techno-noir masterpiece bolstered by a career-defining performance from Malek.
2. Parks and Recreation (2009-2015, 15):
This mockumentary comedy was initially (and understandably) criticised in its first season for being too similar to The Office. Admittedly, the six-episode first season of Parks and Recreation takes a bit of trudging through, but what awaits on the other end is one of the most loveable, sincere and downright funny shows ever made, featuring a terrific cast of beloved, memorable characters.
Following the endlessly optimistic, hard-working bureaucrat Leslie Knope (Amy Poehler) as she leads her ragtag team at the Parks Department of Pawnee, Parks and Rec is effortlessly joyful, hopeful and entertaining. Much like the efforts of Knope and her crew, Parks and Rec may start a bit unsteadily but then shines brightly right until the end.
Now TV:
Those with the Now TV 'Entertainment' package are in for a treat as the service offers many of Sky's best ever shows. Below are two classics:
1. The Wire (2002-2008, 15):
A DVD box set hit before it was streaming, The Wire continues to be considered not only one of the best cop/crime shows ever made, but one of the best shows ever made period. Each season follows a different institution of the city of Baltimore, Maryland and its relationship to law enforcement, from the illegal drug trade to the city government itself. Its terrific cast (featuring the likes of Idris Elba and Dominic West) recur throughout the show, tying the societal intrigue of The Wire together with fascinating characters and consistently gripping storylines. Lauded for its themes, realistic portrayal of urban life, and its truthful exploration of how the fabric of society hangs by threads, The Wire is rightfully upheld in the pantheon of essential TV.
2. Deadwood (2004-2006, 18):
Set in the 1870s town of Deadwood, South Dakota, this ever-popular western has grown from being a 'cancelled-too-soon' cult-favourite into indispensable TV viewing. Lead by the often underrated Timothy Olyphant and the magnetic Ian McShane, Deadwood follows the true story of the camp-turned-town as its residents dream of fortune while battling the chaos of a lawless society. Though the series' atmosphere and production design are outstanding, it is Deadwood's sharp and unique dialogue and writing that elevate it into legendary status. Be sure to also check out its more recently released follow-up Deadwood: The Movie, which helps to provide much-needed closure to the open-ended finale of the original series.
Disney+:
Many shows on Disney's new streaming platform are still in their early years, but the service has some brilliant, complete box sets. Here are two top picks:
1. Recess (1997-2001, PG):
Recess is a show that I didn't realise makes for the perfect binge-watch until I returned to it a few months ago after getting Disney+. It was one of my favourite shows as a kid, and what started as watching a few episodes for the sake of nostalgia quickly turned into a series-long marathon that I already want to do all over again. Following the adventures of six fourth-graders at Third Street Elementary School, Recess tackles themes of individuality, conformity, capitalism, religion, the monarchy, the importance of teachers… I could go on. To put it simply, Recess is an extremely intelligent, funny, heartfelt exploration of society through the eyes of children, and is one of the best shows Disney has ever made. Make sure to check out its movie, Recess: School's Out, for a wonderful coda to the series.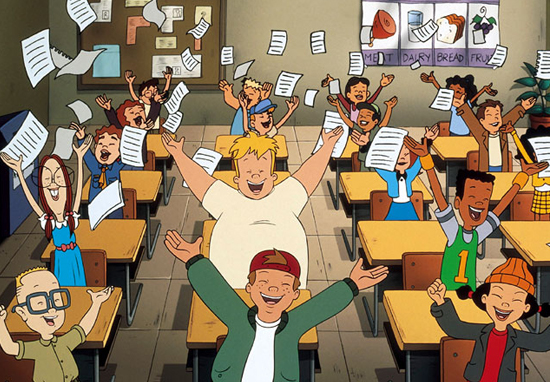 2. Gravity Falls (2012-2016, PG):
Dipper and Mabel Pines are two siblings sent to live with their strange, con-artist Great-Uncle Stan in his tourist-trap home 'The Mystery Shack' during their summer vacation. What follows is a series of mysterious conspiracies, shocking revelations and exceedingly weird creatures (and even weirder people). One of the few Disney shows that was given the luxury of a beginning, middle and end, Gravity Falls is one of the best cartoons ever produced. Its characters are relatable, hilarious and filled with a heartfelt depth, played by a wonderfully energetic voice cast. Its animation is stunning, packed with colours and designs that make the show a feast for the eyes. Its mysterious plot is gripping, the show building upon moment after moment of intrigue and playing off each idea with aplomb. You will only wish it lasts longer!
Freeview Play:
Uniting all of the UK's Freeview services (BBC iPlayer, ITV Hub, All4 etc.) under one umbrella, Freeview Play is a great tool to explore what freebies you can find without needing to dash between all the different apps. With years' worth of classics to choose from, here are two complete favourites:
1. Merlin (2008-2012, 12, via BBC iPlayer):
Though it's visually dated a bit by now, there's something so loveable about BBC's Merlin that it has stood the test of time and is fondly remembered by most and still being discovered by many. Following the young wizard (played fantastically by Colin Morgan) as he struggles with his purpose and destiny, Merlin succeeds at combining engaging character drama with well-known events in the story of King Arthur, whose transition from spoiled brat to worthy leader is played exceptionally well by Bradley James. Though the series finale has often left viewers befuddled, there is an admirable quality to its risk, evident of a show that grows and matures into something truly special as it progresses.
2. Scrubs (2001-2010, 15, via All 4):
Smart, off-beat, funny and – believe it or not – apparently the most medically accurate show ever produced for television, Scrubs is an American comedy classic and can be found in its entirety on All 4. Scrubs follows Zach Braff as hapless hospital intern J.D, whose frequent daydreams form a lot of the show's weird and wonderful surrealism as he navigates his job, life and new relationships. Featuring a cast of equally zany supporting characters all played to perfection, and with an addictive, fast-paced slapstick sensibility, Scrubs is a perfect binge-watch with a surprising amount of heart (and other organs) to boot.
What other complete box set binges do you recommend? Let us know in the comments below, or via our Facebook page or Twitter and show some appreciation for your favourite TV box sets!
Author: Tom, Chiswick store