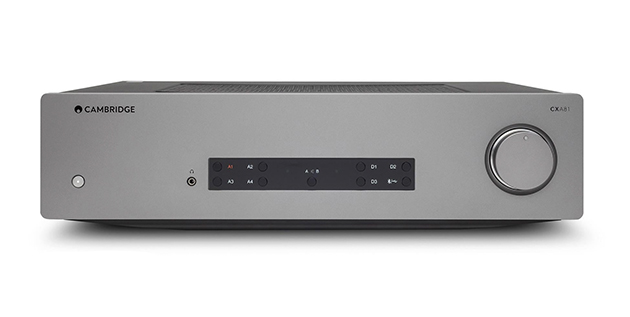 Cambridge Audio updates a crowd favourite and comes out with yet another award-winning amplifier…
Following on from the hugely successful original CX models released in 2015 the 2nd generation of Cambridge Audio's CX range of amplifiers have already created quite a splash. The original CXA60 and CXA80 received acclaim, setting a great standard for those looking for excellent quality and their successors have just scooped not one but two What Hi-Fi? Awards in their respective price brackets.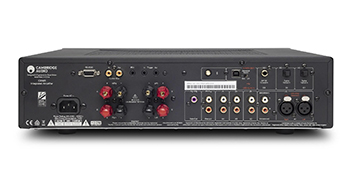 It's the more powerful (and award-winning) CXA81 that we'll be looking at today and a cursory glance as it's taken out of the box might leave you thinking that Cambridge have simply changed the colour of the front panel and added a "1" to the model number. Like the original, the CXA81 extracts 80 watts of power per channel and is capable of powering two pairs of speakers or bi-wiring a single pair. Four RCA line-level inputs and a balanced XLR input handle analogue duties along with two optical, one coaxial and a USB connection for digital feeds. However, the differences between the CXA80 and CXA81 are much more than skin deep and it's under the chassis where the improvements have been made. A "reimagined and redesigned power amplifier stage with optimised capacitor values" sits inside and the digital to analogue converter has also been upgraded to an ESS Sabre ES9016K2M which allows up to 32bit/384kHz through the USB. The optional Bluetooth dongle from before is now built in and enables AptX Bluetooth HD for a 24-bit/84kHz stream from a compatible device.
The Cambridge CXN v2 network streamer (another 2019 What Hi-Fi? Award winner) is our analogue source and after deciding to connect up a pair of Revel Concerta2 M16 standmount speakers, we're up and running with the track "Empires" by Elbow. As soon as the first few bars of music hit our ears it's clear that this amplifier means business as the drive of the rhythm section immediately gets our feet tapping. Drums are weighty and punchy whilst the full bodied organ sounds fills the room with gorgeous tones. All the while, ethereal plucked guitars flit around the soundstage going from left to right and Guy Garvey's vocals sit front and centre clear as day. This is a very confident amplifier indeed.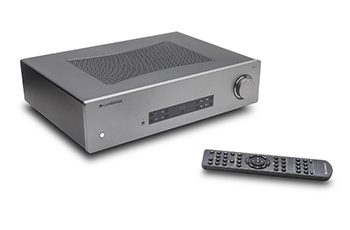 This kind of talent makes us all the more eager to see what else the CXA81 can handle so next up is the Philter tune "Robots in Motion". The combination of sweeping string melodies and various industrial and mechanical effects make for an excellent demo track as it shows how well an amplifier can pick apart the various layers whilst keeping everything in a cohesive soundstage and boy, does the CXA81 do that! Supporting all of this is the underlying sub bassline that weaker amps would lose the weight of, so you're never lost for impact and body.
Switching over to the CXA81's USB connection via a laptop means we get to try out "The Patient" by Tool with the inbuilt ESS Sabre DAC at a 24 bit/96kHz resolution. The clarity of the CXA81 is such that you get a real feel for the natural ambience and acoustics of the recording studio as the various layers of the song develop. The bass guitar is particularly well defined with the leading edge of the notes being more attacking than normal. We have to wait a couple of minutes for things to fully kick in but when they do the amp presents a massive wave of dynamics and impact for us.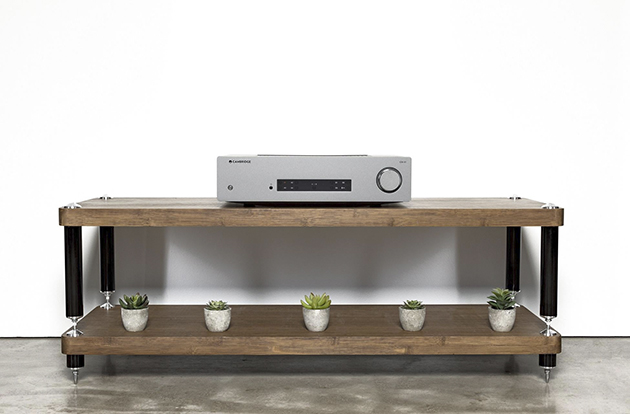 Whatever we seem to throw at the CXA81 it seems to handle everything with composure, never seemingly troubled with big dynamics or complicated rhythms. It's just so confident and controlled that we had trouble finding any track that it didn't show off. It's quite impressive that Cambridge Audio have managed to improve upon an already pretty decent product but to do so in the manner that they have and to keep it under the 4 figure mark is just the icing on the cake. If you're about to make the step in upgrading your existing equipment or you're coming in fresh to the world of hi-fi, the CXA81 represents the best value and bang for your buck so make sure it's on your shopping list when you decide to come in to your local Richer Sounds for a demo.
Learn more about the Cambridge Audio CXA81 amplifier.
Author: Steve, Bristol store