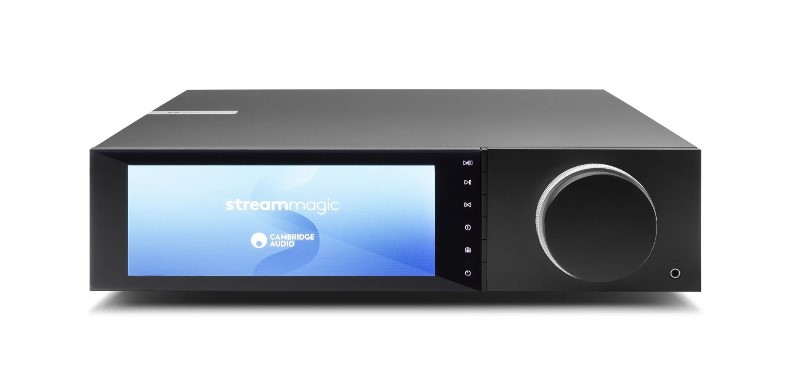 Today I've been lucky enough to get to play with the shiny new Cambridge Audio Evo 150, a new High-Res Streamer/Amplifier from the venerable British company.
I must admit to more than a little excitement at the outset of this experience. We were all quite eager to listen to this lovely piece of kit after Cambridge Audio dropped it with relatively little warning and here it is, all sharp edges and gorgeous swappable side panels. It's also got a sweet metal remote which feels delightfully and suitably solid for such a premium product.
At first glance it's a very clean and minimalist design, almost utilitarian. Two thirds of the face is taken up by a stunning 6.8 inch full colour display, an excellent evolution of the ones included in Cambridge Audio's CXN and Edge NQ streamers. The other third features a dual function control knob, the front half controlling volume with the back used for navigation of inputs and selections. This is also a feature we saw in the Edge NQ, and it's still a remarkably fluid way to interact with the software.
The Evo 150 uses Cambridge Audio's StreamMagic platform, and plays nicely with pretty much any device. Airplay, Chromecast and AptX HD Bluetooth (it transmits as well!) are fairly standard now, but add to that Spotify AND Tidal Connect alongside Roon and MQA compatibility and you've got a very solid offering for any of your streaming tastes.
It's no slouch for physical connections either. A healthy smattering of analogue and digital inputs are joined by a Phono Stage, XLR, and an HDMI port, meaning the Evo 150 can wear several hats and in a much more compact form than the multiple separates you'd require in a feature-compatible stack.
Under the hood we've got Class D Hypex Ncore (high efficiency and low distortion technology) driving 150 watts into up to two pairs of speakers, and after listening I can quite comfortably confirm that you could get away running two pairs of reasonably demanding speakers and still have a thoroughly enjoyable experience.
It's about time I talked about the important part though, namely how does it actually sound? I eagerly hooked it up to a trusty set of Monitor Audio Silver 200s and cast across Tidal, and boy was I in for a treat.
I start with Green Day's "Basket Case", and as Billie Joe Armstrong's vocals belt out I realise that this is a very special amplifier. The clarity on the lead vocal is stunning, with the instrumentation building and complimenting this in a delightful manner. It even keeps this going as the tempo and volume pick up, and I'm left very impressed.
Next I think we should push the limits, so I kick on Slipknot's "Duality" and prepare myself to get blasted. The vocals lead in a very similar way to the previous song until the rest of the band kick in, at which point I become very impressed. The sheer weight that this unbelievably small box can kick out is nothing short of superb. Even whilst I'm getting rocked back I can pick out the individual instrumentation, separated but harmonious, building a greater whole. The raw edge is maintained but doesn't compromise the detail I'm enjoying so much.
Finally I thought I'd give Lil Nas X's "Montero (Call Me By Your Name) a spin, and this was easily the best choice I could have made. The ethereal vocals really find their space to breathe, and when the instrumentation begins to harmonise I just about melt in my chair. I'm still able to pick out the phenomenal strings whilst the pumping beat thunders along, alas all too quickly it's over. Oh well, I've got time for a second listen. Maybe a third if I'm cheeky.
I'm genuinely impressed. Cambridge Audio have managed to fit everything aside from the kitchen sink, and it sounds pretty darn amazing. The neutral tone that we've come to expect from Cambridge means that this impressively small box manages to work with pretty much any genre/artist/album and still deliver a consistently phenomenal listening experience.
When you then remember that it's got a complete range of inputs, physical and digital, you realise that this is a very handy multitasker. If you're looking to have not only a high end hi-fi experience, but also a particularly fluid streaming platform and/or a replacement for your TV sound then I'd be giving this some very serious thought. I can't recommend listening to this delightful piece of kit enough, get in touch with your local Richer Sounds store for a demonstration and you'll very quickly find out why.
Find out more about the Cambridge Audio Evo 150.
Author: Ben, Brighton store