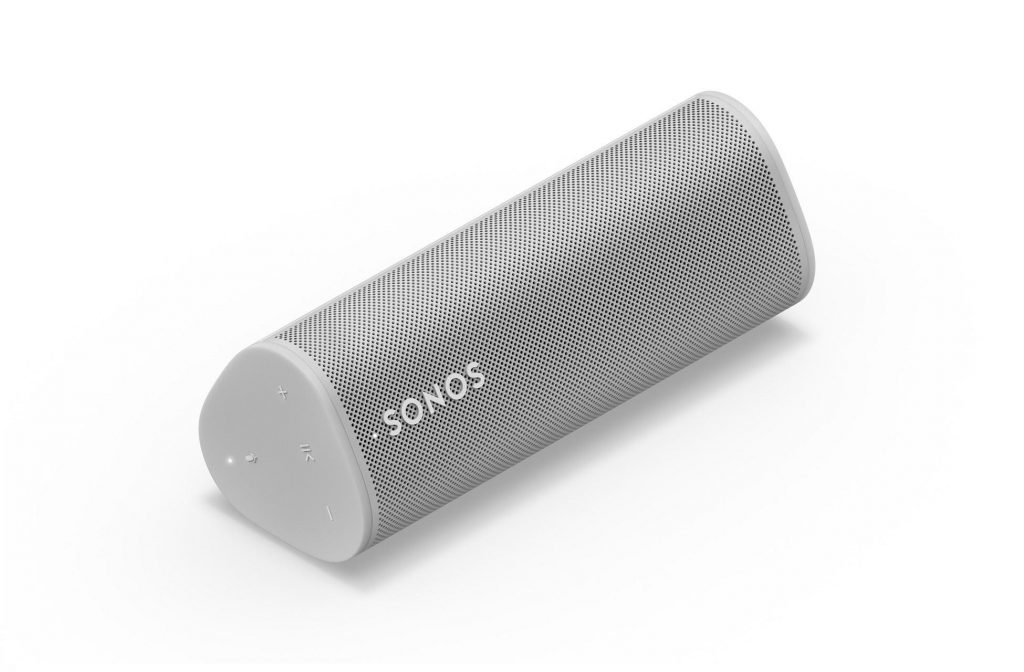 A new product release from multi-room speaker specialists, Sonos, always brings with it a feeling of excitement and intrigue. Such is the company's dominance of the ever-growing wireless music streaming market, even their smaller product launches make the whole industry sit up and take notice – and, they don't get much smaller than their very latest release, the Sonos Roam.
Which is not to say that the Roam isn't a big deal – it's a huge deal, for reasons we'll get into as we go – but physically, at least, the Roam is the smallest speaker Sonos have released to date, and for a very good reason. Whilst it may, in fact, be the second 'portable' speaker in the Sonos lineup, the Roam is the first to really aim for true portability.
That much is immediately clear as soon as the Roam is removed from its box. Measuring just 168mm in height and with a neat triangular case, the Roam is roughly the size and shape of a child's pencil case, or a large can of energy drink. It also weighs less than 500g, but it still feels as solid in the hand as any of Sonos' other products (and this is definitely a good thing). It honestly took a little while before the shock of 'look how tiny it is!' wore off, with pictures online or in print really not doing its dinkiness justice. The tidy stylistic touches of its bigger siblings also carry across, with a neat honeycomb-patterned grille and a lone 'Sonos' badge the only thing of note on the speaker's largest surface, whilst buttons to increase or decrease volume, as well as play or pause tracks, as well as access to the inbuilt microphone for Amazon Alexa and Google Assistant support, are all you'll see on the top panel.
The tiny case doesn't harm the Roam's battery life, with a solid 10 hours of playback available when fully charged. This too is straightforward enough, with a USB-C socket on the rear, making the Roam compatible with this near-universal standard (so no need to carry a proprietary plug around with you in order to charge!).
One of the biggest problems that Sonos needed to address in making the Roam truly portable is in how music is played back from devices out in the wild. In the home, Sonos uses Wi-Fi to allow streaming to its speakers, but if the Roam is to get further than your back garden, it needs to use technology that's less restrictive. Thankfully, the now ubiquitous Bluetooth is more than up to the task, and switching between Wi-Fi mode whilst at home and Bluetooth out and about is seamless – just as you'd expect from Sonos. Apple's Airplay 2 is also supported, giving those with Apple devices even more flexibility when used on a Wi-Fi connection.
So how has the move to true portability affected sound quality? Well, the good news is that, sonically, the Sonos Roam is as impressive a speaker as we could hope to hear from a product of its size. Arguably its most remarkable sonic trait is its bass performance, which defies expectations and, seemingly, the laws of physics! Playing back Electronics' classic electro hit 'Getting Away With It' gave the Roam plenty of room to shine, with tight, punchy bass that was rocksteady even as we increased the volume level to 'fairly daft' levels. Honestly, we were shocked by just how full and clear that bottom-end reproduction was for a speaker anywhere near its size, and it's certainly to the huge credit of Sonos' engineering and design team.
But it's not just the bass that's exceptional, with the Roam's stellar mid-range also drawing attention to itself in the best possible way. Velvet Meadow's 'Colored Sea' is a slice of psychedelic Americana, and the Roam's even-handed approach to the sun-soaked vocal, jangly guitars and all-round good vibes make it sound like a much larger speaker than it actually is – a clever trick, and a very welcome one. Track after track, genre after genre, the Roam's deft touch made light work of our playlists, and jaws continually dropped to hear that so small a speaker could perform to such a level.
For those who do need a bit of extra kick, two Roam's can be connected wirelessly to form a stereo pair, although this is limited to playback on a Wi-Fi network, rather than Bluetooth – although if more power is needed on the go, there's always the Sonos Move.
Taken on its own merits, the Roam is an exceptional portable speaker, one that easily sits at the very top of its peer group. For existing Sonos owners, the Roam solves a problem that until now hasn't had an ideal solution: buying a separate Bluetooth speaker to throw in your suitcase that has no means of connecting your home Sonos setup. With the Roam, that issue is now moot. Whether you're new to Sonos' undeniable charms or you're approaching (or surpassing!) double figures on zones and speakers, the Roam is an absolute must listen. Well done, Sonos!
Buy now and find out more about the Sonos Roam.
Author: Chris, Liverpool store