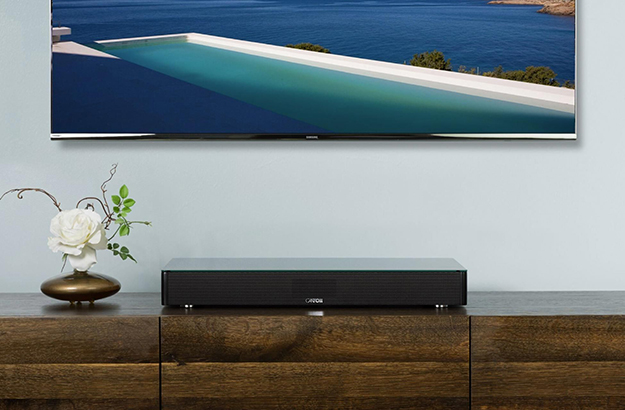 Canton can do no wrong when it comes to their DM range, with both the DM50 and DM55 being highly rated and even winning awards for their design and sound. It's been three years since the release of the DM55, so now is as good a time as any to bring a new base into the world and hopefully add to the long list of Canton's success.
First things first, if you've ever seen a DM50 or DM55 then you've seen the DM60, the design is pretty much identical. However, having said that it isn't a bad thing as the Cantons have always had a sleek and minimalist look to them that transcends most furnishing styles making it practically perfect for all, but the most art deco living rooms. If you've never seen any of those products, then you'll be excited to see a small rectangular plinth with a glass top, a small LED screen and a small Canton logo on the front.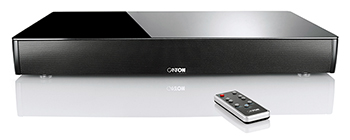 Of course, this is a sound base so you can be correct in thinking that the most important thing is sound – and you wouldn't be wrong. The DM60 improves on earlier iterations by improving on the already stellar sound quality. This means that you'll still get the perfect crispness and warmth that you'd expect, but you'll also get more of that with its improved music ability which boosts TV and Bluetooth sound and also an upgraded overall sound quality that effects all aspects of playback. 
From testing it I can safely say that it greatly improves on overall clarity in the midrange and also gives a slightly better bass response. Using Thor: Ragnarok as my test for film sound I was instantly blown away by how well it could separate the sounds of Hulk and Thor fighting, whilst also keeping the dialogue clear and concise, on top of this the sound stage was also sublime giving me a much more atmospheric and directional sound. Music wise I stuck to my old favourite "Run Boy Run" by Woodkid and listened to a near perfect rendition full with all the neofolk instruments that I've heard hundreds of times before. All in all the sound is really good and surprising for something so small and discreet.

Connection-wise it does all the basics plus a few more with Optical and Coax digital input as well as an analog 2 phono input. It has Bluetooth so you can get your music flowing, but also has a subwoofer output in case you really want to crank that bass up to 11. 
In regards to control you can use the supplied remote to control things such as Volume, Bass, Middle, Treble and whichever input you want to be on, but it also has the ability for learning remote – meaning if you have an existing TV remote you can program it to control the DM60 in a few minutes.
In my opinion the Canton DM60 is one of the best sound bases that you can get if you want something that's small and sleek, but still sounds fantastic whether its watching TV or listening to music, but why not pop in to your local Richer Sounds location to hear this brilliant sound base for yourself?
Click here to find out more about the Canton DM60 sound base
Author: Hal, Plymouth store