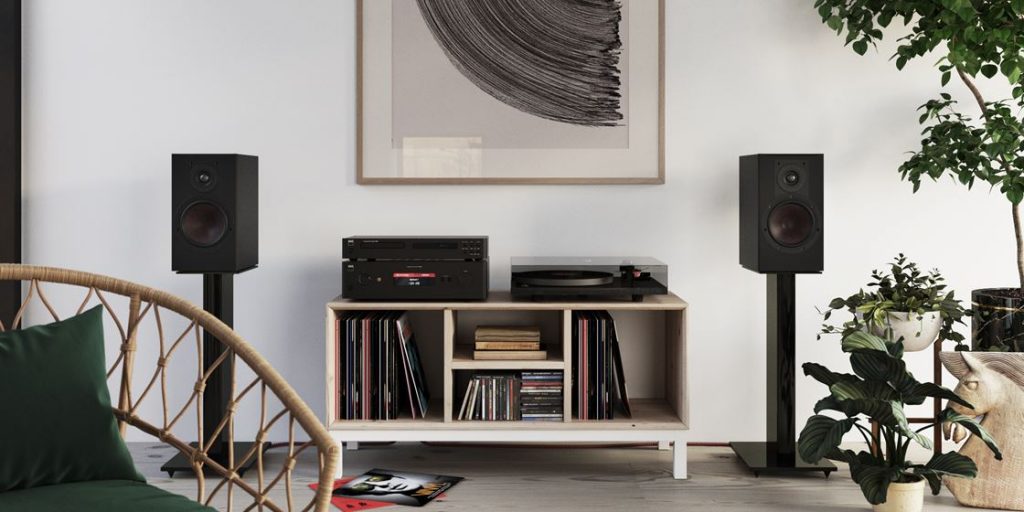 In my experience, DALI have been synonymous with a clarity and performance that few can match. They have proven this throughout their entire range from the Spektor 1 to Rubicon 6's that I have had the fortune of listening to and trialling. Every brand has traits that set them apart, for me DALI lead the way with a level of detail and performance that exemplifies the acoustics of an eclectic variety of musicians from Odesza to Coldplay.
It is with joy that I got my hands on a pair of the brand new DALI Opticon 2 Mk2 for a demo. This was my first time experiencing the bookshelf Opticons (the floorstanding Opticon 6's were my last foray into the Opticon world).
Initially I was impressed by the compactness and quality of the items, our particular models were in the Satin White finish (Satin Black and Tobacco Oak are also available). The changes from the original Opticons to this new MK2 on the exterior at least has come a step forward. They are cleaner, sharper and in my eyes more sophisticated. They still retain the charm of the wood/paper mix that makes up the diaphragm of the main driver. It's an evolutionary change for sure but one that I feel helps set them apart. This being said the original speakers were a great looking pair of speakers, it is just with this change they have been made more sophisticated and minimal, which will help them blend in to all environments.
The object of making sound is the reason they exist so after letting them run in for a few days to get them nice and ready. I powered them up.
As a bit of context for my demo I had them hooked up to a Cambridge Edge NQ and Power amp connected with RumorX cable.
My taste in music is wide and varied,  so this has given me a sizeable range of tracks to test them with.
I started with "It's Only" by Odesza, This is a heavily complicated track with bright notes playing amidst vocals and a deep bass line – so quite synthesized. The DALIs allowed me to hear all aspects of the track without any one facet overpowering the other. It is truly absorbing, pushing the 6 1/2″ driver and soft dome tweeter to new heights with each phase of the track. I used this track because I felt it a natural starting point for this speaker's potential.
They did not disappoint.
It is a testament to any speaker to cope with a heavy array of tones being produced at once, sometimes speakers can get muddled and confused leading to the end product being a bit of a fuss. For these speakers to cope the way they do and offer a superb sound from a small package (W195 x D297 x H351) is an exemplification of how well built and designed they are. It is also worth noting that these speakers are assembled as pairs – by this I mean they are built in tandem so that each speaker can be matched as close to each other as possible. Similar how Nissan tailor each gearbox in a GTR so each one wouldn't work with another car, the same principle with the speakers. For speakers at least it means they are acoustically balanced as a pair.
It is all well and good putting on a track that I know would be more suited but how do they cope when you put them slightly out of their comfort zone? For DALI I find that to be more rock based music, luckily growing up with this as much as food I know what I am listening for. I started with "Panama" by Van Halen, a true classic by all means. It is similar in a sense that it is a complicated track but this time it will be pushing the speakers in a different direction. The intense guitar solos which ebb and flow on a dime should show any shortcomings of the breadth of the driver, but I am proven wrong. The DALIs cope with this as if it is a walk in a park. The flexibility gives me real confidence to drive them. Part of this is down to DALI pinching the tweeter from their flagship Callisto speaker series allowing for higher power handling and lower distortion. This is noted particularly in the mid-section of the track where the guitar drops down and matches the base line. To maintain the separation of the instruments is a feat that again highlights how well the tweeter and woofer work together. As far as being out of their comfort zone is concerned, I am incorrect here. They have shown that they are more than capable of challenging my prior conceptions of what this brand can offer.
As a bookshelf speaker for either your Hi-Fi or TV surround system, these are amongst the best I have experienced with the overall flexibility, clarity and drive that shouldn't be possible with speakers of this size. Their only limitations come from the bass response not keeping up in some instances but this is more a limit of the physical size of the cabinet not of the speakers themselves. Floorstanding variants, the 6 and 8, would undoubtedly take this same quality further, for me personally I would have no qualms in having these in my setup. They are a joy to listen to and it is not often that I smile from hearing some of my favourite tracks perform this way – the way they were intended to be heard.
To find out if these would suit your setup at home do not hesitate to give your local Richer Sounds store a call!
Click to find out more about the DALI Opticon 2 MK2 speakers.
Author: Tom, Bath store