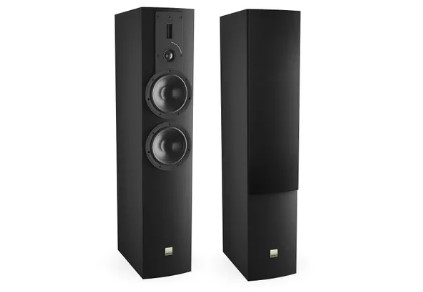 It's not every day you get a chance to play with such fantastic equipment, so when I had the opportunity to try out the DALI Rubicon 6 BLACK EDITION speakers I didn't hesitate, especially as I'm already enamoured with the original Rubicon speakers.
These are a revision of the well-regarded Rubicon 6 floorstanding speakers released in 2014, updating a few key features and giving them a delicious new all-black finish which looks unbelievably slick in person. The Dali logo in gold is a lovely contrast to balance out the otherwise dark design.
They're still a solid set of mid-sized floorstanders, with a curved aesthetic helping to minimise their intrusion into your space, and wood fibre cones as is the Dali tradition. As before they're using two larger drivers on the front in addition to a hyrbid tweeter system which uses both a dome AND a ribbon tweeter simultaneously, whilst around the back are two bass ports and bi-wire speaker posts for all you power amp enthusiasts.
The cabinets feel solid and sturdy, which is good as these look like they'll be throwing out some serious heft, and the included grilles are nice but with speakers this gorgeous I'd highly recommend leaving them off as it would be a crime to cover up their slick design.
But what's new here other than the paint job, I hear you cry? Well under the hood the Black Edition speakers feature a new crossover design using capacitors from the legendary Mundorf, and high quality silver cable wiring throughout the speaker. In theory this, combined with Dali's hybrid tweeter setup, should lead to unbelievably crisp and detailed top ends which balance against the lower end heft of their well respected traditional drivers.
I eagerly set the speakers up, and to drive them I'm running a Cambridge Audio Edge NQ preamp into a Cambridge Audio Edge W power amp, using Audioquest Rocket 88 speaker cable, with music streamed from Tidal using Chromecast.
I begin with Snarky Puppy's "Atchafalaya", a live recording with plenty of detail and layers. Immediately I'm blown away by the clarity and weight these speakers deliver. The separation means each instrument in the orchestra feels like an individual but harmonious component you can follow through the piece. The sharp tight high end really works with this unique hybrid tweeter design and shows what it can do given the opportunity to run.
Next up is Rage Against The Machine's "Guerilla Radio", and these really show their punch from the get go. An unbelievable amount of weight is assaulting me as the other instruments move along to the heavy rhythm, controlled but particularly strong. Even with the anger driving Zack de la Rocha's vocals the Rubicons manage to stay on top of things throughout, and I'm never left wondering if they could be going further.
Finally I move on to Pendulum's "Propane Nightmares (Grabbitz Remix)". The sense of clarity and rhythm continues here beyond anything you'd normally expect from speakers of this size. I am again impressed by the layering, and those paired tweeters really help in allowing you to fall into each constituent component as it weaves into the song. The sense of space is unparalleled, as I found myself absorbed into the music.
Overall these speakers delivered an incredible amount of crystal clear clarity, backed up by a detailed mid range and a bottom end that seems to go on and on far deeper than many speakers I've had the pleasure of trying.
Coming from the older set these feel more refined, the performance has been carefully tuned to maximise the capability of these already phenomenal speakers. I found them to be more incisive, with a greater sense of separation and detail than the previous versions.
Here's the catch – these are a limited edition, less than 1000 pairs produced and when they're gone that's it. So if you're interested, don't miss out on an opportunity to get a truly spectacular set of speakers, call your local Richer Sounds store and find out more today!
Learn more about the DALI Rubicon 6 BLACK EDITION.
Author: Ben, Brighton store