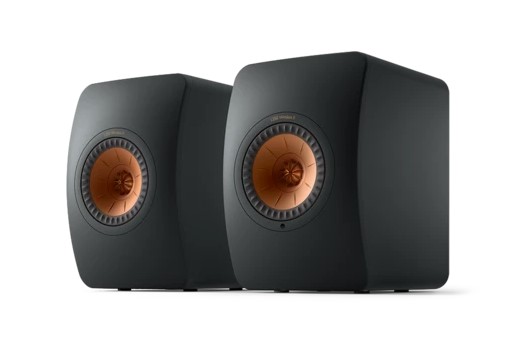 KEF recently released the new LS50 Meta speakers and with them the new LS50 Wireless II. With roughly four years passing since the release of the original, KEF has certainly taken their time to get this right. Join us as we see whether they do enough to justify a purchase over the hugely popular original.
The main talking point about these new speakers is something on the inside. KEF have developed a new absorption material for damping the internal resonance of these speakers. They've named it Metamaterial Absorption Technology (or MAT to its friends) and are making some bold claims about its ability to remove unwanted sound reverberating around the speaker's cabinets.
Alongside the new MAT, there's also a debut for the 12th generation of the hugely successful Uni-Q driver array which KEF has pioneered. Uni-Q integrates the tweeter into the body of the mid-bass driver for tighter integration of sound and better imaging and we're excited to see what improvements have been made to a classic.
As powered speakers there is no need for an external amplifier or pre-amp so everything goes on inside the cabinets. This includes two 100W A/B class amplifiers for the tweeters and two 280W class D amps for the mid/bass drivers adding up to some serious sonic performance. This is controlled by KEF's Music integrity engine which is a digital signal processor sending the right signal to the right amplifier and aiming to deliver better imaging and a tighter all-round sound.
Of course, for any one/two box speaker system the control system is key, and KEF have started again with the new KEF Connect app which replaces the KEF control and KEF Stream used to power the original LS50 Wireless. While these apps delivered a great sound and feature set, we always thought it odd that they were split in two meaning the need to switch back and forth for full control. Happily, this has been rectified here.
Also new to the party are Apple Airplay 2 and Google Chromecast support for the widest possible music array. They enable streaming from many apps outside the KEF ecosystem such as Soundcloud and Apple Music. There is Spotify Connect, Tidal Connect, Qobuz, Deezer and Amazon Music support too. Tidal is fully supported including Masters tracks in MQA file type for some of the best audio quality around. It's an impressive selection and certainly rectifies any issues we had with the previous version. Software can make or break a product like this, and KEF has really nailed it here.
When we get our hands on the new LS50 Wireless II and start to set them up, we find a familiar design on the outside. The LS50 have a beautiful, eye catching design which is created to lower diffraction in the speakers. The perfect marriage of design and performance. There are some nice little touches like the matching driver colour and rear port or special too. On the back there are a selection of inputs for anything from a TV to a CD player to a turntable. The main change is the addition of a HDMI port for easy use as a TV speaker with control through the TV remote.
Setup is easy via the new KEF Connect app and we are up and running playing back Tidal Masters tracks from our phone. We start with the new self-titled Working Men's Club album which is a real bass challenge for standmount speakers, but we needn't have worried. The sound staging is exceptional and a huge improvement even on the original Wireless model. The new MAT seems to deliver the added bass control and distortion masking we were promised as bass is punchy without dominating the sound. Tracks are delivered with exceptional timing and room filling sound. You could add a subwoofer, but we don't think this would be necessary for most people.
To summarise, these KEF speakers are an improvement in every manner over the originals. This is saying a lot considering the LS50 Wireless revolutionised the wireless speaker market and have spawned a host of imitators. However, KEF has responded in the best possible manner by marrying improved audio technology with every technical improvement we could imagine. The greatest of them all being the decision to make them operate individually from each other for wireless operation.
We think these would be an incredible solution for the music lover who is limited in terms of space or who just wants an easy one box system but with stereo sound. While they're not 'affordable' in the traditional sense, they do deliver exceptional value for money considering they are a complete audio system ready to satisfy even experienced audiophiles. If you want to try these speakers out for yourself, why not enquire with your local Richer Sounds store today?
Click here to find out more about the KEF LS50 Wireless II speakers.
Author: Robert, Brighton store