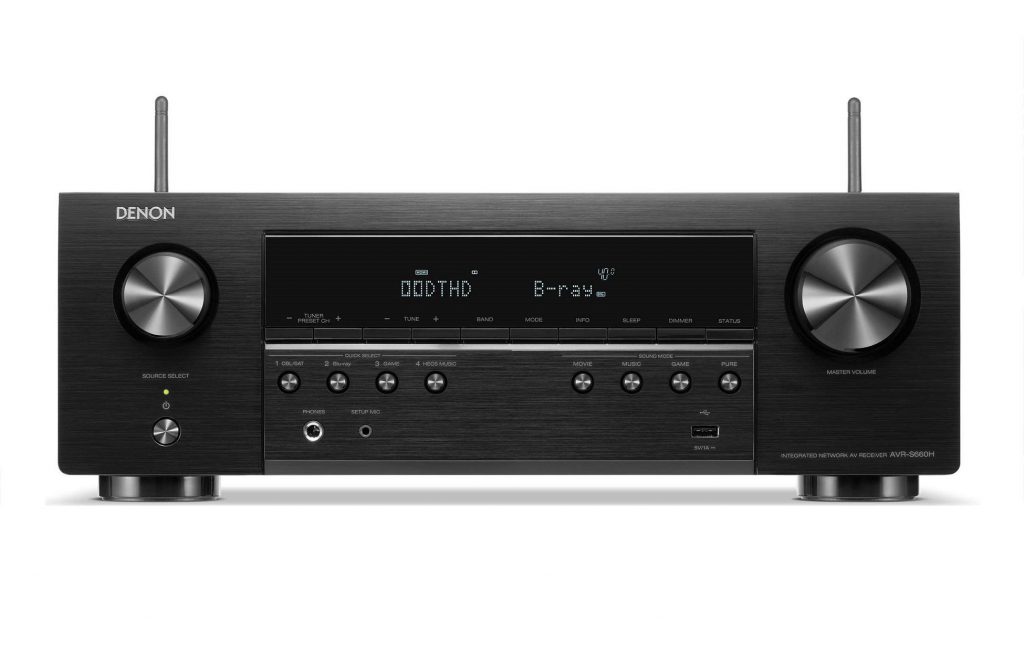 "Yes sir, we do happen to have a unicorn in the back, or available for delivery". This is a statement that has, at times in the last year or so, felt more realistic than having AV receivers, the cornerstone of a home cinema system.
Parts shortages and the twin demons of Covid and Brexit (remember that?) have all combined to create a trifecta leading to mounting shortages and pre-order lists mounting into the literal hundreds. HOWEVER, Denon have managed to, at least for the time being, fill a massive hole in the AV receiver area… with their budget entries, the AVRS660 and AVRS760.
Neither receivers are constructed to the same build standard as the 2700H range and above, however they're not light on features. Both receivers have the ability to deal with the most current HDMI and HDCP standards including all the acronyms you could want to shake a cable at (ALLM, VRR, QFT, 8K).
They are also both capable of providing you with three-dimensional Dolby Atmos sound as well. Admittedly the 660 is only capable of 3.2.2 (front speakers and height channels only) whereas the 760 is capable of 5.2.2… more than enough for the average living room.
Running a 5.1 system however – the benchmark for surround, the 760 (the one used to test the range) is happily capable of producing 'virtual' Dolby Atmos and/or DTS:X via some clever circuitry and processors. Is it as accurate of a virtual reproduction as items higher in the range? No… but as a budget entry it's a fantastic feature to have included.
Unfortunately where the range does suffer a little bit more is on musicality. As you may have guessed, the range is seriously geared towards cinematic features and being outfitted with the latest and greatest 'future-ready' technology. Whilst both entries have the same excellent multi-room HEOS functionality as the rest of the Denon and Marantz range, they don't quite hold up on stereo imaging as well as others can.
Even when playing a higher resolution track via Tidal or an FLAC file for example, the imaging can feel 'static' between the left and right channels and not create the most accurate soundstage. If you can sacrifice the Atmos features and don't need every HDMI feature going – the Marantz NR1510 may be a better bet for you and in a slimmer package to boot. If you really need all mod-cons and don't want to sacrifice your music, then you may want to look at the Yamaha RXA series instead (review here)
With cinema however, you'd be hard-pushed to find a better pairing for a sub-sat package or smaller 5.1 speaker set, such as the Wharfedale DX2SE, or the Monitor Audio Bronze series (complete with Bronze AMS Atmos speakers if you wish). You can still set-up easily with the included calibration mic, making the system as plug-and-play as possible, once you've sorted out your cable runs of course.
The amp keeps these smaller and more sensitive speakers in check whilst keeping effects precise and the soundtrack engaging and focussed, even at higher volumes. Higher quality, less sensitive or even larger speakers might end up running away with the amp a bit more, but there's higher echelons in the range to help keep up here such as the Denon AVRX3700.
Overall, these surprise additions to the AV receiver range are a welcome addition to the series, sure to help modernise existing set-ups, replace older/sadly dead units, or simply for those starting off on their home cinema journey.
Find out more about the Denon AVR range. Or contact your local Richer Sounds store today to arrange a demo.
Author: Tom, Cardiff Store