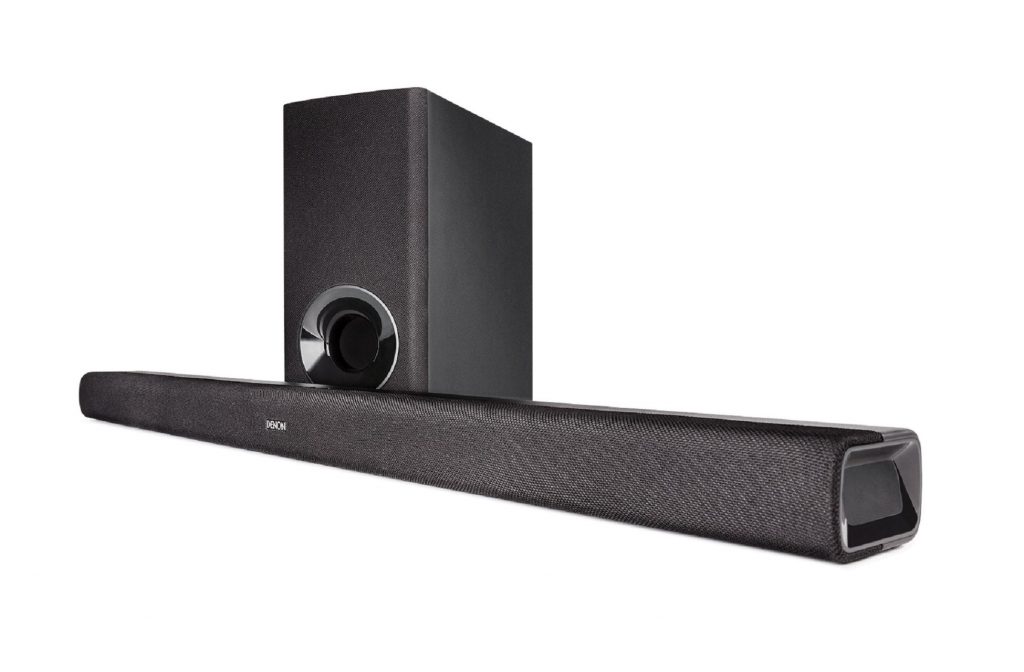 Year on year, televisions continue to improve in almost every way. From picture quality, to the range of Smart content, all the way through to screen size for the price, each new iteration brings many worthwhile improvements. The one area that almost always fails to impress, however, is sound quality, with the vast majority of screens on the market simply too thin to give anything close to the room-filling, cinematic feel that big screens demand.
The obvious answer to this lacklustre audio conundrum is the humble soundbar. Far from a budget breaker, a good quality bar needn't cost the earth, and there's plenty of options out there to suit any and all TV sizes. The Denon DHT-S416 is one such soundbar.
A slim and thin soundbar with a separate, wireless subwoofer, the Denon DHT-S416 is an easy choice to match to TVs of any size, but probably works best with screens from 32" up to 65". Connectivity is plentiful, with physical sockets for HDMI ARC – allowing the soundbar to be controlled by compatible TV remotes – optical and 3.5mm jack for older devices.
There's plenty of wireless connectivity choices too, with Bluetooth, WiFi-compatibility and built-in support for Google Chromecast. This last option is a hugely welcome addition to a soundbar, particularly at this price point, allowing the user to listen to Hi-Res audio streams from your device of choice. Add in support for an enormous amount of streaming services, from Tidal, Amazon Music and Spotify, to Google, Youtube Music and Qobuz, there's not much the DHT-S416 can't stream from!
But it's likely as a TV audio booster that the DHT-S416 is most readily deployed, so, with trusty HDMI cable in hand, we hooked up the S416 into a 55" TV, whose speaker system was nothing out of the ordinary, and set about testing the differences.
It was apparent within about 4 seconds that there was absolutely no competition! The Denon DHT-S416, with its front-facing stereo speakers and solid amplifier, enunciated all dialogue with a precision and clarity that the TV couldn't hope to match. No matter which of the three 'Dialogue Enhancer' modes we used, hearing those tricky to decipher passages in TV shows and movies was a breeze, and the Denon proved superb value for money on that basis alone.
From a cinematic perspective, the DHT- S416 again showed that any TV would struggle to keep up with its fine performance. Using the 'Movie' mode button on the supplied remote, the subwoofer and bar had an excellent balance that made movies come to life. That bottom end that TVs in general simply can't provide, was there in full force, making the soundtrack to blockbuster 'Ready Player One' sound simply bombastic. Seriously, performance was way above the Denon's price tag, but also, and most importantly, sonically matched the TVs screen size to give a much more 'Home Cinema' vibe.
Switching to audio streaming, the success story continued, and allowed us to test the differences between the 'Music' preset and the 'Movie', which gave us a better sonic balance for music (unsurprisingly!), reining in the bass somewhat and sounding a bit more cohesive when listening to our music via Qobuz. The stereo configuration, plus the matching subwoofer, made this a brilliant little performer, and it wouldn't be a poor choice purely as a 2-channel audio system for those with limited space. The fact that it can double up as a TV speaker par excellence becomes a massive bonus.
So there we have it: a sensibly-priced soundbar from one of the very biggest and best brands in the biz, and it's a cracking bit of kit. Anyone after a large boost in sound quality without the large dent to their bank balance would be absolutely well-advised to audition this super soundbar!
Learn more about the Denon DHT-S416 soundbar.
Author: Chris, Liverpool store