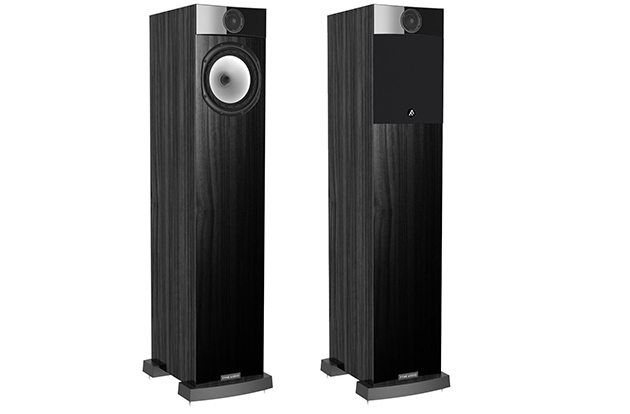 Industry newcomer Fyne Audio delivers yet another hit product in the form of the entry level F302 floorstander.
When it comes to speaker brands Fyne Audio won't be the first name that springs to mind for most people, but that's because they're a new name that launched their first products in 2017. Formed by former employees of Tannoy, the new Scottish marque has plenty of pedigree and experience in the industry and decided to enter the hi-fi fray with three different ranges. The F302 floorstanders are the company's entry level model and sit below the mid-range F501 and flagship F1 series. Both the F302 and F501 have received glowing industry reviews so far from What Hi-Fi?.
A new product arriving at Richer Sounds is always cause for excitement but when it's a completely new brand it's extra special so we're more than a little giddy unboxing these new speakers. Simple and unfussy in their aesthetic, the general build quality of the wood veneer is pleasantly neat. The slightly curved front panel sees a 25mm polyester dome tweeter housed in a gloss black strip at the top of the cabinet, whilst a 15cm multi-fibre mid/bass driver sits below. Magnetic grilles protect the main woofer and two plinths attached to each speaker's base provide stability without dramatically increasing the slim footprint.
Unlike most floorstanders that might house two or more woofers, the single unit on the F302 means that we're not presented with an overly booming sound when we first let the speakers loose in our demo room. This is somewhat reassuring as bass can be a bit tubby and ill-defined on entry level floorstanders, but what the F302 sacrifice in low end they make up for in spaciousness and control. A quick spin of Etherwood's track "Unfolding" shows a snappy treble; it's especially prevalent on the smooth drum track and the melody of the synth that floats above them. The soundstage isn't quite as big as some competitors but these aren't speakers that are designed to fill a large space as is evident by their two way design. They're also a little less sensitive than other products and need a little tweak from the volume dial to get them really singing, otherwise some instrumentation or vocals can feel like they're hanging back in the mix.

More aggressive songs such as rock music don't always benefit as much from the subdued low end though, sometimes making the F302s clear top end sound a little brash so you need to be a little careful not to use a similarly characterised amplifier. Using the new 2018 album "Revelation" from UK rockers Reef, the AC/DC-esque opening track is a perfect example of how the washy and sibilant top end (in this case from the cymbals) can be a bit overbearing if not tempered by a warmer, smoother amp. The new Arcam SA10 that we used seemed to work nicely and were a better option than the Cambridge Audio CXA60 that we often use for entry level speakers.
It's seems slightly odd to say this of a floorstander, but these particular speakers are better suited to smaller rooms and to those looking for clarity and timing rather than a powerful bass response. Providing these caveats are fulfilled, you can look forward to an accurate and detailed presentation with a controlled if not overly punchy low end. If this sounds like what you've got in mind then why not arrange a demo at your local Richer Sounds store?
Click here to learn more about the Fyne Audio F302
Author: Steve, Bristol store