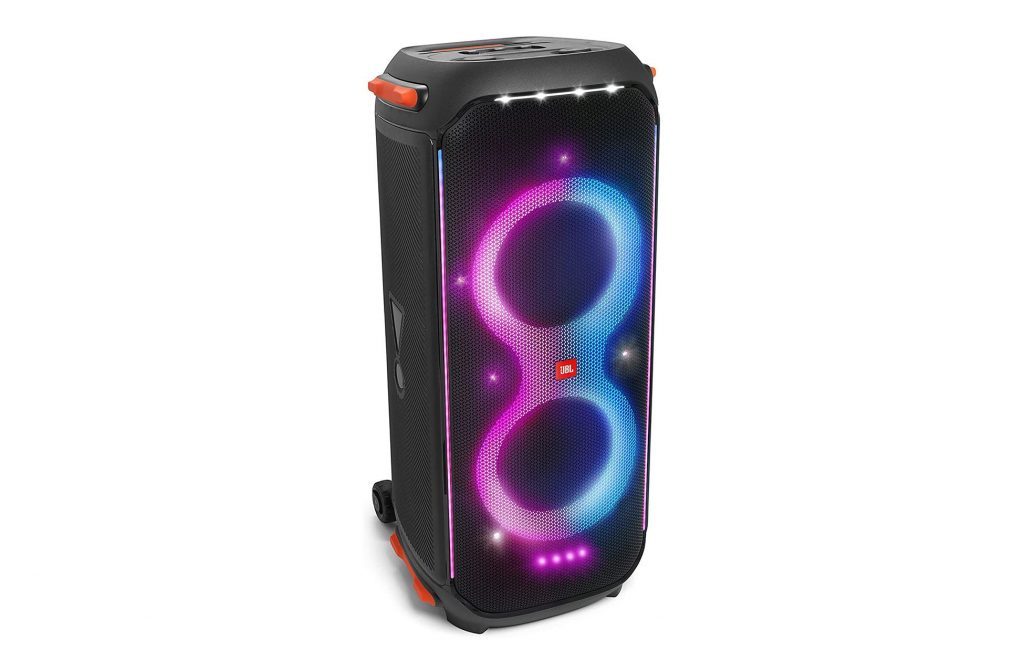 JBL is a legendary name in the audio industry. A regular fixture in cinemas, clubs and recording studios around the world, it is one of the best-known speaker brands in the business. With such unrivalled heritage, we were excited to hear about the PartyBox 710 'wheelie speaker'. Could this impressive box of tricks bring club-sound to your home? Read on to find out what we think and whether it lives up to JBL's sky-high reputation.
The JBL PartyBox 710 is the second most powerful speaker in the PartyBox line-up and crikey do you notice it. One look at the speaker's packaging is enough to let you know that this speaker means business, and that's before you pick it up. This really is a two-person lift!
Once the unit is out its box, however, the speaker is thankfully much more manageable to move about. It has a chunky integrated handle and sturdy wheels on the bottom to drag it along to your next party. Its size and durable build let you know that this speaker is all about party fun. Power up and the speaker comes to life, with JBL PartyBox's signature lighting display. The lights synchronise with your music and, using a rotary control on the front of the unit, you can select from a multitude of patterns and colours, as well as switching them off if you want – but why spoil the party.
For those who want more, you can always add a second speaker and create a stereo pair. Now you'll have enough power to bring the party to a small village! Pairing the speakers is as simple as pressing and holding the Bluetooth button, finding the 710 in your Bluetooth list, and pressing 'Pair'.
As well as pumping out party tunes, this big JBL is just as happy for you to get involved. Two microphones or a single mic plus guitar can be plugged in, making this speaker perfect for intimate gigs or loud and proud karaoke. Download the PartyBox app and take your DJ skills to the next level, courtesy of the customised DJ effects and equaliser.
After the excitement of unboxing and power-up light show, I couldn't wait to hear just what this big JBL is capable of. The first track was 'On My Knees' by Rufus Du Sol. This track has a thunderous bassline, expressive vocals and epic sounding synths, which play to the PartyBox's strengths to perfection. The sheer scale of sound cannot be underestimated; it had the ceiling tiles rattling in the shop! Despite all the muscle, the mid-range vocals and top end are smoother and more focused than you might expect.
The next track up was 'Off The Ground' by Sub Focus. This is a song with energetic percussion and fierce, rasping horns. Once again, the PartyBox 710 doesn't disappoint. You could argue that there isn't much finesse to the way the 710 hammers out the lower frequencies, but when you're buying this kind of product, you're not shopping for the last word in delicacy, you're looking for something that's going to get everyone on their feet and party the night away. Aren't you?
Finally, after almost wanting to start throwing shapes on the shop floor, I put on the slightly more relaxed track, 'Backwards', by Lil Silva & Sampha. Straight away, the vocals are strong and there's good separation between instruments. The overriding sound is still one of impact and heft, but it's pleasing to hear that the PartyBox can still have a lighter touch when called for.
My lasting impression is that the PartyBox 710 doesn't take itself too seriously. It's about fun, it's about volume and, above all, it's about making people enjoy themselves. It's an honest product that doesn't pretend to be anything other than a party-pleaser. For that, I can wholeheartedly recommend it. Give your local store a call today to book in a demo, and hear for yourself how you can get the party started.
Author: Aaron, Bournemouth Store