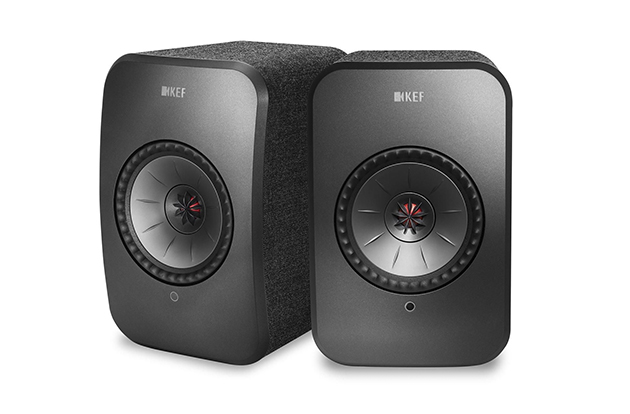 KEF shrinks the award-winning LS50 Wireless speakers down, and they still pack a punch!
KEF is a name synonymous with hi-fi. The company traces its routes right back to 1961 and was founded by a chap called Raymond Cooke. Their initial headquarters were based in Kent in a Nissen Hut on the premises of Kent Engineering & Foundry, hence where the name KEF was born. Fast forward to 2019 and KEF has built up an incredible reputation for being one of the best manufacturers in the history of the loudspeaker itself.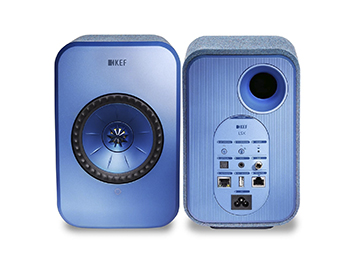 Distilling the decades of experience KEF has at their disposal, we arrive at the brand new KEF LSX active speakers. I should stress calling these 'active speakers' really rather sells them short, as the LSXs are so much more than this. Removed from their beautifully designed boxes the KEF's greet you with exceptionally high levels of fit and finish, gorgeous good looks and high attention to detail.
The finish reviewed here is black and this colour really gives these KEFs a classy look and feel, especially with their cloth wrapped sides and silver accented bass drivers off-set with red tweeters centrally mounted in the bass drivers (more on this later). As these are Wi-Fi enabled active speakers they do require setting up. Initially you simply plug one speaker into the mains and repeat for the other, no wires between speakers here! KEF have made these a true wireless pair of active speakers using a 2.4GHz proprietary wireless technology. The LSX speakers are available in more 'traditional' black and white finishes, but they also come in bold red, blue and green finishes that allow them to blend in (or stand out) no matter what your taste is.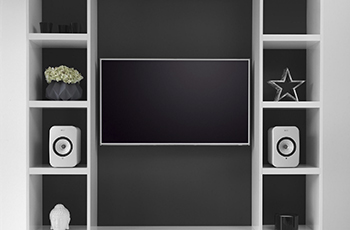 The LSX are a wireless streaming speaker at heart and this requires connecting to your broadband via Wi-Fi or ethernet. To set these speakers up you are required to download two apps, one called the KEF Control app and the other called the KEF stream app. Within the Control app you have adjustment over sources, settings and adjusting the built in DSP which utilises KEF's clever Music Integrity Engine which they say helps the speakers deliver transparent bass with great extension, while reducing distortion. Sounds very, very interesting! The speakers have just about all the connectivity one could need, a digital optical, 3.5mm auxiliary input, and aptX bluetooth. Of course Wi-Fi streaming is at the heart of these and their main design purpose but it's nice to have plenty of options.
Now enough about the details, what really matters is how they sound and I am extremely pleased to report that they sound fantastic! They deliver authority and scale that you'd expect from a much larger speaker. At their heart is the UNi-Q driver array which mounts the tweeter in the throat of the bass driver. This radically improves stereo imaging making the music sound clearer and more life-like, whilst also widening the 'sweet spot' in the listening area.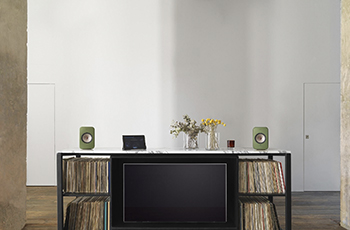 Listening to the mesmerising "One Another" by Joe Hertz and it's immediately obvious the KEF's talents are there for all to hear. The start of the track is very delicate and shows off the LSX's excellent subtlety. As the track continues and turns more complex the KEF's take it all in their stride, handling large scale bass like much larger speakers. I really wasn't expecting these baby KEF's to have the bottom end response they have, it's really quite remarkable!
Onto another track by Disclosure called "Masterpiece". Once again the LSX's really keep an astonishing grip of this track, with a big, open soundstage giving this track the room it needs to breathe. Bass is once again kept under control with perhaps a slight lack in outright depth but that's where the handy subwoofer outlet comes into play allowing you to add an active sub should you want more boom!
Overall the KEF LSX are a standout speakers that really demand a listen, so please feel free to pop by your local Richer Sounds store and give them an audition!
Click here to learn more about the KEF LSX speakers
Author: Aaron, Cambridge store