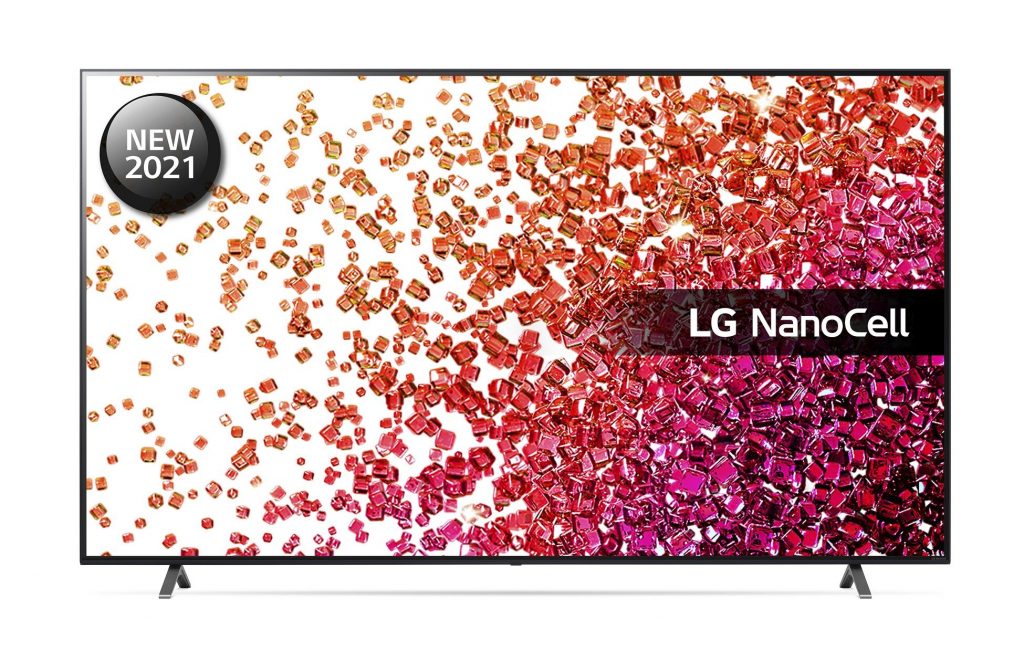 Where once a 42 inch plasma TV was more than enough for most people's living rooms, TVs now have taken growth hormones with sizes available up to 85 inches and above. While that may seem extravagant for some, a 75 inch TV is becoming a lot more attainable with prices falling and quality improving all the time. Today we look at one of LG's new models for 2021 looking to take excellent picture quality to a whole new price point thanks to it's Nanocell technology. Join us as we find out how the LG 75NANO756PA stakes up.
The first thing which stands out with this TV is the huge screen size. 75 inches has really entered the mainstream as an option over the last couple of years thanks to falling costs and the Nano756 leads the charge in this regard. The headline feature here is the Nanocell technology which offers a wider colour spectrum, enhanced colour accuracy and wider viewing angles than a traditional LCD panel. Nanocells provide a filter which blocks subpar colours to provide a punchier picture than cheaper rivals. The overall effect is to deliver a more true to life image which brings HDR content to life.
Speaking of HDR or high dynamic range, the Nano756 is one of the first TVs to deliver HDR10 pro. This is a new standard of HDR developed by LG which automatically adjusts brightness and colour for the best possible image. We're excited to see how this improves on normal HDR content and how it utilises the Nanocells of this particular model.
On top of these flagship features there's also filmmaker mode for viewing content just as the director intended. This turns off any post processing on the TV to give the truest picture possible. It's a nice option for movie buffs who don't want to be fiddling around in settings too often. There's also Dolby Atmos sound when connected to a compatible soundbar or surround sound system via the eARC port on the back. These features coupled with the cinema-esque 75 inch screen size really deliver on the promise of 'home cinema'.
LG also includes the other new features of the 2021 range of smart TVs such as the new Magic remote, WebOS 6 smart system and dedicated voice control buttons. These have all built on many years improvement in the user experience of LG TVs and made the whole experience even smoother.
When we come to getting our hands on the 75 inch model we have to recruit the whole store to help remove the packaging. It's certainly not a job for one! We fit the included plastic feet and set it in position. These provide a sturdy base for the TV without being too complex to fit so overall we're fans of the minimalist look. Start-up is a breeze thanks with WebOS 6 and after a few minutes entering passwords and login information we're up and running.
We fire up BBC iPlayer for a look at A Perfect Planet in 4K HDR. This is one of our favourite picture demos thanks to the sweeping vistas and close ups of the natural world. We're deeply impressed with the punch that LG have managed to deliver at this price point. The colours really pop out of the screen thanks to the Nanocells and HDR10 pro technology, certainly performing above some of the more affordable TVs on the market.
Next we switch to highlights of England final match at the European Championships, not the result we wanted but the highlights are displayed in incredible details thanks to the 4K panel and the Quad core processor 4K which cleans up fast moving images such as sports highlights. There are very few trails behind quick motion and it certainly doesn't distract from normal viewing.
We also check out performance from a freesat signal being fed into the TV via an external tuner. While this doesn't deliver the same punchy image as a 4K HDR signal, it still springs out of the panel thanks to the Nanocell colour filtering.
All in all, we think LG are really onto a winner here. For a TV of this size and at the current price point it delivers an incredibly bright punchy image which stands head and shoulders above cheaper rivals. The fact that it comes in a 75 inch really opens up the possibility of using this as a home cinema screen too for the most immersive experience. This is definitely a model we can recommend as worth a few extra pounds of your money. To see for yourself just what makes it so special, why not contact your local Richer Sounds store today to arrange a demo?
Learn more about the LG 75NANO756PA TV.
Author: Robert, Reigate store