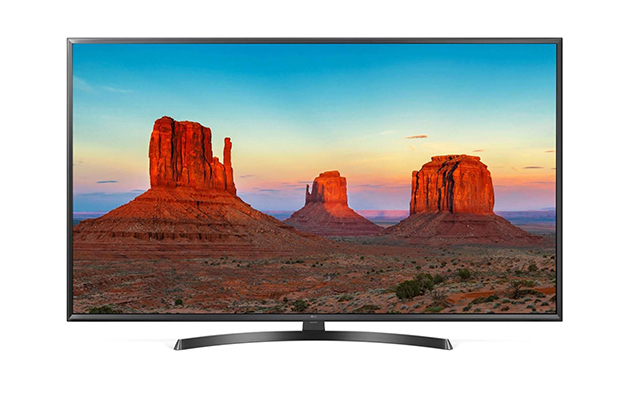 New for 2018, the Korean giant delivers its entry-level 4K UHD TV sets with the UK6400 range.
LG made a big splash in the premium TV market with their pioneering OLED screens over the last few years but there's a lot of competition in the AV world, especially in the 40"+ category. Can LG challenge the market leaders in giving you the most bang for your buck?
For a few years now, LG have started their 4K TV ranges at 43" which meant that you got a little more screen size flexibility for your money. As the variety of TV sizes has reduced, LG have bridged the gap a little more effectively than some by going from 43"to 49" rather than 40" to 49". It's a nice size that allows you to get some good detail from your 4K content but doesn't show up too much of the fuzziness of SD content. Also available in 49", 55" and 65", the UK6400 features a Freeview HD tuner, 4K resolution with HDR10 & HLG compatibility and the highly acclaimed WebOS smart hub platform for your streaming needs.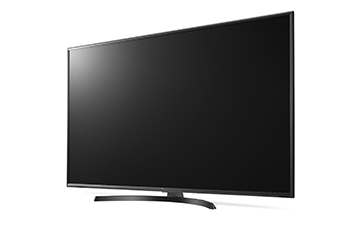 Using the 43" as a test model, we're soon through the clear and concise set up process and connect up a Panasonic DPUB320 4K Blu-ray player to take a look at X Men: Apocalypse. We watch Magneto being confronted by the Polish Militia and there's reasonable detail on his face as they tensely face off. It's noticeable that some TV brands with brighter panels eke out a little more detail in the dark shadows of the trees and bushes. However, although this difference in contrast levels was very evident on the 2017 LG panels, it's definitely improved for this year's panels. The UK6400's IPS panel gives you a nice, warm and watchable picture that means you're not likely to suffer eye strain from over-zealous panel lighting. Although there are plenty of picture options, we found that sticking with Standard mode with some tweaks to the colour temperature worked best in bright areas such as the shop floor. In darker environments however with the lights relatively low or off you may want to try out Cinema mode as although it's less vibrant, textures and naturalness are very good.
Streaming a bit of BBC iPlayer for normal TV content shows that the drop in detail is handled well and although we dropped the judder control down a couple of notches to avoid picture noise in scenes that had fast motion, the UK6400 produced very acceptable regularity to its panning and motion. Noise on standard definition content is there but it's on about par with others at this level on screen.
The inbuilt speakers at the bottom of the frame do a very good job of articulating dialogue and presenting dynamics. You can toggle between half a dozen sound presets and get a little more excitement out of what you're watching but as with any modern TV, it would definitely benefit from having dedicated audio equipment attached to it to get some real sense of scale and weight.
As has been mentioned before, the WebOS smart platform continues to be one of the easier ways to access your on-demand content. The tabulated bar across the bottom of the screen is a nice mix between being stylish and easy to use and contains all your favourite apps and shortcuts for channels and settings. You have buttons on the remote for quick access to Netflix and Freeview Play is integrated into LG's on screen program guide, allowing you to scroll back over the last few days to find the content that you want to catch up on.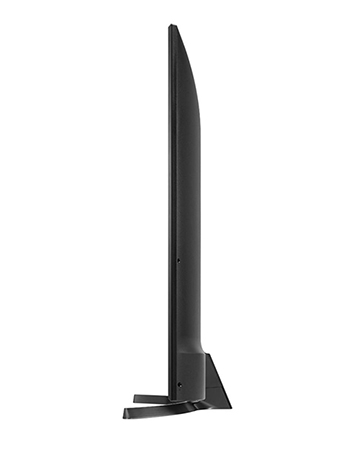 There are also welcome extras such as Now TV and Sky Store making the catalogue of apps wider than a lot of other Smart hubs. We absolutely love using the multi-screen option where the screen splits in half and allows us to continue watching content whilst browsing the web for example.
It's worth mentioning that the majority of LG's Smart TVs will have the company's new ThinQ AI system installed for voice commands but you need a 2018 smart remote to use them (which needs to be purchased separately for the UK6 series) as you speak your commands into the remote's inbuilt microphone. We didn't have one available at the time of testing this TV out so look out for future LG reviews to hear what it's like.
So, if you're looking for the best Smart hub and a very respectable picture then LG should definitely be on your list on options to check out at your local Richer Sounds store.
Click here to learn more about the LG UK6400 TV Range
Author: Steve, Bristol store