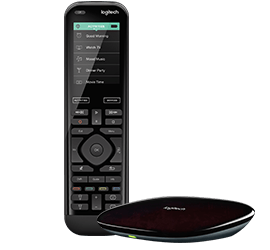 Universal remote controls rarely have the spotlight shined on them by the AV industry's press. However, with a wider range of equipment available to use in our homes than ever before, an all-in-one solution to the increasingly large pile of remote controls in our living rooms is surely a no-brainer.
Logitech have always been big believers in the concept and execution of the universal remote. Their 'Harmony' range of remotes and accessories have long been seen as a benchmark in the custom install sector, and those of us that do make use of their products have always found reasons to recommend them. They have combined years of experience with a cutting edge take on home connectivity with the Harmony Elite.
Capable of working with anything from TVs to thermostats, CD players to curtains, the Harmony Elite is a true one-stop-shop for the home. Featuring a 2.4″ full-colour display, as well as an array of physical buttons, the Elite can mirror almost any electrical device that can be operated by a remote control or across a network. Even older products or those with very specific buttons can be programmed, with individual codes available for hundreds of thousands of components, and a learning facility for the rare occasion that the Elite doesn't have a corresponding option. All told, the Harmony Elite can help to do away with up to 15 remote controls in the home, and there's nothing to stop the use of multiple remotes for different rooms or areas.
Macro functionality is one of the Elite's main attractions, giving the user control of an entire room or system at the touch of a single button. By grouping your devices together this way, you can truly do away with even the slightest hassle for those who are less technology savvy. Using the supplied 'Harmony Hub', you can even control devices that are tucked away behind doors or in cupboards, keeping everything neat and tidy in the process.
The Harmony Hub's compatibility with Smartphones and tablets offers an even greater level of convenience. Simply download the Harmony app and you can turn your Smart device into an additional controller. Not only that, the Harmony app allows you to program 50 of your favourite TV channels in its registry, making channel surfing easier than ever. It even lets you check your devices are switched off properly when you're not at home, too!
Feel free to pop in store for a free demonstration!
To find out more about the Logitech Harmony Elite, click here.
Author – Chris, Liverpool Store