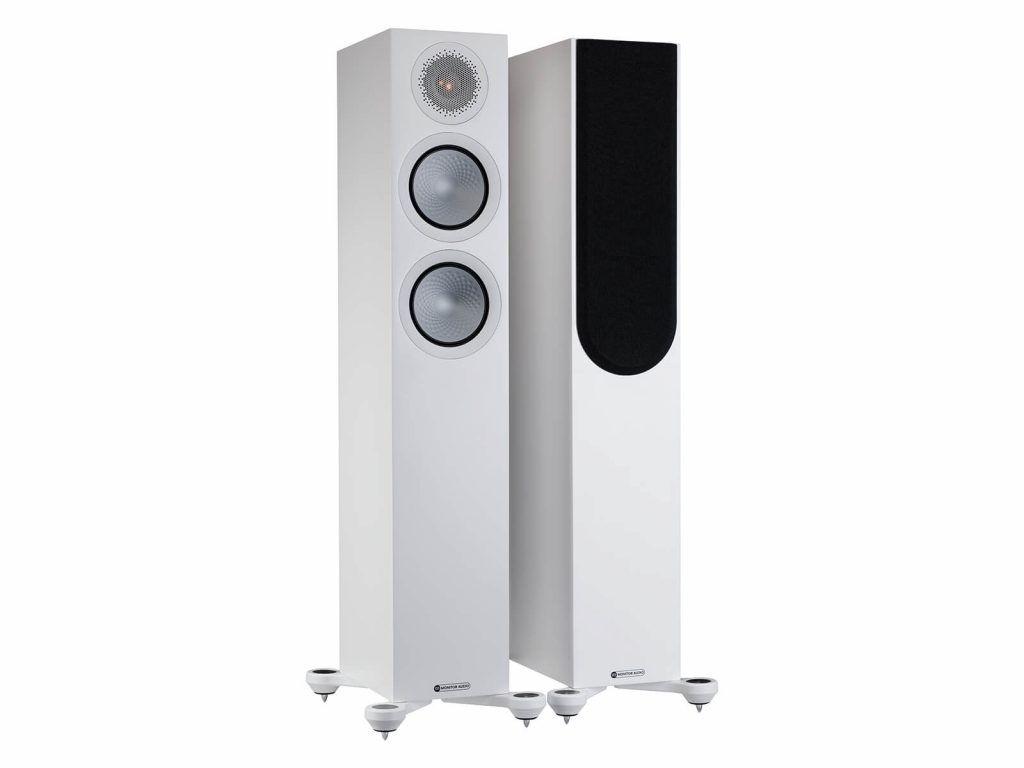 It's always a tricky decision – do you get floorstanding speakers, even though you're worried about their size? Or do you get standmount speakers because they're smaller – then end up with the same footprint because you need them on stands?
Floorstanders have the reputation of being massive 'boxes' and for the most part… they are.
However, Monitor Audio have just released the 7th generation of their Silver series. Sitting solidly in the middle of their range, the Silver series offers a fantastic range of speakers, from the petite Silver 50's to the room-dominating Silver 500's.
Coming in at less than 25cm wide, and less than a metre tall, the Silver 200's are discrete enough to slip in next to TV stands, Hi-fi racks or tricky shaped rooms, without losing their sonic 'scale'.
In keeping with their borderline lifestyle design, is the range of finishes, from gloss black, satin white and the range of real wood veneers (as opposed to wood grain vinyls found on most contemporaries). Alongside this, the magnetic grilles keep the fascia of the speakers free from any unsightly holes and cover up the full driver assembly.
The outrigger feet come assembled ready to place on hard floors, but spikes are included if you're placing them onto carpets or rugs.
In keeping with the idea that these speakers will probably be placed close to the wall, for this demo we've set them up without the port bungs in, and 30cm away from the wall.
The dual ports are in place to achieve fast, responsive bass, but if it gets too boomy in your particular setup, you can seal one or both of them with the supplied bungs.
To give them a good workout (following a suitable burn-in period), we immediately run a movie through them via the Arcam AVR20.  2018's Aquaman might not be the most complex of plots, but sonically it can still challenge a speaker set up with plenty of motion, bassy hits in combat and soundtrack.
The speakers manage to stay clear and precise without getting overwhelmed, and even in a stereo set up, manage to keep up with dialog without losing clarity of voice or even tones.
They would benefit from the addition of a subwoofer, either the paired Monitor Audio Silver W12 or REL TX7, to reach some of the truly room-shaking depths, but for everything outside of subsonic, the speakers manage well in smaller to medium size rooms without feeling lost.
The same precision carries across musically as well. Monitor Audio are prized for their mid-range accuracy and the Silver 200's are no exception. Happy with everything from jazz to Pet Shop Boys, the speakers stay detailed without edging into fatiguing territory. The bass stays controlled without ending up muddy, even in tricky placements, but the cabinet still stops it from getting to truly expansive bass depths – which may present an issue in larger rooms.
Find out more about the Monitor Audio Silver 200 speakers. Or contact your local Richer Sounds store today to arrange a demo.
Author: Tom, Cardiff Store