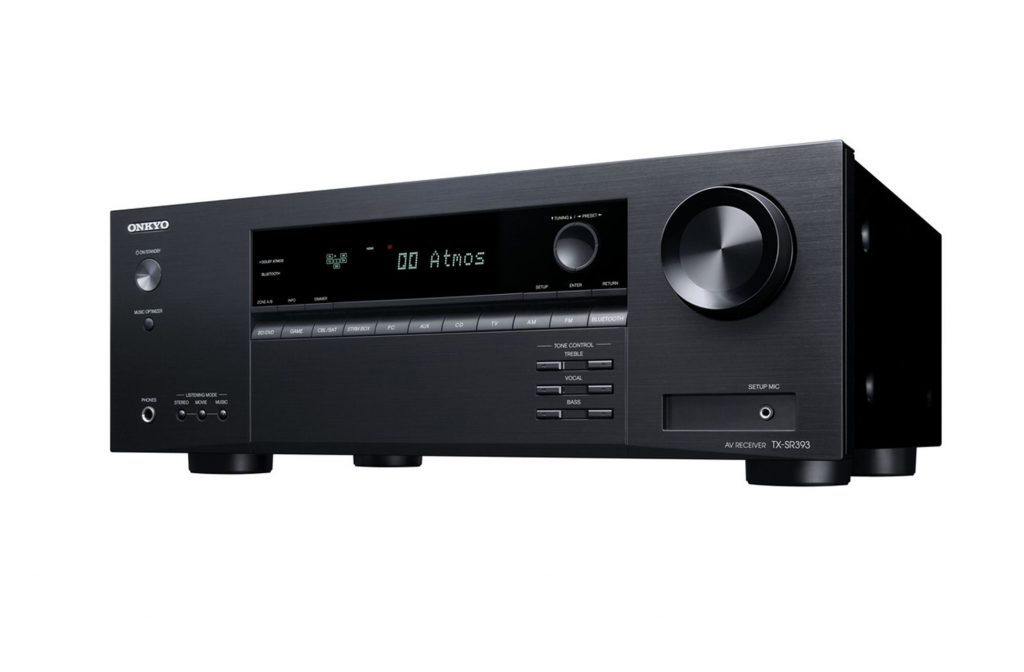 Having managed to skirt the words 'cost of living crisis' for several reviews now, it falls to finally write about Richer Sounds' INFLATION-BUSTING MEGADEALS. Doubtless, most VIP members and visitors to the store have managed to come across the phrase emblazoned across a range of products – but what about the deals for home cinema and sound tucked away?
The Onkyo TXSR393 is one such deal, being of the lowest-cost, genuine, standalone AV receivers on the market (even without the VIP discount), you would be forgiven for expecting a cheap build and low spec, but this couldn't be further from the truth. The unit may not be gold-plated, or more realistically, equipped with some top of the line DACs or specialist class amp, it has been carefully designed so that what it DOES do, it does well.
Being able to deal with Dolby Atmos and DTS:X (including the clever, DTS Neural X programming to upmix non DTS signals to include height channels) means you have the option to for genuine Atmos at a low price – even more of a no-brainer if you don't want to run cables to the back of the room for surround sound. The amp can run a full five channels, meaning your choice is split between a 5.1 system, which it runs admirably, or a 3.1.2 system – sacrificing surround sound for height channels instead.
Onkyo have even managed to include their AccuEQ room setup mic at this price point. It might lack the accuracy of Yamaha's YPAO set up which their range includes, but it's still a nice feature to have at this level, and definitely saves a whole lot of faff. This review was written listening to the TXSR393 running Monitor Audio Bronze 200 floorstanders, matching C150 centre channel and Bronze AMS upward firing speakers, which sit nicely on top of Monitor Audio's Bronze floorstanding range (or cleverly on the Bronze 100's if on stands).
Whilst quoted at 'only' 80 watts of power per channel, thanks to Onkyo's use of discrete circuitry in the amplifier, this still manages to feel clean and controlled thanks to the thoughtful engineering, ensuring that even watching fight scenes in Aquaman (there are plenty), the amp doesn't give the impression that it's running too hot and struggling.
Weapons clash and ring whilst water rushes around overhead and rumbles in below with the amp keeping impressive timing throughout. Does it lose out to the similarly specced AVRS760HGB from Denon? Maybe in the realms of control, but it's hard to argue with the Onkyo's more exciting, brighter sound at this level.
Musically, the amp has sacrificed network streaming in favour of cost. In a higher cost unit, I'd be annoyed, but the inclusion of Bluetooth just about rescues it. Bluntly, I would be happy with the TXSR393 running Spotify, Internet Radio and lower subscription levels of some of the premium services below FLAC levels, as it lacks the support needed to do them justice, but you can always connect a network streamer, such as the Audiolab 6000N if you're intent on this being your hifi as well at a later date.
The stereo soundstage feels a little stilted with a clear definition of left to right, with the Advanced Music Optimizer for improving compressed music sources managing to knock away some of the rough edges, but alone is far from a genuine hifi amp.
At this price point – the TXSR393 is basically untouchable as a cinematic solution. Whether you're entering the realm of home cinema for the first time, or need to get an older set up working again.
Author: Tom, Cardiff Store