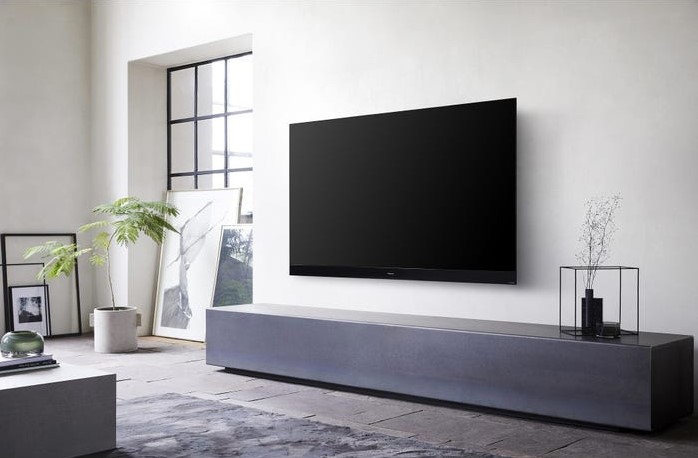 Looking for a solution to your lack of space for home cinema? Panasonic might have just the TV for you. The 65HZ2000B promises to deliver an OLED panel with matching Dolby Atmos enabled speakers system. Join us to find out whether it lives up to the hype.
The HZ2000 is designed as a one box solution to all your home cinema needs. It packs one of the best OLED panels on the market for the pinnacle of visual fidelity and partners it with some of the best built-in home cinema speakers around. It's perfect for those with limited space or looking for the sleekest possible AV system. It's an interesting idea for separating themselves from the competition and we're intrigued to find out how it comes off.
For the HZ2000, Panasonic hasn't simply picked an OLED panel off the shelf. The model used in the HZ2000 is referred to as a MASTER HDR Professional Edition because of the calibration undertaken in the factory. This squeezes every last ounce of performance from what is already one of the best panels on the market. The results are a higher peak brightness and incredibly accurate colours for incredible HDR performance, even compared to other OLED TVs. We think this would be great for those enjoying regular HDR content or even planning to use it for gaming or picture editing as it should look top notch with very little tweaking.
To build on that professional grade panel, Panasonic has also included a number of clever technologies to further enhance the viewing experience. These include Filmmaker mode which turns off all the processing which the television does, giving you the most true to original picture possible. There's also a variation of this called Netflix Calibrated which really makes those moody scenes in Stranger Things pop. This has resulted in a Netflix recommended TV badge which isn't seen all too often. Perfect if you can't wait to sit down with your next box set.
Of course, this TV will really come to life with movie watching. Here Panasonic has chosen to use Dolby Vision IQ and Dolby Atmos playback in combination for that movie theatre experience. Vision IQ uses the ambient light sensor in your TV to adapt the picture on your TV on a frame-by-frame basis. No more searing brightness in a dark room or squinting at a darker scene on a sunny Saturday afternoon.
Dolby Atmos comes in the form of playback from the integrated Netflix app or through the internal TV speakers. These aren't just any old TV speakers though. These are an array of Technics tuned surround sound speakers mounted underneath and behind the TV to create a 360 soundscape according to Panasonic. In practise this means an integrated soundbar-like array underneath the TV and a rear mounted Atmos speaker firing sound over the top of the set. This is one of the most impressive looking sound systems we've seen on a TV and should be a great solution for those without space for a dedicated home cinema setup.
Once we get our hands on the 65HZ2000 we find setup a breeze thanks to Panasonic's easy step-by-step guide. Even once we've plugged in our Wi-Fi and tuned in our aerial the My Home Screen 5.0 interface is simple and responsive. It features Freeview Play for access to seven day catch-up through the TV guide and the majority of UK catch-up services through dedicated apps. There's also Netflix and Amazon Prime for binge watchers and YouTube too. While it might not be the most complete smart system on the market, it certainly delivers all the most popular options.
We start by checking out The Witcher on Netflix to try out the Dolby Vision and Atmos combination. We're suitably impressed with the punchiness of the colours and depth of field even in the darkest scenes. When Geralt is attacked in the remains of a campsite we only see the monsters at the last minute but when they arrive we see every gory detail. The Atmos soundtrack is what really sets this TV apart though. When presented with a busy town square we hear the background noises spread all around us in such a way we could have been fooled there were actual speakers there. Detail is picked out nicely and even birds flying past sound real thanks to the up firing Atmos speakers. We really were blown away by the quality of the performance simply from a standalone TV sound system.
To summarise, the Panasonic 65HZ2000 is one of the best TVs on the market thanks to it's calibrated display for incredibly accurate, punchy colours and it's incredible integrated sound system. The smart features are no let down even if some other manufacturers are pushing the boundaries more. The presence of HDR10+ support for Amazon Prime content is especially welcome as some alternatives don't offer this.
All in all, we'd happily recommend this TV to anyone considering a new television but especially those looking for surround sound quality performance without the added speakers. This could be great for smaller spaces or simply those looking for a sleeker layout. The colour calibration also makes this a great gaming TV or even for light photo editing. To find out more, why not contact your local Richer Sounds store today?
Click to find out more about the Panasonic TX65HZ2000B TV.
Author: Robert, Brighton store