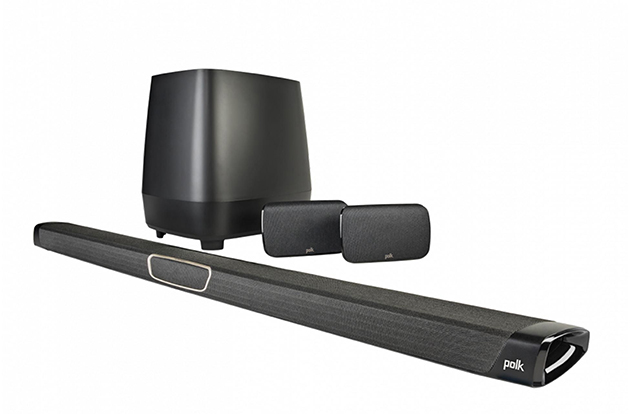 Polk's latest soundbar delivers big surround sound thrills in a slick package.
Working here for some time, I have seen many a customer upset to see their beloved 5.1 surround sound leave the home in exchange for a sound bar, and in previous years' sound bars just haven't cut the mustard, and if they did they cost upwards of £1000, which wasn't to everybody's taste…
Well, times have changed as they tend to do in the exciting world of home AV and it's now possible to add a wireless surround sound to your home for far less than £1000, which is why I'm here to discuss the Polk Audio MagniFi MAX SR.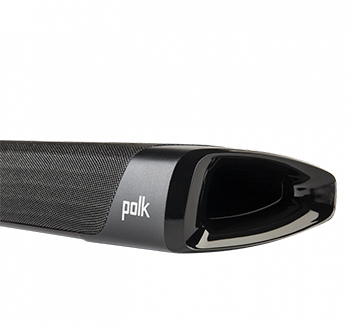 While many sound bars aim to mimic 5.1 surround, they often only feature the bar itself and maybe a subwoofer. Well, the MAX SR is different, as it features physical rear speakers, a sound bar and a subwoofer. Once combined, the MAX SR can produce a dedicated digital 5.1 sound without the need for filling your home with cables and cutting holes in your walls. Hallelujah! The Polk MAX SR is no entry level piece of kit, it's for serious movie watchers who want the full cinematic experience in their home.
Using Polk's own SDA digital surround technology, which promises to create an expansive "multidimensional" sound experience, the MAX SR fills every inch of your living space with sound. The bar itself is a long but quite sleek bar that acts as your front left right and centre channel speakers. The subwoofer is not for the faint hearted I might add; its not the smallest sub in the world, but then again good ones never are. It is wireless and can be put anywhere in your room, needing only a mains connection.
The rear speakers once charged can be placed behind you as a temporary fixture, or you can take advantage of the very handy universal satellite speaker attachment on the rear and set them up permanently. For example, we have them on dedicated speaker stands plugged in to the mains in our demo room to save us having to charge them every few days.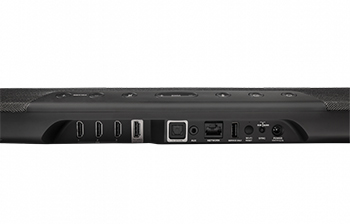 The MAX SR isn't short of any connectivity either. A quick glance around the back and you can find a dedicated HDMI 2.0 HDCP 2.2 4K-ready HDMI output as well as three HDMI inputs, meaning the MAX SR can act as a dedicated AV unit, should you wish to run any of your sources directly though it rather than your television. I would recommend using the HDMI ARC function should you wish to take full advantage of the Dolby Digital surround. Whilst there is also a dedicated digital optical connection, this may not be able to send though the full amount of information required for surround sound.
Should your television be slightly on the older side, there is also an analogue 3.5mm alternative, but if this is the case, I would strongly suggest upgrading your television to best maximise the performance of this bar. The MAX SR also benefits from the Google Chromecast built within the unit to take advantage of wireless music you can send over your private network, along with a more traditional Bluetooth Apt X option should you or any friends and family wish to pair their devices to it and take advantage of wireless audio. As you would expect the Polk can fire your music around the entire room which is great for get togethers and parties. It also means you don't have to invest in a second sound system for music.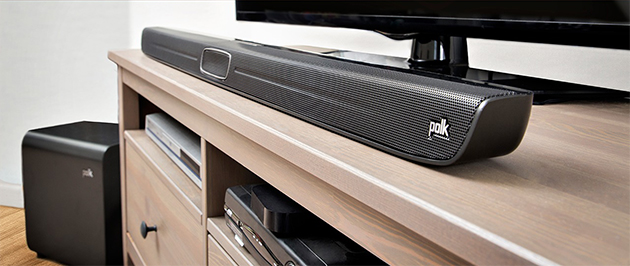 Once rigged up we set our bar up though our Oppo UDP203 4K Blu-ray player and opted for the new Spider-Man: Homecoming movie.
The MAX SR certainly ticks a lot of boxes. I was very impressed with the sheer power that such a small bar can offer. The surround speakers, although quite small, offered punchy detail that left me giggling with excitement. The subwoofer as expected is incredible. should you be fortunate to live out in the sticks or in a detached home you can really shake the house down with it. With no regards for our poor neighbours, I had everything cranked up to max and as far as I'm concerned I may as well have been sat listening to a full AV system… it's a really impressive unit.
If you're a little sceptical about trading in your old AV system, or are looking for a great way to get immersive cinema sound without the hassle, then please feel free to pop on down to your nearest Richer Sounds location and we can give a you a full demonstration!
Click to find out more about the Polk Audio MagniFi MAX SR soundbar and wireless speakers.