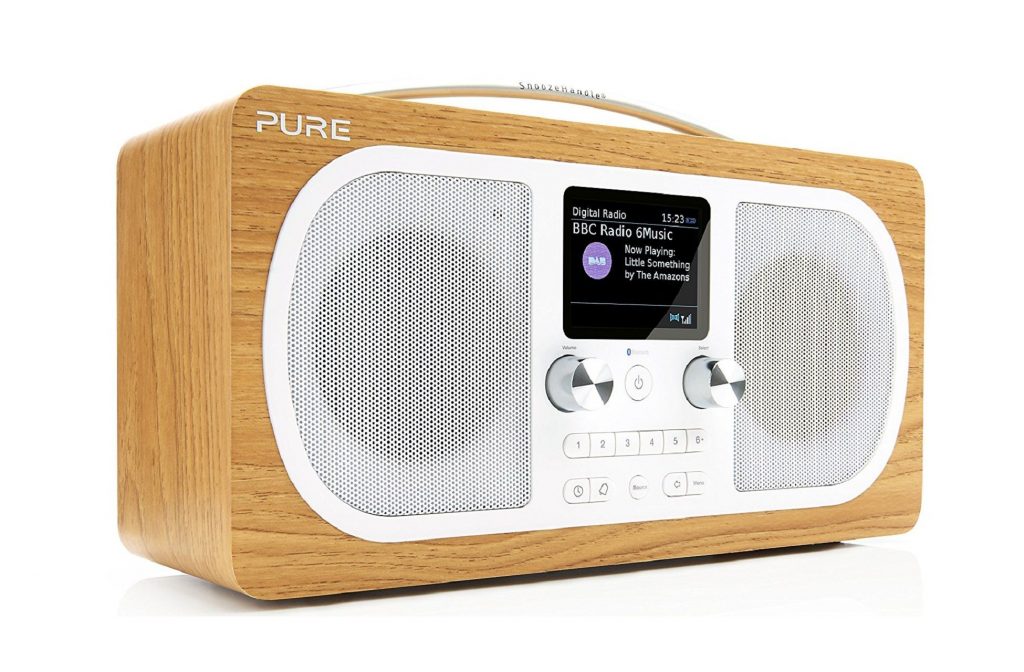 Despite a wane in the popularity of FM and DAB radios over the years, there is curiously still a steady demand for 'kitchen' or 'bedroom' radios in our stores. With the competition narrowing down to a few brands, one constant has been Pure. With their Evoke H6 radio, are they set to be the market leader in the budget radio arena?
The Evoke range has been the core of Pure radios' success and popularity for many years. However, with traditionally broadcast radio becoming less popular and with internet options and podcasts taking over the main parts of people's listening, they've had to move more with the times. Despite its wooden aesthetic and somewhat retro design (available in Oak or Walnut finishes) The Evoke H6 offers a familiar home radio look, but with some more modern features built in.
Coming in below £200, this feature list isn't exactly brimming and for a smaller, modern radio you may be happier looking at something along the lines of the Ruark R3, which ticks several more feature-filled boxes. However, the H6 has both FM/DAB tuners, and allows for Bluetooth streaming should you want to connect a phone or laptop whilst streaming podcasts, BBC Sounds content, or something you simply have recorded on your phone/from other streaming services.
All of this is well displayed on the clear colour display on the front of the unit. This also makes it easy to make sure you've got the right station and can even display album art/info if the file has it as well.
Perhaps most importantly however, is the snooze feature. Whether you're using this as a kitchen timer, or more likely as a bedside radio, the handle functions not only as, you've guessed it, a way of toting the unit around. It also doubles as the snooze button, meaning no awkward phone slides on your smartphone screen, fumbling for a rocker switch on a more traditional alarm – you can simply flail around until you latch onto the large grey handle on top.
The radio is, of course, more than a clock. When trying to tune into the DAB frequencies or FM in the store – it predictably struggles against the sheer volume of interference it comes up against by having a shop full of electronics. However, the DAB stations it did manage to scan and lock onto are crisp and clear.
They do not however, take full advantage of the stereo sound the radio is capable of. Above a normal mix, but lacking the refined separation of 'true' stereo, the H6 punches outside of its price point in terms of detailing. It also has several preset EQ modes you can use to switch between options such as Jazz, Natural, Pop and Classical – however, to keep things accurate, I'd recommend Natural.
The unit does well up to medium-high volume thresholds but then does start to strain a little and lose some focus as the volume ratchets up – something that portable units such as the Sonos Move, or more static units such as the Ruark R3 don't struggle with as much. However, within its price point, there's little to compete.
The unit can also be made portable, with the addition of Pure's own battery pack – which can add UP to 12 hours of playback time, allowing you to move it around with you, into the garden (weather permitting), or place it somewhere away from a power supply for a while.
Overall, the Pure Evoke H6 is an answer to many people's needs – a simple, effective and surprisingly good quality unit that will happily slot into most people's homes. Contact your local Richer Sounds store today to arrange a demo
Author: Tom, Cardiff Store