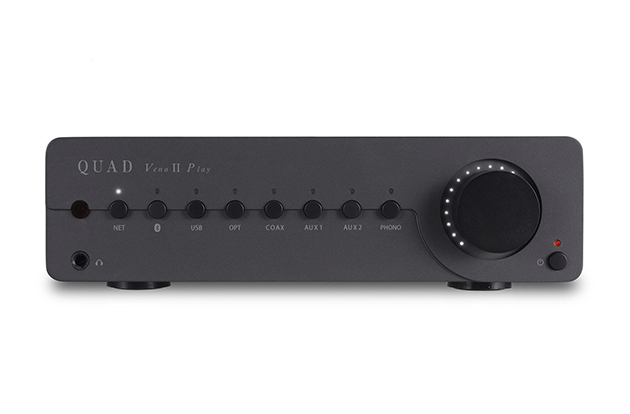 Modern life presents its challenges for the music lover, whether that's finding the next great band or finding equipment that fits into the average home. Quad don't claim to see the future but they're having a go at fixing the latter. They've launched the Quad Vena II Play as a 'just add speakers' hi-fi system for the modern age. Join us as we find out if the Vena II Play deserves a spot in your lounge…
The Vena II Play is an amplifier with integrated streaming smarts thanks to the use of DTS Play-Fi technology. This means you can directly connect your smartphone and some speakers, and you'll be listening to music in no time. It's an increasingly popular option in the modern age of smaller properties where space is at a premium. The dominance of audiophile-grade separates systems is being challenged and this Quad is certainly a worthy competitor.
The unit itself is 31cm wide, similar to a school ruler and the same deep, an extremely compact footprint for premium hi-fi equipment. The finish is a soft touch rubberised material which is doesn't pick up scratches and bumps as easily as all metal. The build is premium in the hand and feels solid, all the buttons and dial on the front seem like they will take many years of pressing.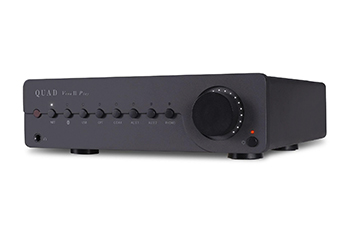 Speaking of the front, there is an array of buttons to switch inputs with an LED to indicate which is selected and any time, along with a rotary volume dial with indicator LEDs to show volume levels. Round back is a selection of inputs both digital and analogue including the increasingly popular phono input for your turntable. There should be enough choice here for most with CD players, TVs and others all catered for.
Of course, the killer feature of this device is the inclusion of wireless streaming over the DTS Play-Fi platform. This encompasses most of the services you would expect such as Spotify, Tidal, Deezer and Amazon Music. The Play-Fi platform is a cross-device network which brings equipment from different manufacturers together under one umbrella. It means there is the possibility of your hi-fi playing time with your speaker in the kitchen and soundbar in the lounge if you so choose. However, all this connectivity is for nought if the sound of the device isn't right. Happily, Quad has hit the nail on the head here, with 45W RMS into 8ohm and 65W into 4ohm. This should be more than enough or most bookshelf speakers and even for reasonably matching floor standers.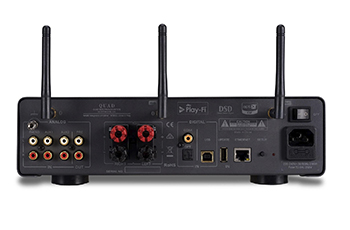 We connected the Quad up to a pair of Bowers & Wilkins 606 speakers. These can handle up to 120W so there is plenty of headroom for fluctuations in current. Having spent some time listening, the Quad did a great job of bringing the 606s to life. There was plenty of punch to the bass and a distinctly wide soundstage for a relatively compact speaker. We switched things over to something a little more challenging in the Monitor Audio Gold 100 speakers. Again, a stand mount speaker but much more power hungry at 4ohm. We expected to push the Quad here, but it handled these with aplomb, creating a wonderfully detailed performance from a relatively inexpensive amplifier. There was a real weight to the bottom end thanks to the respectable power supply and an insightful performance all round.
All in all, the Quad Vena II Play ticks a lot of boxes for us. It's a tidy performer with even the most challenging speakers and packs a weighty power supply under the hood while also delivering a wide range of connectivity options which should keep most people happy. This from a unit which could nestle under most people's TVs without obscuring the picture. It truly is an impressive unit from a company with great history. Why not pop into your local Richer Sounds store today to have a listen for yourself?
Learn more about the Quad Vena II Play network stereo amplifier.
Author: Robert, Brighton store