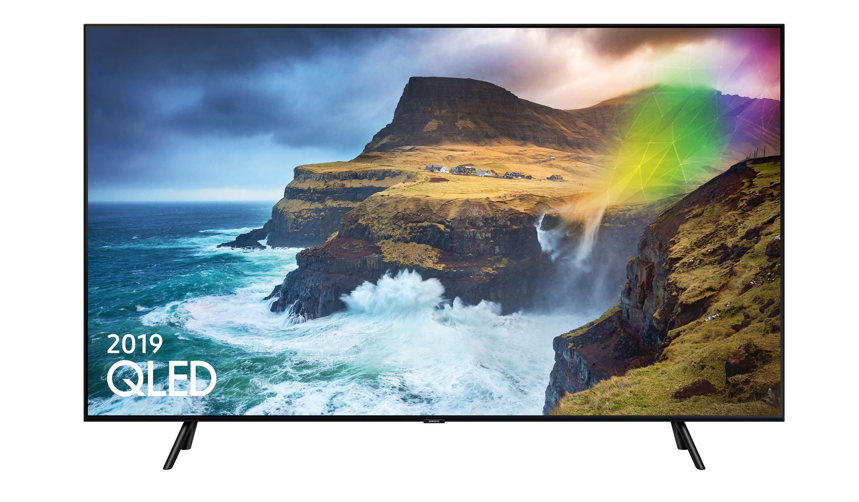 When I first started here almost 10 years ago televisions were LCD or Plasma.  That was it. But like everything, times change and technologies get better.
Now if you've managed a look at any of the premium televisions on offer in 2019, you'll see both OLED and QLED at the top of most lists. Whereas most people are using the OLED technology for their premium sets, Samsung use QLED. Now they do offer a few different models in the QLED range but the one that's just arrived in stores is the Q70R, so that's what I'm going to take a look at today.
I guess I should start by the sizes these come in. There's 49, 55, 65, 75 inch versions available but if you really want to go all out, an 82-inch monster is being released in the near future. Now the first thing that's noticeable out of the box is the lack of a central stand that was present on its predecessor. Samsung have gone down the route of having those little feet that sit towards the edge of the TV which means it can be put in most houses if you don't want to wall mount the set. But if wall mounting is your thing, that's pretty easy as with a standard VESA mount. Yet to my surprise, there is another not too subtle change over last year's model as the popular One Connect box, has now disappeared. It is still available on some of their models higher up the range but not here on the 70R. These things are a little disappointing but hopefully the rest of the TV can make up for it.
So as there is no One Connect box, you'll have to make do with plugging things into the TV as is usually the case. On the 70R range there's the standard 4 HDMI and 2 USB inputs alongside a digital optical output for connecting to a soundbar or something similar. There's obviously both aerial and Satellite inputs which Samsung call TV Plus, but it's basically Freeview and Freesat. Fairly simple and straight forward as connecting all modern devices won't be an issue. It isn't just what you can plug into the Samsung that is seemingly standard these days thought as with both Alexa and Google Assistant being compatible, you can integrate this 2019 television into your modern home without any issues. There's also the now normal Bluetooth output to connect to a pair of wireless headphones or speaker. It's everything I expected from Samsung so what's left to talk about other than to see the thing running…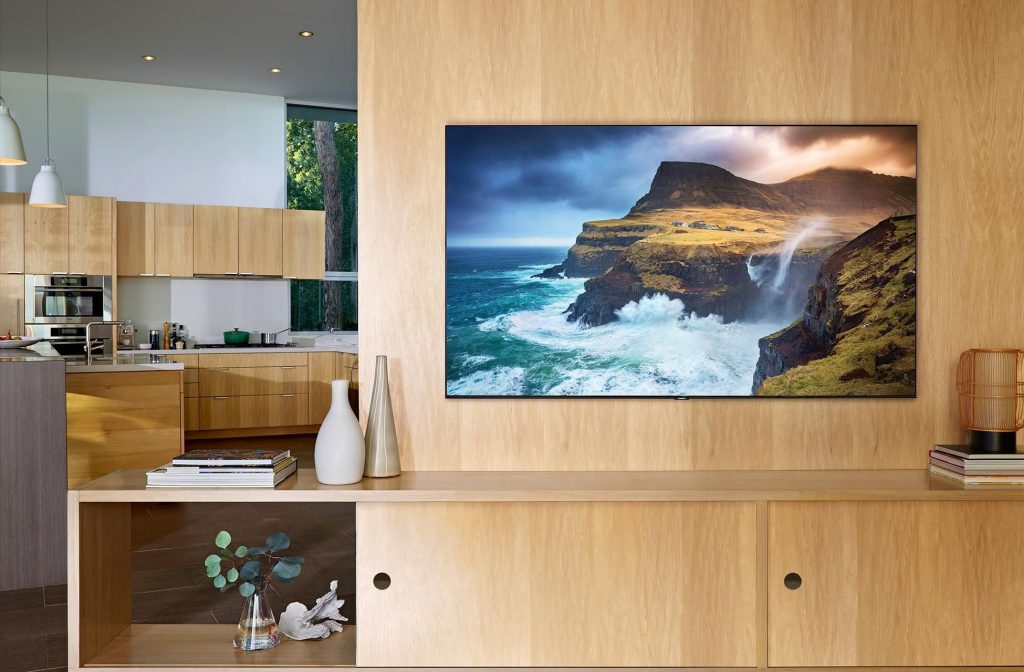 Setting up the TV is a breeze as I use Samsung Smart Things App. It syncs to the app on my iPhone and set-up is done within minutes. It's definitely worth downloading the app as not only does it make things easier, it also allows you to personalise your TV when using the Samsung Gallery. Literally within 5 minutes of putting the stand on, I'm ready to see if the picture, which is what we are here to see, is an improvement on last year's 7 series or if it's just another TV on the market. Hopefully the former so let's dig in.
Samsung have made one massive change to the panel and that is by making it full array with local dimming. This should give the picture more control and better detail all over. Well if Samsung are going to take away the One Connect box and replace it with a better image, I'm all for it. Once it has been hooked up to some 4K content it definitely feels like Samsung have made the right choice here. The depth of colour and precision over the whole panel is a whole lot better than last year's Q7. That's not to slate the 2018 model as that was an awesome set but having this a full array panel has made a massive difference. Spinning some dark content like Fantastic Beasts is a good test of how this new panel handles black level. It holds up superbly if I'm honest as blacks are darker and fuller without taking away from the fantastic colour the QLED produces. That contrast between dark and light is outstanding and again is a welcome upgrade over the 2018 model. The image in itself is sharp without being too over the top. I did adjust the picture settings slightly as  it can be a bit too bright straight out of the box, but it isn't too much trouble. Switch to a satellite feed and the image obviously won't be up to the 4K standard, but it holds its own when watching standard definition TV. There isn't a lot of noise and the colours are still as good as you can get from a modern TV. Putting a HD channel on makes a world of difference to the picture though as it's pretty obvious that the TV is geared towards HD and 4K content. The image just goes to another level and really does the channel justice. There isn't much to gripe about with the overall image of the Samsung and as the picture quality is just superior in every way to its predecessor. Add this to the fact that their TV Plus smart hub, which includes (amongst many others) the usual Netflix and Amazon etc, seems quicker and more intuitive, and you've really got a winner on your hands. Bixby, Samsung's voice control platform, has even made an appearance and with a handy press of a button, you can speak to the Q70R to give you even more control over what you're doing. All in all the picture quality is better than last year. It's that simple.
And if you want to see this, or any of our other 2019 televisions, come down to Richer Sounds and see for yourself.
Click to find out more about the Samsung Q70R TV range.
Author: Bradley, Plymouth store