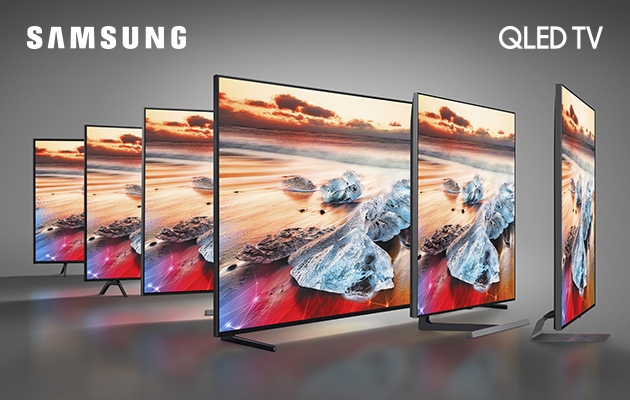 Samsung has something for every space and budget with its range of 2019 TVs.
With 2019 now in full swing, the world's leading electronics manufacturers are gearing up to release brand-new product ranges for the year. Yes, it's finally time to get our hands on the products first shown off at CES in early January, and to have a play with all of the great new tech that'll be appearing in our homes over the next 12 months and beyond. First up is South Korean giant, Samsung, and their impressive 2019 television range, including some all-new QLED screens. Let's take a closer look…
Starting with those QLED screens, and Samsung have really managed to take the technology forward again this year – and particularly with their range-topping Q950R 8K QLED. Available in 65", 75" and 82", the Q950R's 8K panel is designed to maximise picture quality from 4K and below sources on these massive screen sizes. The Q950R's upscaling is deeply impressive, and offers one of the most immersive viewing experiences you're ever likely to see.
The panels' 33 MILLION pixels, coupled with the Quantum Processor 8K chipset and HDR 4000 capability make any and all footage look staggering, and you get all of the hallmarks Samsung have become known for in the past decade – fantastic styling, superb build quality and an enormous range of features, too.
There's no reason to panic about the premature death of 4K sets though, with the rest of Samsung's QLED range for 2019 made up of brilliant 4K models that pack in a huge amount of cutting-edge hardware.
The Q90R range uses Samsung's Direct Full Array Elite panel, with LED bulbs mounted at the rear of the set, instead of along the bottom, giving a much more even backlight performance. And with Q HDR 2000 technology, the 90R also has the highest brightness of any of these 4K screens, giving lush, vivid pictures whatever you're watching. The 100% Colour Volume performance of previous QLED screens is retained here, too, so colour accuracy is reference-standard.
Trimming the cost down over these top-of-the-range sets is the excellent Q85R, which uses Samsung's Direct Full Array Plus panel, which gives a good chunk of the performance of the Q90R, but at a cheaper price point. Using Q HDR 1500 technology, brightness is also still superb.
All three of the screens mentioned so far also use Samsung's super convenient 'One Connect Box' and their near-invisible optical cable, making them incredibly easy to wall-mount – just one cable connects the TV to the box, keeping clutter to a minimum and helping these stylish sets to look even better! Samsung's 'One Remote' simplifies things further still, giving a one-remote solution to controlling your entire setup, and also includes the option to use Samsung's own Bixby for voice-controlled assistance, too.
There are another three QLED sets to look forward to this year, too, making 2019 Samsung's biggest yet for QLED. The edge-lit Q80R, Q70R and Q60R all offer stunning performance, but at a lower cost than the Direct Full Array models above. The Quantum 4K processor is found in each of the screens, and Samsung's 4K upscaling is put to good use, making even the entry-level Q60R punch well above its weight when it comes to showing HD and full-HD sources.
Each and every one of the 2019 QLED range also features Samsung's Ambient Mode technology, allowing the set to seamlessly blend into any background – making these stylish TV's an easy fit in any living space. So, you get a fantastic picture with the TV on, and no ugly black screen when the TV is switched off!
Not content with providing just their QLED screens, Samsung have also replenished their award-winning LED TV range. The RU8000 televisions sit at the top of the LED series, coming 49", 55" and 65". Samsung Dynamic Crystal Colour panel technology ensures that the RU8000 is able to offer bright and punchy images, with the capability to display a staggering one billion colours. Samsung's UHD processing chip is a the heart of this model, and again, does a top-notch job of handling any footage from 4K downwards.
If you're after a smaller LED screen, then the RU7400 could be right up your street, with screen sizes starting from 43". Still making use of the Dynamic Crystal Colour panel, the RU7400 is another brilliant budget option for those wanting 4K, HDR and the full range of Smart features, but wanting to keep costs down. It even works with Apple's Airplay 2, allowing you to stream media from an Apple device straight to the TV. In fact, this great feature is available on ALL of the models mentioned above! Not got an Apple device? Not to worry, Samsung has got you covered there too, with streaming available from a huge range of sources, not to mention the great selection of in-built apps on all of the TVs.
So there we have it! Samsung have definitely had a busy 12 months, with this 2019 TV range being their largest ever. With such a fantastic selection of models to choose from, there is truly something for everyone – so why not call or pop down to your local Richer Sounds store today to find out which model is best for you?
Author: Chris, Liverpool store