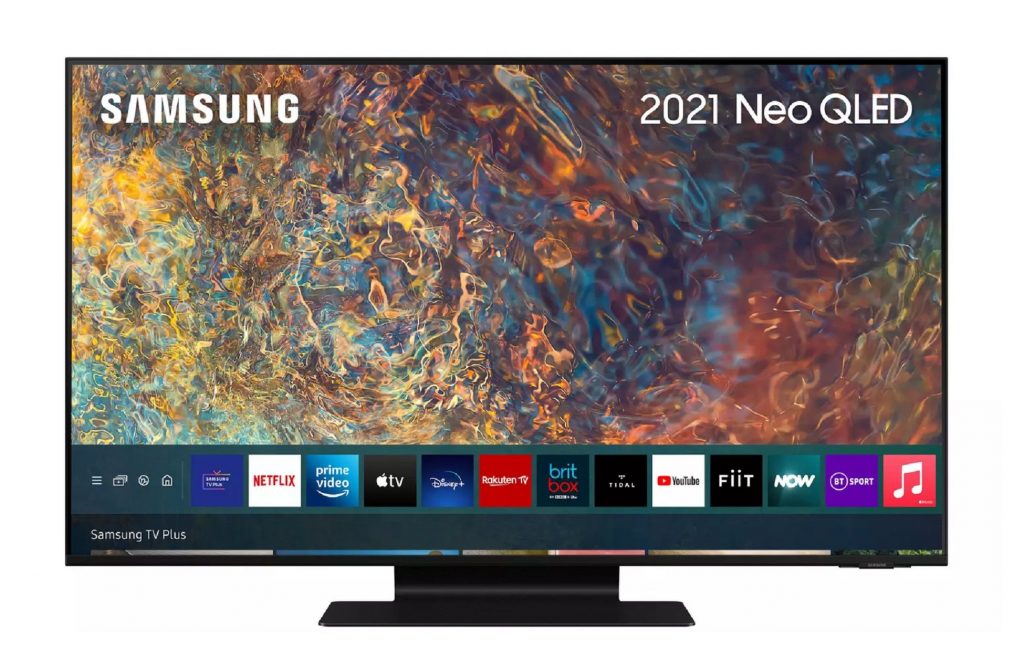 Have you spent the last few years pining after the latest and greatest of TV tech, only to be left deflated when you found you just couldn't quite fit the flagship model in your space? You're not alone. Samsung have recently made the ground-breaking decision to cram their QN90 Neo QLED tech into a 43" frame – it's almost alcove friendly. We take a look at the Samsung QE43QN90A. 
Samsung's Neo QLED sets are new for 2021, a genuine evolution over the Quantum Dot of the past and the Quantum LED sets that still populate the slightly lower ranges this year. By using thousands of tiny LED's as opposed to just the enhanced QLED panel over a normal backlight, the Neo-QLEDs can start to genuinely fight in the same league as the OLEDs.
Being part of the 9 series, you'd expect the finish to be on par with the higher-end materials you find in the flagship sets, and you won't be disappointed. The TV itself is a svelte 269mm thick off the stand and can be paired with any range of slim wall brackets to keep this illusion. If you're on a cabinet or similar, the solid piece aluminium stand not only feels secure and stable, but looks reassuringly premium.
There's also other flagship features rolled into this TV, such as the solar powered One Remote, which can give a decent degree of control over other devices such as your set-top box. You also benefit from the anti-glare screen, meaning that you won't suffer TOO much drop out on your image if the sun hits it at a bad angle. You're also ready for next-gen gaming with the HDMI 2.1 port – but be aware there is only the one on this model. It does contain the full complement needed however to get the best out of your console (ALLM, VRR, eARC).
Even just running through the set up, the TV is bright and vivid – but more on that later. Running on Samsung's Tizen system, it's an easy set up, even offering a quicker route (it's not that long on the normal one) if you have a Samsung account already. Just bump your phone on the nearly invisible bezel and it will mostly do the rest.
If you're keen on streaming and making sure you have every reasonably conceivable app and connectivity set, the Samsung QE43QN90A is a great option. You have Samsung's TV Plus – which although not Freeview/Freesat certified allows the physical connection of both aerial and satellite to be combined into one TV guide – admittedly at the slightly frustrating cost of some advertising boards from Samsung, which will recommend you content in your main TV dashboard. Alongside this, from Netflix through to Curzon cinema – you're covered for streaming content.
If you're at all familiar with Samsung's QLED screens, you'll know that their main bragging rights are down to how vivid and impressive the colours can be. There is absolutely no change here – just the addition of more realism and detail that the Neo LED array brings. With a greater control over more precise areas of the screen, skin tones are more realistic, colour gradients like in fading sunsets retain all of their brilliance, but with less loss of accuracy or 'washing' out the image.
Dark scenes, a previous problem for some QLED panels, are more readily addressed on the QE43QN90A as well. Whilst not on par with the OLED panels (as their contrast ratio sits more comfortably in shadow detail), you can still keep up with most of the action in darker scenes, and with more content being made with higher-end panels in mind, this means you won't be squinting into the coming jump-scare in your latest horror, or not keeping up with a gritty fight scene in the next shadowy drama.
For those into sports, you may find that the Sony KD43X89JU can outstrip this TV when it comes to motion processing and tracing every kick, drive or swerve more accurately, but it can't hold up to the detail and colour the Samsung provides. Of course, our friendly store colleagues will be on hand to show you the differences fully if you make an appointment or drop in to your local Richer Sounds store.
The Samsung QE43QN90A is easily one of the most tempting offers out there at its size. As the only real competition to the OLED panels, which start from 5 inches larger, and with no real compromise between the quality of this and the larger QN90A sets, it's a fantastic way to get the premium TV you want, without sacrificing wall space or rearranging furniture.
Learn more about the Samsung QE43QN90A.
Author: Steve, Cardiff store