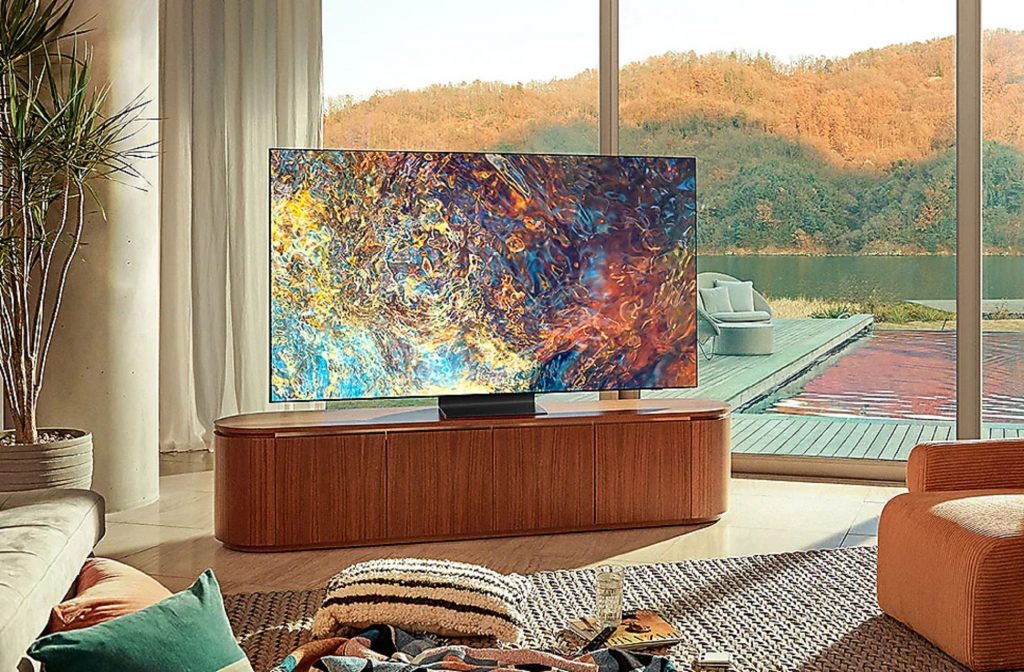 One of the most exciting announcements from CES 2021 was the unveiling of Samsung's new NEO QLED technology with mini-LED layers. We couldn't wait to see what this new technology was up to with promises of unprecedented contrast and no loss in brightness over previous years' models. Join us as we dive in with Samsung's new flagship 4K QLED TV, the QE55QN94A.
So, Neo QLED, what is it and what makes it so special? In the simplest terms it's the use of mini-LEDs to squeeze the amount of individually dimmable sections behind a full array backlight. Previously these have improved gradually each year, but this year marks a leap forward in terms of control and therefore contrast and brightness in the flagship Samsung Neo QLED televisions. The top of this range is the QN94/QN95A which we're examining today.
What else do you get with a flagship Samsung television? In addition to pioneering contrast and brightness, there are ultra-wide viewing angles, anti-reflection technology and HDR2000 brightness for spectacular detail. These should add up to one of the best televisions ever made on paper.
Under the hood Samsung have made improvements to the Quantum 4K processor with the new Neo version for 2021. This controls everything from motion handling to upscaling of non-4K content for the sharpest possible image. We're excited to see how much of a difference has been made this year but if it's anything like the panel technology then it should be impressive.
When we come to unboxing and setting up the Samsung QE55QN94A, it's one of the quickest and easiest setups we've experienced. Samsung has been leading the pack for some years when it comes to software thanks to the in house developed Tizen software. It offers setup via a Samsung phone for quick inputting of details like Wi-Fi passwords or a more manual experience with the remote but even this only takes a few minutes.
The TV itself is noticeably thinner and lighter than the previous Q95T from last year. It's now considerably thinner than most OLED models at their thickest point and has the option of a no gap wall mount for an incredible flush fit to the wall too. We fit ours on the wall and click it back into place for one of the flushest fitted TV's we've had. Considering this is a new technology you would normally expect to come with a price hike or chunkier package, this was all a nice surprise.
We fire up Netflix and jump into El Camino, the Breaking Bad movie. This has been out for a few years now but has some amazing high contrast scenes to show off the very best of what a TV like this can do. The scenes Vince Gilligan, the director, has of the main character's face emerging out of the shadows really change from nothing to exquisite detail thanks to the Samsung's mini-LED display. Contrast is high and thanks to the high brightness there are more shades in darker areas of the screen.
One other aspect of this TV we haven't mentioned yet is the eight speakers built into that ultra-thin chassis. They are spread over four sides of the TV and use Samsung's Object Tracking Sound+ to distribute audio depending on where individual pieces should come from. This is something like surround sound but without the physical speakers behind you. The sound is engaging and a step up from most TV audio. Of course, a standalone Dolby Atmos soundbar or home cinema system would beat this, but it comes close to the sound of relatively affordable soundbars without the extra cost.
For gamers there is also support for HDMI 2.1 and 4K @120Hz as you'd expect to see at a flagship level like this. However, on top of these gaming features there is also Freesync premium pro for seamless performance without screen tearing during fast moving action. It certainly puts this at the top of the list for new generation console owners.
Considering the hype around this TV we certainly braced ourselves for disappointment, but we needn't have worried. The Samsung QE55QN94A dramatically improves on previous years' models in almost every area but takes a huge stride forward when it comes to picture quality thanks to the mini-LED backlight. These provide a previously unattainable combination of high brightness and deep contrast. Packaged with the other flagship TV features mentioned above this must be considered as one of the TVs of the year so far. To see what makes it so special, why not pop into your local Richer Sounds store soon for a demonstration.
Learn more about the Samsung QE55QN94A TV.
Author: Robert, Reigate store