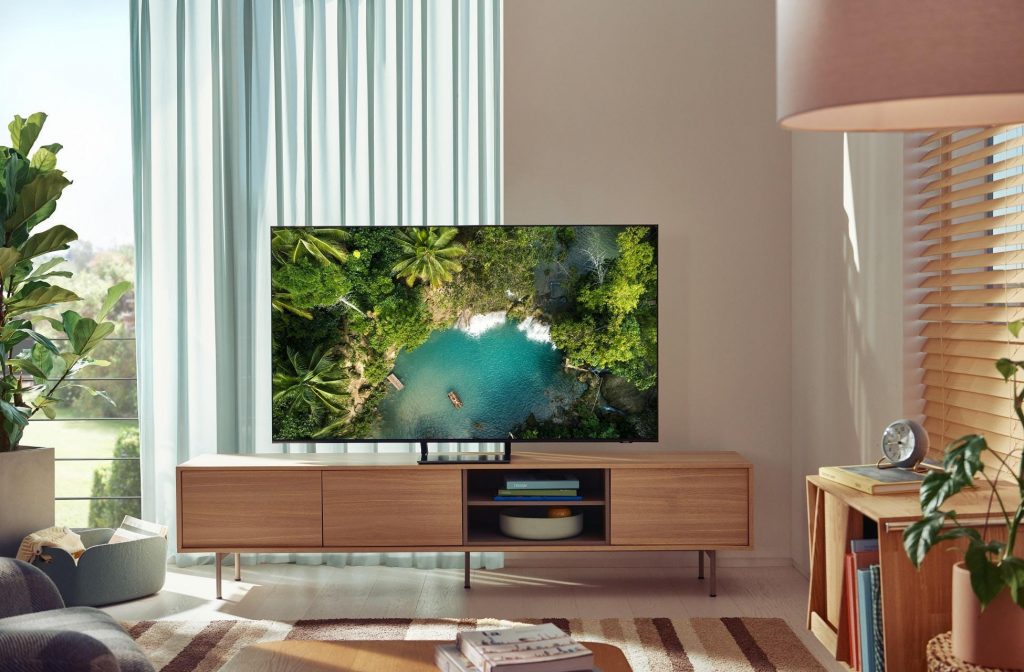 Samsung's latest edition of their nine series LED TVs comes with some excellent features.
New to 2021, the UE55AU9000 brings a raft of great features at a competitive price in the Samsung range. One of the most immediately obvious is the ultra thin design which is more akin to the QLED range normally. Excluding stand the TV is 26mm in depth which allows for much flusher wall mounting. As it is designed with gaming in mind the sleek design is also going to look great on a desk, the more central stand will help with positioning around other devices and cabling that might be present.
Following on with the gaming focus is the motion acceleration feature, boosting the frame rate from 50hz to 120hz. It should be noted that this is not native 120hz, so if you are buying this with a view to use it with a next gen console like the Xbox Series X you might find compatibility issues. For a true 120Hz panel you might look at the LG 55C14 OLED or Samsung 55QN94A for example. The UE55AU9000 does however come with AMD FreeSync which works with AMD graphics cards and the Xbox Series X and S to ensure tear free images and smoother graphics processing. For gamers looking for a TV/Monitor having these features packaged in makes for a great option.
Other smart additions include Multiview. This allows you to set up your watch parties via the TV with a compatible Samsung phone so you can for example watch the football while your friends on video call share a portion of the screen. The well optimised Airplay functionality also makes sharing content on the fly a breeze, with the exception of Sky Go of course which seems allergic to casting to other devices. The user interface is based on the Samsung Tizen system which continues to be one of the most friendly and intuitive. For example, the smart bar appears at the bottom of the screen avoiding obscuring your view that little less and adjusts based on your usage. The self-help and user guides built into the settings menu are actually very complete and will appeal to those who like a good manual.
The picture is characteristic of Samsung's bright and vivid colour palette. It comes with HDR10+ which should come as no surprise as Samsung was one of the trio of companies that developed it. This certification allows a variable base brightness and access to a much larger colour pallet of one billion colours that is adjusted frame by frame. This fluid processing can even take into account the brightness of your room. It is worth noting however that this applies only to certain content that has been created in this format, to be found on games, 4K Blu-rays or streamed programmes. As these are new standards however it is likely that they will become more common as time goes on. Samsung also states the panel comes with 'Dynamic Crystal Colour' which when you read the description for it sounds like HDR in all but name.
Audio is of course half the experience and the AU9000 comes with a surprisingly spacious soundstage. For its slender frame it certainly has a decent set of pipes. Using AI technology via Samsung's 'Object Tracking LITE' programming the downward firing speakers use throw, audio delay and placement to create a much wider and higher sound field. That said it does have its limitations as the results will be variable on the room, furnishing and position of the TV. The lack of any major base driver does mean it is bright and clear but won't stack up to any home cinema equipment or expectations.
Overall the AU9000 is a fantastic mid-point to the Samsung range. For a reasonable budget you gain access to most of the important developments in current TV and content standards. There are plenty of luxuries like the AirSlim design and gaming capabilities to open up the use of this panel for varied utility and look good while its doing it. Give your local Richer Sounds store a shout to arrange a demo!
Find out more about the Samsung UE55AU9000 TV.
Author: Joe, Bath store