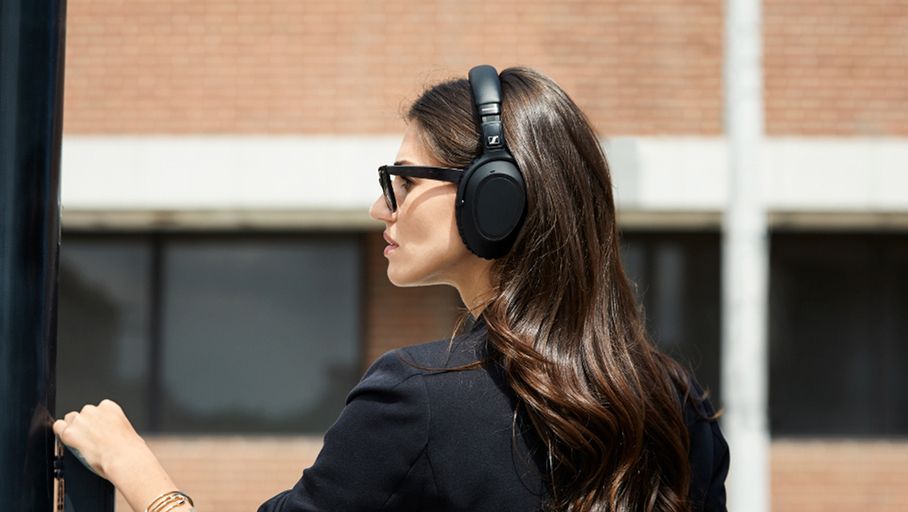 The original PXC 550 headphones were an immediate smash hit when they were released in 2016 and this reviewer fell in love with their tight, punchy sound and smart feature set.
However, the noise-cancelling/wireless headphone market is nothing if not extremely congested with talented and attractive alternatives. Sony have been leading the way the last couple of years but Technics, Bowers & Wilkins and Sennheiser's more premium Momentum range all provide stiff competition so it's a little surprising to see them drop another pair of headphones in the same fierce market
Once out of the box though you start to see the wisdom in this decision as the PXC 550 II are an instant hit when it comes to looks. They manage to strike a perfect balance between being stylish and sleekly understated, making them aesthetically pleasing for those that don't want to show off. They fold up in order to fit in the carry pouch provided and the earpieces rotate so that the entire package doesn't take up too much room in your bag. When rotated back into their usual position they automatically switch on and (providing the Bluetooth switch is on) automatically go into a pairing mode.
Like the range available from Sony, the day to day controls of play/pause, volume skipping track etc are handled via the touch sensitive right hand earpiece although the built in mic will allow you to use Google, Alexa or Siri voice commands too. The only physical controls are the slider for the level of noise cancelling you want and a voice command button for when you don't feel like saying "Hey Google" etc to start your voice interaction.
AptX low-latency Bluetooth means these Sennheisers are at the forefront of wireless technology meaning you'll get top notch audio quality and excellent audio/video synchronicity too. On top of this, Sennheiser's "NoiseGard" active noise cancelling means that wherever you're using them, the PXC 550 II can help you block out the outside world and let you enjoy your content in peace.
Practicality definitely seems to be a leading plus point for these headphones then, but it's all for naught if the sound isn't up to scratch. Thankfully, a healthy pedigree runs deep in the veins of Sennheiser which we soon start exploring with a CD-quality stream via Tidal with the opening track being an acoustic version of "Should've Learnt My Lesson" by Rory Gallagher. It's a mellow start but allows the Sennheisers to show off a great articulation of high and mid-range frequencies.  The strumming of Gallagher's acoustic guitar is sharp and decisive which give a great sense of attack to the leading edge of the notes. There isn't an abundance of warmth in the low end but it is reasonably tight and clear.
Moving on to Australian artist Josef Salvat and his recent single "In The Afternoon" allows us to try out the PXC 550 II with something more textured and busy to see how organised they can be. The opening verse slowly adds layers of subtle handclaps and melodies, building to a big chorus that just washes over you with a glorious wave of airy spaciousness. The fast attack that we noted before and great timing combines to give the music a real foot-tapping sense of excitement and although that bass is subdued, it is punchy and decisive.
At this stage, it's a good idea to start trying out the various settings that are available on the Sennheiser Smart Control app. It allows you to toggle between 5 different sound modes (including "Movie" for more bass and "Speech" to accentuate dialogue for those hard of hearing) and also to customise your own personal settings. You can mess around with the spatial and reverb effects as well as boost the low end (such as "thump" or "rumble") but there's no traditional treble/bass control. In the end we settled for choosing the "thump" boost and left everything else off to give the best balance. You can also change the Active Noise Cancelling settings on here too and although it isn't quite as effective as some others out there it's certainly enough to dull the conversations from people around you and add a sense of closeness to more intimate recordings. We also recommend turning on the pressure sensor in the app so that your music automatically pauses when you take the headphones off.
Due to the Momentum range already receiving 5-star reviews from What Hi-Fi and Stuff magazines it does slightly beg the question why Sennheiser have released the PXC 550 II at all. Once you take a closer look though you realise that they're aimed at those who don't want to stretch into the premium market but want the best price and performance within a middling budget.
If you need a new partner for your smartphone and you're not a bass junkie, these cans really should be on your list to check out. When you've got a half hour free, pop into your local Richer Sounds and try out your latest jam on the Sennheiser PXC 550 II and see if they're the missing link in your portable set up.
Learn more about the Sennheiser PXC 550 II headphones.
Author: Steve, Bristol store