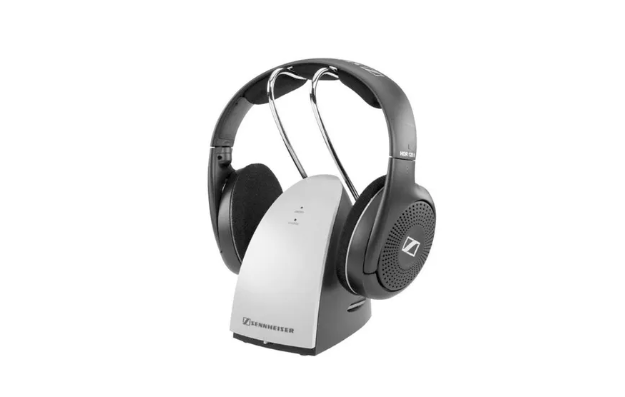 Everyone loves listening to the TV right? Sometimes even cranking it up to ear bleeding levels so you don't miss a single second of David Attenborough's crisp narration, but what about if there's someone else nearby? Maybe it's not so great for them and their tinnitus. So why not give them and your neighbours a break and look at some wireless headphones so you don't lose any detail, and they don't lose a percentage of their hearing.
So I'm going to assume at this point in history we're all fairly au fait with wireless data transmission and all the different variants there are. However there's no such thing as "too much information" so let's start breaking down the Sennheiser RS120 II and exactly what it is they do.
Connectivity wise the 120s take it back to a time when setting something up was as easy as plugging it in and turning a dial! Utilising sound transmission via radio frequency rather than Bluetooth means that there's no setting it up through a phone or screen. All you do is connect the sender into the 3.5mm headphone jack on your TV with the supplied cable, plug the sender into the mains with the supplied plug, and then tune the Headphones into the frequency of the sender by gently turning the dial on the side of the headphones. As set up goes it doesn't get much simpler than that!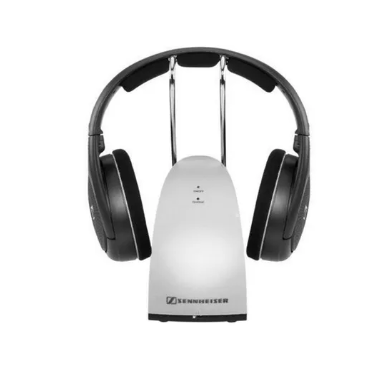 Once you're up and running with your new headphones why not go for a stroll around the house? Being RF instead of Bluetooth means the RS120s have a range of around 100 metres from sender to receiver so you can literally do the gardening while listening to Match of the Day and even be on the opposite side of a wall and still hear exactly what's going on.
With all that mobility you of course have to consider battery life. Fortunately Sennheiser have you covered by providing rechargeable batteries in the box that will recharge (in the headphones) once they are placed back on the sender modules handy metal cradle. This does mean that if you do purchase these NEVER USE STANDARD BATTERIES! This would melt the batteries, and if left long enough could start a pretty serious electrical fire.
Safety advice out of the way, let's talk form and function. The headphones are lightweight and allow a good amount of airflow so you can go hours without needing to take them off, and they offer a volume dial on the side so you can turn them up or down without any hassle. Being so lightweight I imagine you wouldn't expect much in sound quality…but that's where you'd be wrong! With large cans and years of Sennheiser know how at the helm, the RS120s offer a stunning amount of frequency range and clear concise audio.
So if you're having issues hearing the TV, or you just want to mosey around the house listening to it, then the Sennheiser RS120 II could be the perfect wireless set of headphones for you.
Of course there's always a lot to think about when changing the sound coming from your TV so don't hesitate to call your local Richer Sounds store or pop in for a chat if you have any questions.
Learn more about the Sennheiser RS 120 II headphones.
Author: Hal, Plymouth store