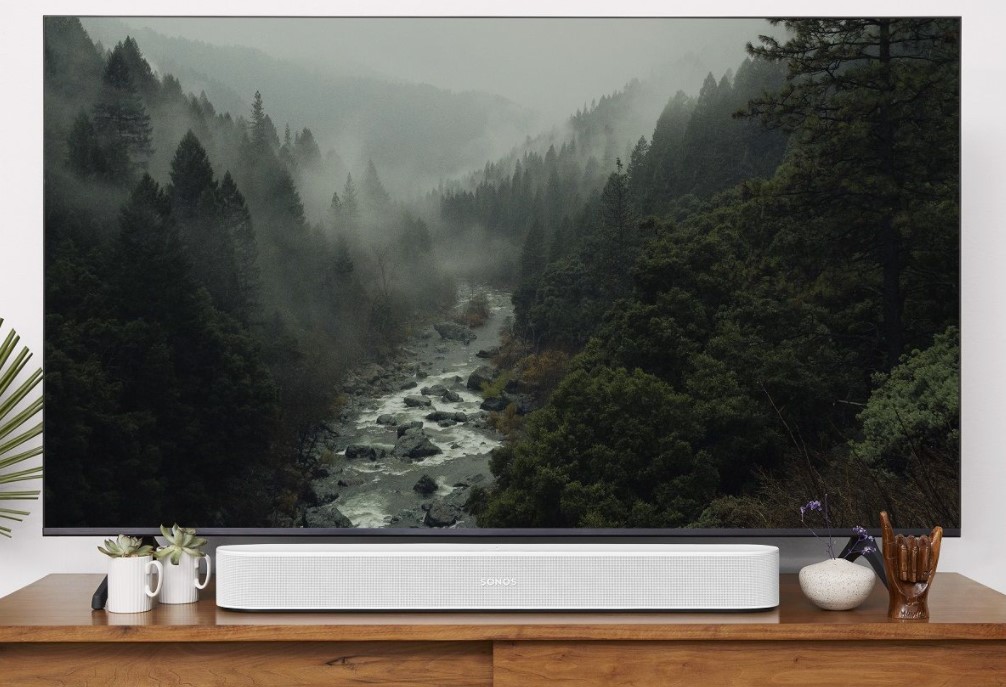 As part of the slow and seemingly constant rollout of updated units, Sonos have released the new Beam Gen 2. Replete with a cosmetic face lift and the ability to deal with Dolby Atmos amidst it's nondescript 'software and modernising updates', is the Beam a genuine improvement over the already excellent compact soundbar?
Sonos has become to multi-room what Apple is to smartphones. You either have a smartphone OR an iPhone, Sonos OR multiroom. This isn't strictly true, but the branding is so strong that it may as well be. However, they've not escaped all criticism with what was arguably the worst press release seen from the AV industry in years over 'obsolete' older units and now having to raise prices (like most other manufacturers) due to ongoing supply chain issues.
With the new Beam coming in at £50 more expensive than the original Beam at launch, and legions of people having already bought the original iteration – the question is whether this new version is anything but a software update hiding behind a new grille.
This is the first thing that's noticeable on unboxing. The fabric grille that adorns the original Beam and even the older Playbar (since replaced by the well-loved Arc) is gone, and replaced with a metal-ish covering instead. It immediately looks a little sturdier and more premium – reassuringly so. Other than this, the Beam Gen 2 is effectively identical. The finish choices and style are exactly the same, no extra or missing ports for connection – although the optical/HDMI converter is still included for those missing an HDMI ARC connector on older TV's, or those who are out of ports.
You'd be right to be apprehensive wondering if what is ultimately still a 3.0 soundbar can actually produce convincing height channels. You'll need to make sure the content itself is in Atmos (easily found on Netflix and Amazon nowadays) – as whilst the Beam can decode every codec in the Dolby catalogue, there's no ability to upscale it.
However, once it's running it – it's impressive. Due to the absence of genuine upwards-facing drivers you won't get the sonic sensation of helicopters flying overhead or thunder rolling in. However, it adds a great sense of verticality to the scenes where there's plenty of literal height.
Birdsong at the front feels like it's high up the trees where it belongs, and large stadium environments or flight scenes such as in Blade Runner 2049 feel wider and more immersive – even if it can't fully encapsulate you.
For its size and price however, you'll seriously struggle to find a genuine rival. The LG SN7CY touts high-res compatibility and networking capabilities, but trying to compete with Sonos on the networking field is already nearly impossible. Its height channels are also less convincing, with the crossover bringing you out of the scene as it doesn't blend as seamlessly between objects in front and objects overhead.
The Beam is not alone trying to simulate Atmos (or DTS:X, the rival to Dolby Atmos, which the Beam can't decode). There is the Sony HTX8500 which currently holds a respectable set of review badges, but feels cheaper and less convincing in its height channels like the aforementioned LG – as well as not being expandable.
The Beam Gen 2, like it's previous version, the Arc and the Playbar can still be formed into a 5.1 system with a set of Sonos Ones (or SLs) as rears and the impressive Sonos Sub to bring the bass.
Being attached to the most popular musical multiroom system, the Beam can still seriously hold its own in the music realm. The sound is cohesive and accurate, even if we're still waiting on Sonos' Hi-Res support to be implemented in full.
If you're looking for a more musical bar, and don't have an interest in Sonos then the Dali Katch One might be worth a look for a great all-in-one stylish bar.
Overall, if you're already in the Sonos ecosystem, you'll likely find yourself impressed by (and soon in possession of) the Beam Gen 2. For anyone still on the fence, come down to your local Richer Sounds store to trial out this compact bar that punches well above its weight.
Leanr more about the Sonos Beam Gen 2.
Author: Steve, Cardiff store