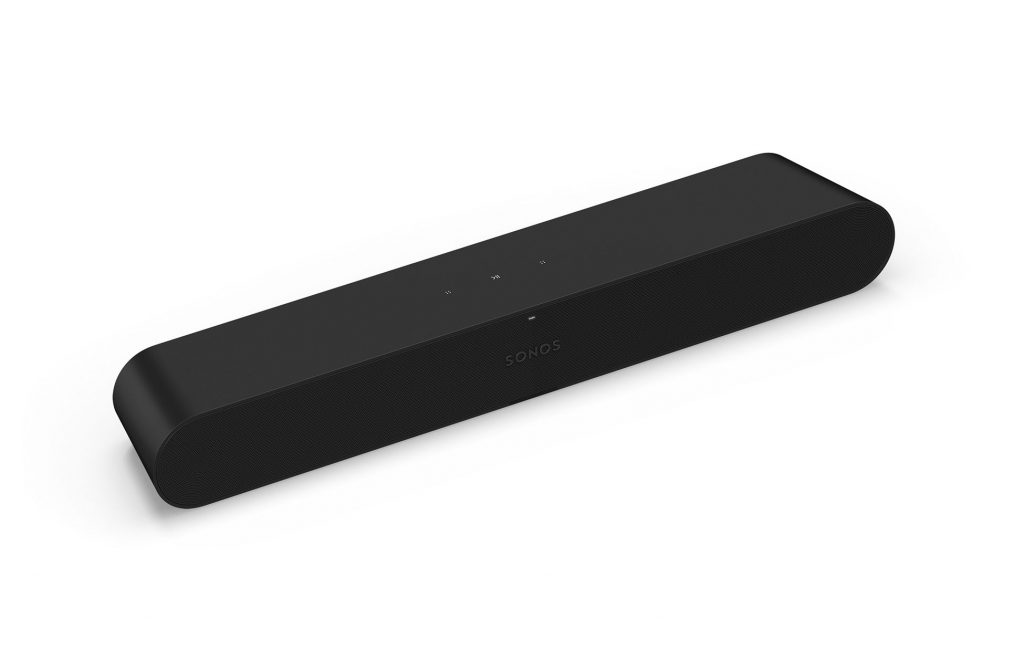 Hot on the heels of the updated Beam Gen 2, Sonos has released its lowest price soundbar yet, the Ray. Stripping back features such as HDMI and Dolby Atmos support, Sonos finally has a much-anticipated entry-level model – but will it retain the quality that people expect from the brand?
Understandably, the Sonos Ray feels a little cheaper out of the box than some of its more expensive siblings. Despite the more plasticky look and feel, however, the rounded edges and minimalist style mean it still has the sleek Sonos design DNA.
As usual with Sonos, it comes in a choice of black or white. This, coupled with its slim profile and compact dimensions make it easy to tuck into place. While it's a little higher than some of the slimmest bars on the market, such as the Polk Signa S2, at just over 7cm tall it's not a deal-breaker for most. It should be easy enough to pop under most TVs without blocking the screen or, perhaps more annoyingly, the remote control receiver. It also fits between the feet of most of the medium/larger TVs on the market.
Another packaging bonus is the built-in bass – meaning that you don't have to find a spot for a separate subwoofer. You can opt to use one of Sonos's own subwoofers to pair with it, but it will take the total price to an entirely new league. The great news is that the Ray partners with the rest of Sonos's multiroom system, integrating as seamlessly as any other Sonos unit and showing why the brand has become a byword for multiroom audio. The system remains the best in its class.
The soundbar itself is actually just a 2.0 stereo array of speakers, meaning it has no dedicated centre, rear or sub channels. Add a pair of Sonos Ones, however, and you've got an easy upgrade to surround sound. With a Sub, the sound becomes even more cinematic. The lack of additional drivers or advanced processing means that the Ray can't deal with Dolby Atmos signals like the Beam and Arc can, but it does still handle Dolby and DTS 5.1 surround signals. For the best results, you'll need those Sonos Ones and Sub, though.
One potentially overlooked advantage of this is that, by being able to deal with the surround signal, it can help the Ray address a common issue faced by people in the market for a soundbar – handling poor dialogue clarity. Speech Enhancement is selectable via the Sonos App and boosts voices for much clearer dialogue. This makes it a brilliant choice for anyone struggling with the poor quality dialogue from many of today's boxsets and movies.
Another brilliant sound tuning feature is Sonos's Trueplay. Available to Apple iOS users, this uses your smartphone's microphone to measure the room's acoustics. Once measured, the system adjusts the speaker to best suit the room – this is serious tech made easy!
Musically, the Ray has the distinctive Sonos sound – which is a good thing. If you're sitting down to listen to music, you'll find that it's not quite as good as Sonos's more expensive soundbars or a pair of its One/Five speakers. That said, it gives a smooth, well-balanced sound that, since its software update, is now free from any sonic nasties.
Away from the Sonos family and at a similar cost, you may prefer the Denon DHTS416 from a sound point of view – but you will have to find a home for the subwoofer.
The Sonos Ray is a great option for those already in the Sonos ecosystem, or those planning for it and in need of a soundbar. Even those with no interest in multiroom audio may find a happy home for this sleek and simple soundbar. It might be their cheapest, but it's still packed full of Sonos goodness. Why not pop into your local Richer Sounds store today for a demo?
Author: Tom, Cardiff Store