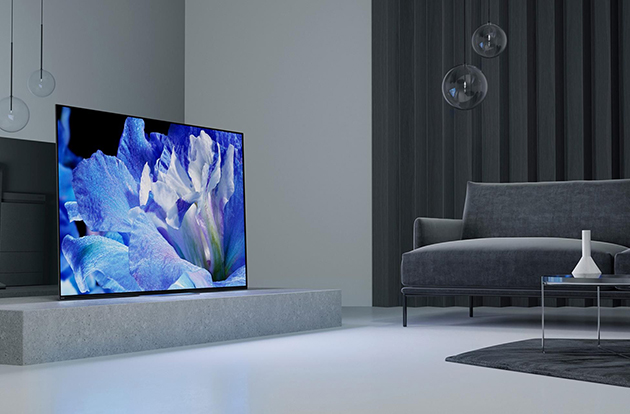 After running away with awards across the board with the excellent A1 series of OLED TV's last year, Sony have released their new AF8 series for 2018. Can they continue on with past greatness? Read on to find out…
The A1 series, constantly adorned with multiple award badges from numerous publications, broke new ground last year with not only its stunning picture quality and chic, groundbreaking design, but with its ingenious Acoustic Surface technology. Using a set of transducers on the rear of the panel, the panel itself becomes your speaker. The technology works especially well for high to mid-level frequencies, specifically voice frequencies – something most TV speakers fall short of and need a soundbar to enhance.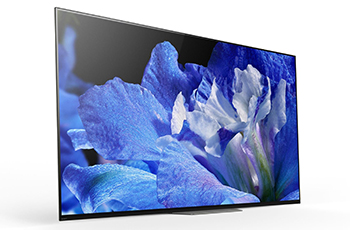 There was however, some grumbles with the depth of the TV. Whilst the panel itself was razor thin, the 'One Stand' A-frame feature that housed the surprisingly effective subwoofer and all of your HDMI ports and excellent X1 processors that make the Sony OLEDs so darn good, was a little chunky and took up a bit of real estate when placed on furniture. On the wall, it detracted from having the TV as thin as possible and from blending in quite as seamlessly as some of its competitors and unless you wanted the TV to stand out a little more in the room, it's A-frame design wasn't the subtlest.
Now considering the sheer quality of the TV, having it as a centrepiece isn't the worst thing, but it's not for everyone. But who wants to compromise on market-leading quality for the sake of a stand? Well, now you don't have to.
Out of the box, the AF8 (available in 55-inch and 65-inch versions) is just as reassuringly weighty as the A1 and seeing the minimalist yet sturdy metal plate stand, it still looks every bit as premium as its predecessor. Set-up is simple, but due to the weight warrants the help of a second person to ensure it is handled correctly. Once on its stand, this TV looks every inch as lovely as the A1. With a near bezel-less design, it's a sheer panel of black with no garish logos or branding to give away anything – just a sleek black slate. The subwoofer hasn't disappeared completely from this set either – it's just tucked into a more traditional TV rear and scaled down a little.
Once you've been guided through the simple set-up procedure, it's time to start watching.
With Sony TV's now on their Android N series – an important addition came with it; the ability to use Dolby Vision. Now with LG not the only manufacturer capable of this – your choices are now far more open.
With this in mind, we immediately jumped in with an Oppo UDP203 player and our copy of Star Wars VIII: The Last Jedi.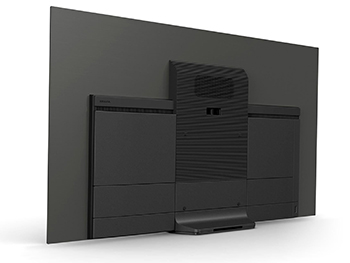 From every lightsaber clash, every battle scene and heartfelt look between Luke and Rey; even the shine on Captain Phasma's armour – the AF8 excels. 4K delivers more pixels than ever, but HDR is what truly makes 4K the game changer it is. Dolby Vision is effectively the equivalent of improved fuel in your car, doing the same job as formats like HDR10, but doing it so much better. Of course, this also makes the Playstation even better; HDR content from the PS4 Pro is sure to draw many more gamers into 'just one more round' or 'just one more quest' when it looks this good.
Obviously, not every user will be building a large 4K Blu-ray collection, and as such services such as Netflix and Amazon Prime have excellent 4K streaming services available. The AF8 remained cinematic and perfectly accurate within the darkness of scenes from Netflix's The Defenders and kept motion smooth and clear in speeding shots from The Grand Tour.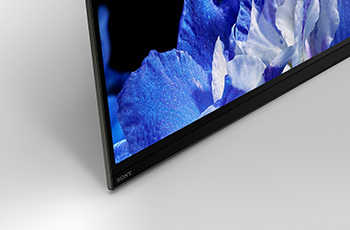 Obviously, with the World Cup around the corner – sport was something we just HAD to try. Even on the standard stream from the BBC on football and athletics footage, you're still in good hands. The AF8 kept typically tricky movements such as football lob shots and multiple sets of legs from sprinters as clear as possible with minimal juddering and flicker. Out of all panels on the market so far, it's definitely one of the clearest possible for more complex motion handling.
Once again, Sony have proven their reputation for premium televisions is well-deserved and with an OLED that contains decent natural sound as well as a picture that excels in all areas – it's a must-have with the summer we have ahead of us.
To get yours, and fall in love with the image yourself, simply drop into your local Richer Sounds today.
Click here to learn more about Sony's AF8 range
Author: Steve, Chiswick store