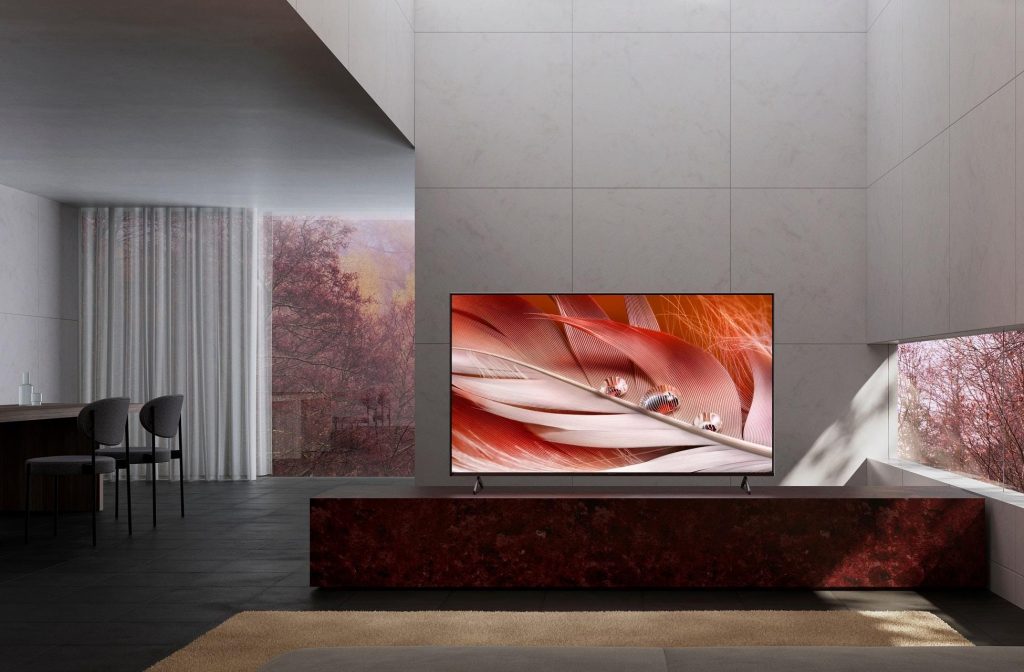 I've been let out of my cage again, this time to review the shiny new Sony BRAVIA XR65X90JU TV, and what a TV it is. 
Carrying on from the much loved and respected 9 series models Sony have continued to polish and hone, and now the latest one is sat in front of me. Technology wise we're still looking at a Full Array display, meaning you can expect more natural lighting than edge lit LEDs, with a higher peak brightness than standard OLED panels to boot.
It's slimmer than last year, with a slender black bezel that doesn't intrude into the space but clearly defines the beautiful bright display and a slanted rear so as to keep it feeling slender at the back, finished off with a pair of stylish steel feet sat underneath.
Connections and compatibility are fairly standard, with your usual collection of HDMI and USB ports, including one HDMI 2.1 for your 4K 120hz needs, as well as an optical port and aerial connects like you'd expect of any television. The included remote is a nice solid piece of equipment, with a good button click that I think leaves it as a solid inclusion and less of an afterthought.
Setup is a dream, especially if you're already in the Android ecosystem, as this TV is one of the first to come pre installed with Google TV. Just a few clicks later and I'm all set and ready to go. You've got a full selection of apps including BBC iPlayer and Disney+, but I'll go to Netflix for my first test, "Chef's Table".
First impressions are everything, and a display this gorgeous has it nailed out of the box. I'm struck by the colour range this screen displays. For an LED display, the XR65X90JU is capable of showing an impressive depth of colour even in the deepest darkest areas. The full array panel works to cover a stunning stretch of colours simultaneously, not missing out on any nuance in lighting or shadow. Even the most varied arrangements of food all manage to look consistent despite swift changes in lighting. Fortunately the X90J supports Dolby Vision, so I get to enjoy the mouth-wateringly delicious edible delights in vibrant colour beyond anything you'd imagine possible with a mere LED panel.
After that I switch over to my PS5 and crack on with Spider-Man: Miles Morales, and boy is it a treat. In the performance mode the visuals look incredible, ray tracing catching every beam of light and making the overall effect so incredibly immersive, the Full Array panel working to give life to the vibrant illumination. Checking out the 60 FPS mode really shows what this tv is capable of in terms of motion though, with the web swinging being buttery smooth across the screen even with multiple other characters on screen.
Through all this the X90J hasn't missed a beat, so I switch to Disney+ to finish off with The Mandalorian, and boy is it a treat. The sharpness on this screen is delicious, no details left out, but everything kept in balance, the bright reflections or armour glinting in the shadows.
I'm left thoroughly impressed. Sony have managed to up their game from last year with the X90J keeping solid pace alongside anything I threw at it. It's 100% worth seeing in person, so book a demo with your local Richer Sounds store today!
Find out more about the Sony BRAVIA XR65X90JU TV. Plus for a limited time you can get a free Sony HSTD35 Soundbar and Subwoofer when you buy this TV.
Author: Ben, Brighton store