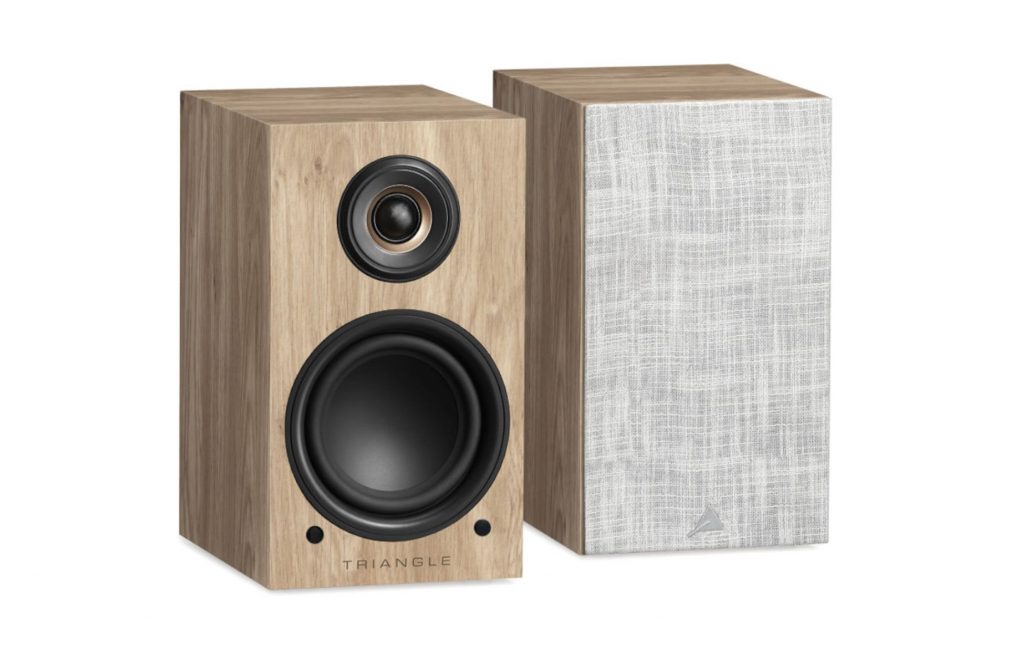 The Triangle LN01A active HiFi speakers are here – and aiming to deliver an immersive and clutter-free audio experience.
With active speakers becoming popular for those in flats that are becoming ever smaller, those whose offices have become dens – or those who realised they missed music in lockdown and starting looking for speaker spaces. With a burgeoning market, will the Triangle's find their own niche for your nooks?
Styled with elegance, the Triangle LN01A shares a similar design with the passive LN01 bookshelf speakers that have come before them, and more readily visible in our stores, the Borea range of passive speakers found on our shelves. The sleek cabinets boast a host of sensitively considered colours up to and including Eggplant (which this reviewer reckons is making the French designer and company seethe that it's not correctly called Aubergine!), making them a chic addition to any room.
Triangle has integrated the amplifier, power supply, and multiple connections into the right speaker, while the left passive speaker connects via a supplied 3m cable. Although this results in a cable between the two speakers – meaning it's not as wireless as a pair of Denon Home 150s or Sonos Ones, it's only one plug socket that is needed.
Connectivity options are diverse, with the speakers offering wireless aptX Bluetooth streaming from smartphones, tablets, or laptops (oh my). Besides, the LN01A provides various physical inputs, including analogue line-level and 3.5mm, as well as digital optical and coaxial inputs. Notably, there's an intriguing and extremely welcome inclusion – the line-level input also doubles as a phono stage, enabling direct connection to a turntable. This versatility plays well into the vinyl resurgence and sets the LN01A apart in the powered speaker market, especially when people are looking to rediscover vinyl without committing to a full stack of separates.
The LN01A speakers don't disappoint in the sound department, delivering a bold and engaging performance regardless of the audio source. When streaming via Bluetooth, the speakers impress with their solid and upfront character. Listening to some old school 'No Doubt', the FX laden electric guitar riffs come alive, and the drum strikes hit with impactful precision. The speakers effortlessly handle the building layers of instrumentation, providing controlled pace and rhythmic accuracy. Although the treble might be slightly pronounced in an open setting, placing them closer to a wall balances the sound, while their bass prowess adds a surprising low-end punch for their size.
Testing the LN01A's phono stage performance with a Project Debut Carbon the speakers maintain consistency and character. A bit of Bob Marley And The Wailers' 'Turn Your Lights Down Low', showcases their ability to handle sustained, deep beats and deliver rich low frequencies. The vocal harmonies and melodies remain clear and well-defined. Using the phono stage, the presentation loses some solidity and openness but remains engaging and detailed enough to enjoy, and opens up a realm of choices in the turntable market to boot.
The LN01As comes with a remote control to handle all the expected inputs, functions and levels. While practical, the remote can feel small and plasticky. However, given the overall performance of the speakers, this is a minor drawback and doesn't hinder the overall experience.
Triangle's LN01A active HiFi speakers exemplify the benefits of clever design. With built-in amplification, they offer a clean and straightforward setup, eliminating the clutter of additional equipment and cables. Their elegant design and versatile connectivity options, including phono stage support, cater to vinyl audio enthusiasts, especially those who have 'lapsed'.
In conclusion, the Triangle LN01A speakers are a compelling option for anyone seeking a powerful and refined active HiFi system, with less boxes taking up space.
Why not visit your local Richer Sounds store today for a demo, or speak to our Telesales team.
Author: Tom, Cardiff Store