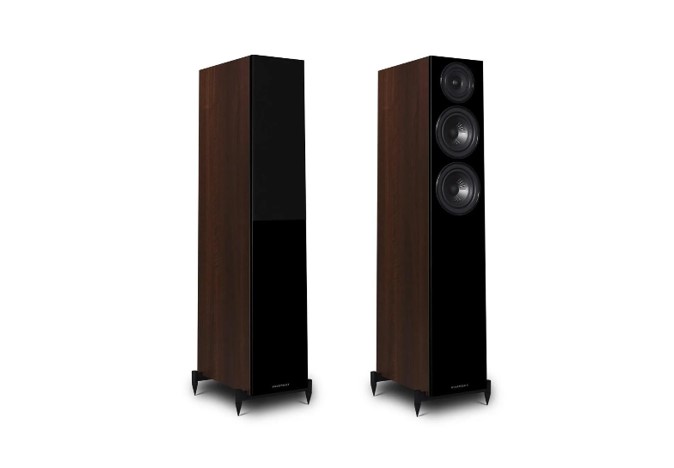 It's always fun to see new iterations of tried and tested ranges, and the new Diamond 12.3 speakers from the indomitable Wharfedale are no exception. They've been making speakers since well before I was born, and with that sort of experience I'm very eager to find out how this new set of speakers sound.
Popping them out I'm impressed first by the size. They've have a clean black design, very minimal, but as they've gone for a narrow but deep cabinet the speakers are much less imposing than you'd expect for this sort of physical volume. They still cut an impressive monolith figure, but intrude far less into the space which is definitely a welcome surprise.
The sharp edges give them a very tight look, and the metal rims surrounding the drivers help to define the areas of interest and help to break up the gloss black finish coating the face of these speakers. Top that off with some reassuringly solid magnetic grills and you've got a deceptively minimal design which you can't help but admire.
With a pair of 130mm mid-range/bass drivers and a 25mm tweeter I'm expecting these to have quite a respectable coverage. Considering the depth of the cabinet this should go down deep in to the bass frequencies that I've come to expect from Wharfedale. As usual they've included bi-wireable speaker posts for all you dual amplifier enthusiasts, and these are again reliably solid.
Helpfully the base/feet are pre-fitted out of the box and come with optional spikes if you're using them on carpet, easily adjusted to balance them out as needed. I therefore have them set up in a matter of moments, and for testing I've used the brand new Cambridge Audio Evo 150 with Tidal as my source, so with that all out of the way let's find out what these sound like.
I start with Periphery's "Jetpacks Was Yes V2.0", and straight away the clarity on these speakers has me rapt with attention. Then the chugging guitar riffs kick in and we're off. The lower end response is weighty but not unrestrained, it makes its presence known without overpowering the other components, and the higher guitars and vocals still soar above in a thoroughly enjoyable manner.
Next we move to Camo & Crooked's "Watch It Burn", and the slow build on this song really pulls you in. The Wharfedales deliver superbly on the subtle layering as they build to the first peak, which crashes over me with a phenomenal amount of power for the size of these speakers. The individual layers are recognisable but fit in to the greater picture nicely, and the Diamond 12.3s keep up even as the layering gets hefty.
I figure that's probably enough energetic music, so decide to finish off with the slightly more relaxed selection of Nick Cave & the Bad Seeds "Red Right Hand". Again I'm impressed by the disparate elements of the band coming together, and when Nick Cave's delightfully deep tones come rumbling out I'm sold. They sit along the lower end of the range as the instruments harmonise above, and I'm thoroughly impressed by how these Wharfedales are keeping up.
Overall I can't help but feel these are another strong showing from this stalwart of Hi-Fi, and punch well above their price value when you consider the level of quality you're receiving. I would definitely recommend an audition for these so you can check them out for yourself, so get in touch with your local Richer Sounds store today and give these excellent speakers a spin!
Shop now and find out more about the Wharfedale Diamond 12.3 speakers.
Author: Ben, Brighton store
Learn more about the Cambridge Audio Evo 150.