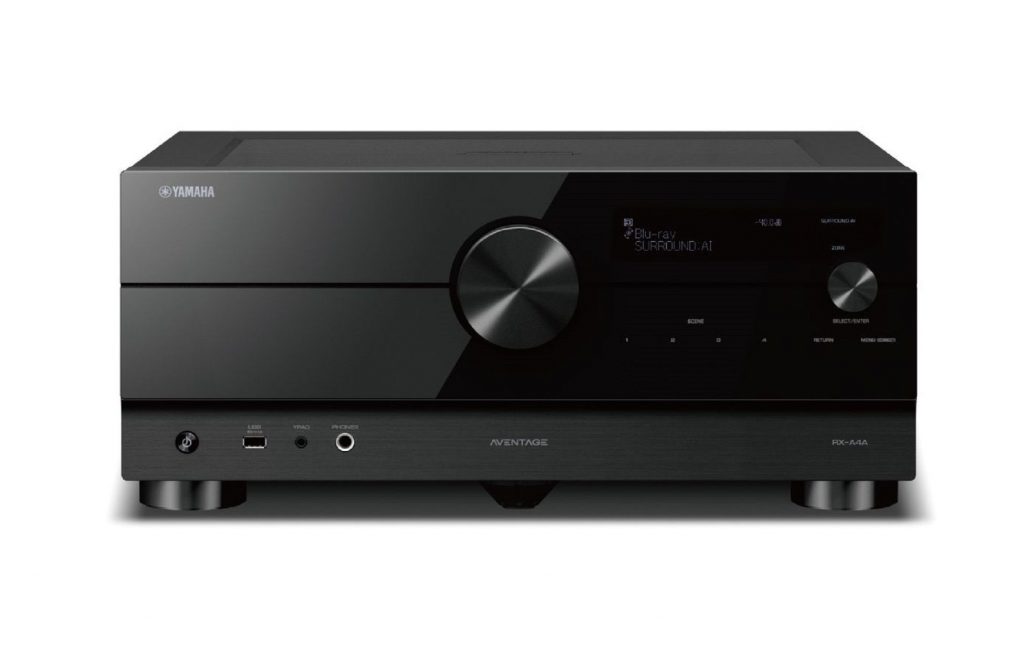 Having released their 2021 series of AV receivers, Yamaha have kept a running theme of splitting their home cinema amps into two series. The entry-level RXV series and the improved 'Aventage' range. So how will this middle entry to the Aventage series hold up? We review the Yamaha RX-A4A…
In a year marred by supply issues across the electronics industry at large, two of the usual heavyweights in home cinema (Onkyo and Pioneer) haven't even released an amp for purchase. Their absence however, have given Yamaha and Denon a larger chunk of the market for 2021 – and lets Yamaha, in this case, spread their musical wings.
Built to what is affectionately referred to as a 'Hi-Fi' standard, the Aventage series might be short of a few speaker outputs or HDMI inputs when placed against a rival at (or near) the same cost, but does that mean it's lacking?
The answer to that, will depend on your priorities. Often seen as the hub of a living room or cinema set up, AV receivers are expected to be a jack-of-all-trades, but not often the master. So you tend to sacrifice the quality of music – leaving a dilemma. Do you also buy ANOTHER box for your musical listening? Or do you make do with the AV receiver's often lacklustre musical presentation? With the Yamaha, there' s no need to choose.
With audio-focussed built choices such as it's Anti-Resonance Technology (ART) and a solid H-frame on the inside of the chassis to dampen vibrations, this isn't just an aluminium tin of circuitry.
The high-slew rate amplifier is capable of controlling the vast majority of speakers you could throw at it, from sub-sat box deals to hefty floorstanders that tower over toddlers. Couple this with its audiophile-grade DACs – and you've got a receiver that is just as happy playing your vinyls (phono stage built in), streaming through its included MusicCast app – or of course, bringing your favourite movies to life.
You might not have your full 9 channels like the Denon AVRX3700 – but unless you're routing speakers to other areas, or somehow have room for 9 full speakers in your space, I'd ask you if you REALLY need that extra set of terminals.
The item itself is what we like to call 'reassuringly heavy', with the thicker frame and robust fascia contributing to the units heft. The controls on the front of the unit have weight to the turn dial, and each button feels like it will survive a good amount of presses.
A trimmed down and user-friendly interface alongside Yamaha's well-respected YPAO room EQ system makes set-up an absolute breeze. Simply pop the mic where it tells you in the quiet room (maybe don't try this at Christmas) and let the audible beeps, clicks and swoops do the hard work for you. Once it's running, it's musical prowess is clear. Stereo imaging is comfortably more accurate than its nearby competitors from Marantz and Denon, and coupled up with a REL subwoofer, you can still experience plunging bass depths on your music – not just your movies.
Not to be outdone, once a film is in full swing, this same level of control from the amplifier ensures that effects, voices and music all stay precisely placed in the viewing arena and keep you pinned to back of your seat – or right on the edge of it, whichever is needed at the time.
It lacks some of the same force that the brighter, more gutsy Marantz SR7015 brings to the party. So if you really need the muscle in your system, this might be a worth consideration, given it holds up musically so well.
Without opting for a genuine Hi-Fi manufacturer receiver, such as Arcam's AVR20 – you'd struggle to find an amp that can bridge the gap between music and movies as well as the RX-A4A. Besides, if you do find yourself begging for those extra speaker terminals and more wattage, there's always the bigger siblings in the Aventage range.
Learn more about the Yamaha RX-A4A.
Author: Tom, Cardiff Store