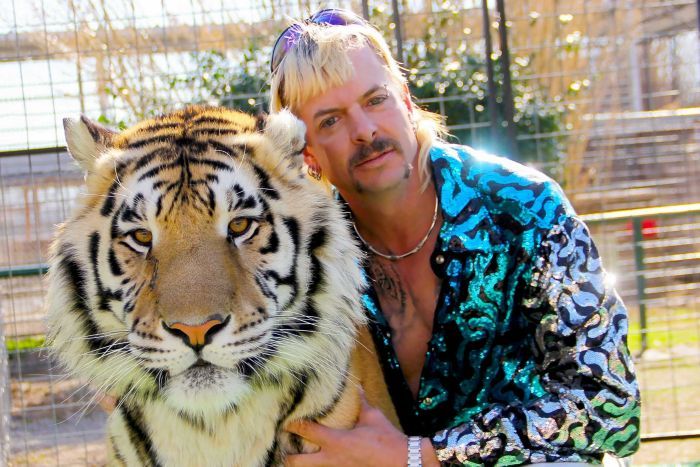 Recently, Netflix has become the go-to streaming service for crazy, off the wall documentaries. One of their newest releases, Don't F**k with Cats, was a rollercoaster of absurdity, and Tiger King: Murder, Mayhem and Madness, is possibly a step further into crazy town.
Joseph Allen Maldonado-Passage, better known as Joe Exotic, is an extroverted Big Cat lover who runs the G.W Zoo in Wynnewood, Oklahoma, and has one hell of a story to tell. The G.W Zoo focuses on animal experiences, raising and breeding big cats, of all kinds, from Tigers, to Lions, to the controversial Liger. Joe Exotic offers his visitors the chance to get up close and personal with their favourite big beasts, have a photo shoot with the animal, and cuddle sessions with the cubs. Along with Joe's outlandish outfits (You've never seen so much glitter and sequin in a zoo before) his budding country music career, and the controversial products sold in his zoo shop (Joe Exotic underwear, not even being the craziest item in there), you could be inclined to believe that this was just a documentary showcasing a larger than life character, and his mission to keep his brother's memory alive through a fun experience for rural America. But you would be wrong.
A wild story filed with murder, polygamy, fraud, arson, hired killers and some very questionable Wall-Mart meat, it can only be described as absurd. You may at points, struggle to believe it is true, but whether you want to believe it or not, it is.
The story centres mainly around Joe and his biggest rival, Carol Baskin, who runs Big Cat Rescue, a "non-profit" animal sanctuary in Tampa, Florida. It isn't hard to see why there is a rivalry, but how it has escalated into crazy YouTube slinging matches, and worse, is for you to wait and see. Carol's mission is to save big cats, born into captivity, or sold to home owners who can no longer care for them once they grow to adult form, and Joe keeps his animals in dingy cages, and showboats them like a prize horse. However, it could be seen as fairly hypocritical. Carol herself, keeps her animals in cages, unlike some safari parks where animals have free reign. She also, charges admission to her tours, and the park itself. She is very vocal about her dislike for Joe and the G.W Zoo, however, Joe takes this rivalry to a new level, and the results are nothing short of mind-bogglingly shocking.
Instead of just focusing on the bitter hatred between this pair, the documentary sweeps across the tight knit community of "zoo" owners in America, where captive tiger numbers are between 5,000 to 10,000, compared to fewer than 4,000 in the wild. These outlandish folk rival Joe in their exuberance and ego, one in particular, Doc Antle, rides into his Zoo on the back of an elephant, marching to the applause of his visitors (and his multiple wives.…). Joe Exotic however, takes the spotlight at every opportunity. He clearly enjoys fame, and the spotlight, made obvious by his consistent release of country music songs, featured in this documentary along with their videos, (they must be seen to be believed). Joe has become an internet sensation, and somewhat of a meme lord, since this documentary came to Netflix in early March. This is not however, his first dip into documentary life, he was previously featured on Louis Theroux's investigation into Exotic Animal ownership in America, entitled, Beware of the Tiger. Give it a watch for a small taste of the world of Joe Exotic. But don't be afraid to dive head on into Tiger King: Murder, Mayhem and Madness. There is a reason that this documentary has become a world wild culture phenomenon. Everything Joe Exotic says is instantly quotable, but there is a dark undertone here, and you must formulate an opinion on whether you think this man is of good intentions or bad. Let us not forget what is at the core here, animal abuse and the illegal breeding of Tigers for personal wealth and gain. Whilst the keepers, or some of them, truly believe what they're doing is right, it is in fact wrong, and to see these beautiful creatures confined to small spaces is very sad at times. This documentary has many, many layers, and will take you on one hell of a ride, and I guarantee you'll be telling everyone you know about some of the crazy anecdotes you heard from Joe Exotic.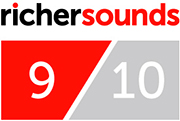 Author, Amy, Cardiff store