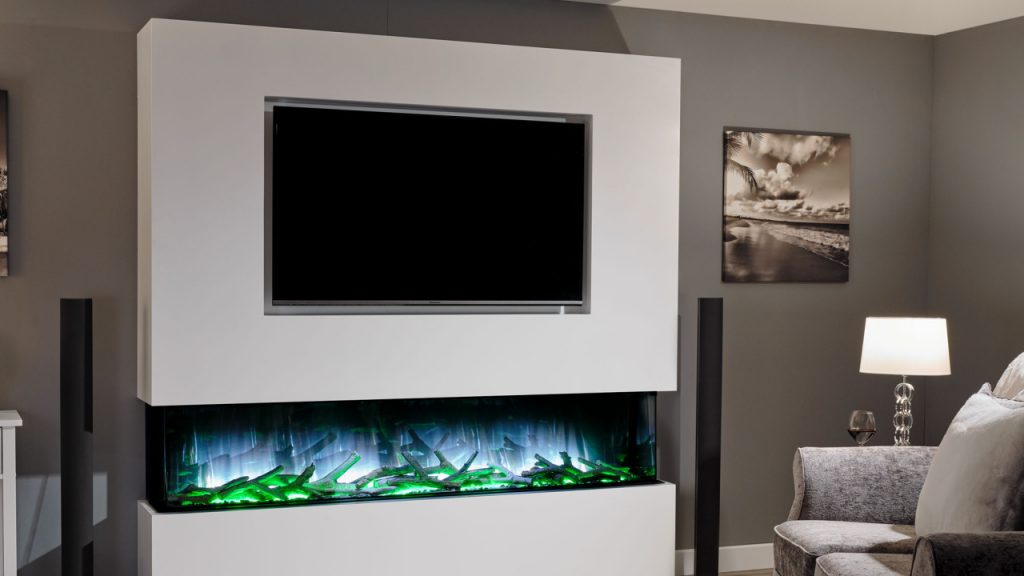 You curl up in your favourite spot, pick up your remote, press a single button and the lights dim, the fireplace starts to flicker, the projector lowers and your surround sound system comes to life. Before you know it, your favourite show is ready to go. 
Whether you have an old fireplace or no fireplace at all, we can work with you to give your living room the technological boost it deserves. 
Adding a bespoke fireplace to a media wall provides an element of visual appeal and is also highly practical, enabling you to add warmth on those colder days. In addition to this, it also discreetly houses your TV, speakers or projector screen, so you can have the big-screen experience at home while simultaneously hiding them away when you're not using them.
This can completely change the way you use your space – cinema by night, living room by day. You'll have one intuitive remote control to make even the most complicated of entertainment systems so easy to use and our installers will happily show you how it works.  
Naturally, as an AV enthusiast, you're going to be focused on getting the best possible TV for your media wall. Modern LED TVs are generally very thin, although some OLED and QLED models are even thinner, allowing them to integrate with your media wall further. Check out our amazing TV range here.
Sound as part of your setup is also very important. If the TV you choose doesn't have enough cinematic impact, why not opt for either a soundbar or 5.1 speaker package? If you want to go the extra mile, you can also install in-wall speakers, making them virtually invisible in the space. There are too many possible combinations of TV and sound system to name here, so please speak to your local store, or our custom installation team today.
But, it's important not to neglect the fireplace! Adding a fireplace to a media wall not only adds another element of visual appeal, but it's highly practical as well. So, if you're going to be adding a fireplace to a media wall, what do you need to know? What types of fireplaces work best with media walls?
If this sounds appealing to you, here's what the team at Direct Fireplaces have told us you need to know when choosing a fireplace for your media wall.
1: It's got to be electric 
This is because of the way electric fires generate heat. They use either a fan-forced heater or an infrared heater. 
In fan-forced electric fires, a blower is used to pull cool air in, which is then passed over a heating element. Once the air has warmed up, it is blown directly outwards into the room from the bottom of the fire (not upwards), so it won't damage the TV mounted above it. 
Infrared heaters use a quartz bulb to create heat, which is then radiated into the room. The nature of infrared heat means that it doesn't pose any risk to a TV mounted on a media wall. 
Importantly, and unlike other types of fires, such as gas, electric fires remain cool to the touch and do not heat up the wall on which they are hanging. This is also why they are perfect for media walls. 
2: Check the heat output of your chosen fire 
The majority of electric fireplaces do not exceed more than 2kW heat output. To put this into context, 2kW is enough to take the chill out of a room but isn't enough to make it feel hot. 
It's for this reason that electric fires are referred to as being largely decorative and why they should be used in conjunction with a traditional central heating system in your home. An electric fire shouldn't serve as the sole source of heating for a room. 
3: Wall-mounted or hole in the wall?  
This is arguably the biggest choice you'll have to make, as it will affect how you construct your media wall.  
Wall mounted fireplaces are hung using either a wall bracket or a set of hanging screws. This makes them incredibly easy to install and it can be done usually in less than half an hour. They do protrude from the wall, however, so you'll need to take this into account too. There are slimline versions available though, which mimic the look of hole-in-the-wall fireplaces. 
Hole-in-the-wall fireplaces, as their name suggests, sit within a recess in the media wall. These recesses can either be incorporated into the media wall as it is being built, or retroactively added in. They have the benefit of looking sleek and stylish as they sit flush with the main surface of the media wall, but you do have to take their additional installation requirements into account. 
4: Remote and/or smartphone control 
It's not just TVs that have become 'Smart' in recent years. It's now possible to buy media wall fireplaces that can be controlled via an app on your smartphone, so if you really want to create the most contemporary set-up, you might want to consider this too. 
Our thanks to Direct Fireplaces for providing this information. To get started with your own bespoke media wall, complete with fireplace and home cinema equipment, speak to one of our friendly experts at your local Richer Sounds store or visit our custom installation page for more ideas.