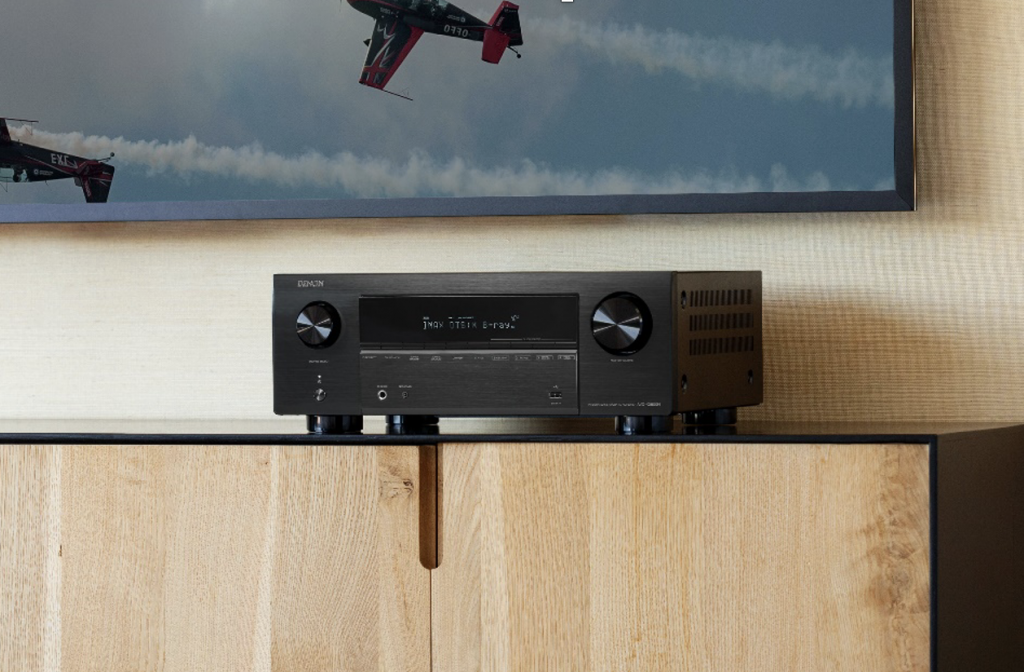 True movie lovers understand that to create a rich audio environment and capture a cinematic experience in the comfort of your own home, you need a high-quality AV Receiver.
Versatile and uncompromising AV Receivers endowed with Denon's high-end technology and experience meet the needs of home theatre enthusiasts and beginners alike.
Audio has gone from 2D – which was "only" surrounding you with speakers front and back – to immersive 3D sound, adding height speakers with Dolby Atmos, DTS:X, Auro 3D and MPEG-H. With the latest Denon receivers, sound immerses you from all directions, placing you at the centre of the action – with everything from movies to sports and games.
Denon have been consistently pushing the boundaries of audio equipment for over a century and are built with the passion and precision of people who really care about great sound. Each new generation of Denon AV receivers sees hundreds of components upgraded or replaced to enhance performance, year after year, in their continuous pursuit of class-leading sound.
Any audio product can sound vastly different depending on the room and surroundings. However with the measurement and processing power of Audyssey calibration built into every Denon receiver, all you have to do is plug in the microphone supplied, then let the system set everything up automatically. Your favourite movies and TV shows have never sounded so good. In addition, Denon's upper-class AVRs starting with the Denon AVC-X3800H are DIRAC LIVE upgradable. DIRAC LIVE is a room correction technology designed for the specialist, to fine-tune the room equalisation to the absolute maximum.
With more detail, better colour rendering and improved contrast, the newest TV standards are handled by the advanced video processing in the latest Denon AV receivers to bring you even more of the picture, for a much more involving experience. And if you're still using older equipment, they'll upscale the video to 4K Ultra HD resolution or even 8K, to look great on that new TV!
We've come a long way from the days of VHS tape, DVD and just a few TV channels. Denon receivers can make the most of Blu-ray, 4K UHD (Ultra High Definition) TV and streaming services like Amazon Prime, Disney+ and Netflix. Even more, the new AV Receivers let you build the best 4K home theatre today and give you the comfort of knowing that your system is 8K ready when you are. From sports to movies and your favourite shows, Denon receivers always make the most of your viewing.
Gaming has never been as exciting running video and surrounding sound in perfect synchronisation. With up to 7 HDMI inputs, the latest-generation Denon AV receivers can handle all your digital video sources, from satellite and cable receivers to computers and game systems like a Playstation or Xbox. And they're ready for all the brilliant video formats, including HDR10+, HLG and Dolby Vision. You don't need to worry about the technicalities of what you're watching – as the heart of your home entertainment system, your Denon AV receiver can handle it with the latest HDMI specifications.
Denon AV receivers sound amazing with music, too. Not only can they play music from your CD, DVD or Blu-ray player in impeccable quality. They also connect to your home computer or network storage for playing back your digital music library, and even extend your current library by accessing unlimited music from streaming services, such as Amazon Music, Tidal, Deezer and Spotify. You can even stream music straight from your phone, using Apple Airplay 2 or Bluetooth.
Thanks to Denon's HEOS wireless technology built into many Denon products. It allows you to wirelessly stream music from many music services or even your TV sound directly to any device with HEOS Built-in. You can group HEOS built-in devices like Denon Home wireless speakers, soundbars, music systems or even selected HiFi amplifiers to wirelessly share music in multiple rooms. It's quick and easy to set up, and all controlled using the free HEOS app on your phone, or simply by using your voice and an Alexa Echo device.
With all this capability, you might expect the new Denon receivers would require a genius to install and use. Not so, Denon have made it simple for anyone to get the very best results from their products. There's a built-in Graphical User Interface including the Denon Setup Assistant, with step-by-step instructions to help you get everything set up and running in minutes.
Denon's aim has always been to create a better future through the simplification of audio and visual experiences. The brand has sought to make leading technologies accessible to all. Around the world, Denon is trusted to deliver high-performance products, designed to make life easier and more enjoyable. But not only that, they are designed to last, to sound spectacular, and to be endlessly compatible. Principally though, Denon wants their products to excite, and to help you experience music and movies in a way you never thought possible.
This depends on the size of your entertainment space, how many devices and speakers you'd like to connect, and which features you want to take advantage of (certain features can enhance how enveloping the sound is such as Dolby Atmos or IMAX Enhanced). Bigger spaces need more power to adequately fill the space with sound. You'll also need to consider how much you'd like to spend. Thankfully, Denon has a wide range of legendary AV receivers to fit every budget.
Their entry model, the Denon AVR-X1700H offers 145 watts of power to a maximum of seven speakers, enough for most typical living spaces. Upgrade with the Denon AVR-X2800H and you get more power and more connectivity. The addition of a second HDMI output is ideal for running a TV and projector or two screens in the same room, or for sending audio and video to a second room. If you need even more AV performance, there's the Denon AVC-X3800H. You'll feel the power of 180 watts through up to nine speakers to support the latest IMAX Enhanced specification and Auro-3D.
The best AV Receiver is the one that most closely matches your entertainment needs. Pick one that has enough channels, the wattage you want, and that fits in your desired entertainment space. You should choose one made by a reputable brand with great customer reviews and amazing quality. Ideally, a brand has a long history in the business, like Denon's legacy of over a century.
To find out more about which AV receiver is right for you, why not visit your local Richer Sounds store, or speak to our Telesales team now.