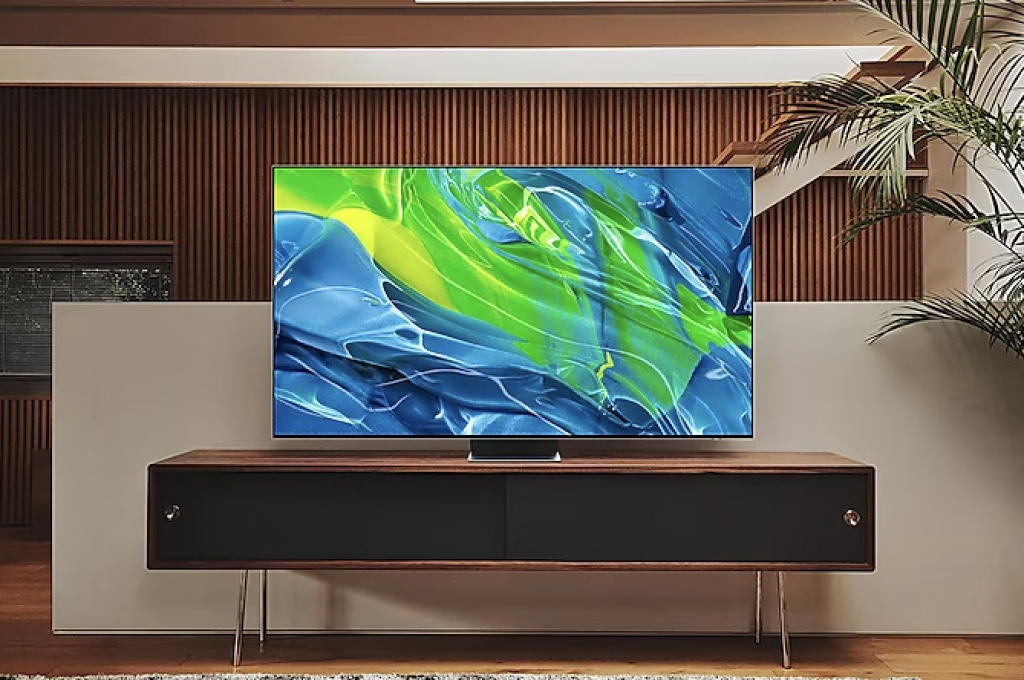 Following on from the original S95B QD-OLED of last year the S95C series aims to improve on this most recent version of the vaunted OLED technology. But up against stiff competition from every other manufacturer, will Samsung have come far enough to take the crown this year?
The Samsung S95B was a popular series last year – brighter, with more impressive colours than most of the market due to the mash-up of QLED panels and OLED backlighting, only Sony's considerably more expensive A95 model could boast a more 'wow' image. Now if you missed out on the S95B in the size you wanted last year you COULD go for the S90C – this year's effective replacement to it, with little to change except for some up to date processing. OR, you could go for the S95C.
Out of the box it is, as expected for a Samsung flagship, extremely stylish. The return of the One Connect box means that it's easy to declutter your TV area and run the potential spaghetti junction away into a unit, behind the TV with some clever bracket tricks or simply make it easier to run cables when you've wall mounted it.
It also bears mentioning that you end up with one of, if not the, thinnest TVs on the market, with the One Connect box, the TV comes in at a flat thickness of 1.1cm – and somehow feels less flimsy than its predecessor. Continuing on from last year's screen technology, the screen once again has a fantastic matte coating to help mitigate glare in well-lit rooms, meaning you can place it near bi-fold doors or in sunnier rooms without worrying too much about losing the picture should the sun appear.
Specs-wise it is also exceptionally impressive for gamers. Capable of full 120hz (144hz for those of you wanting a TV/PC rig monitor) responses, VRR, ALLM – the only fly in the ointment is the lack of Dolby Vision. Yes, you'll still get the standard HDR response, but you'll be missing out on the dynamic elements of it.
The smart system is improved from last year as well, with software rearranging apps to more logical spaces but there's still too many ads crammed into it to make it a competitor for best OS.
Curiously it DOES have Dolby Atmos, and an improved, more uniform sound response – likely in part due to the re-design around the screen and chassis. However it still can't hold up against Sony's Acoustic Panel design or Panasonic's 2000 series – even though they're considerably less sleek.
All of the above is lovely – but realistically, the picture is the main concern. Out of the gate it is EXACTLY what you'd expect from a Samsung. Full of vibrancy and vivid colours, the Samsung shines like the QLED we'd expect, but with the OLED aspect managing to add some more fine detail and nuance to the picture.
With HDR content and the screen's specific HDR/Deep Colour modes, you get sharper detail, enhanced (but admittedly not completely natural or accurate) contrast and colour – but it took some time to get here. If you enjoy playing with balances and sliders, then there's some excellent guides and sites to help, but it's time some would rather spend just watching.
This isn't to downplay the TV. The S95C is extremely impressive, comfortably one of the best designed TV's this year and if you opt for mostly 4K, HDR content (particularly AppleTV and Amazon when dealing with Samsung) then it's definitely worth checking out. To trial out this flagship model, why not contact your local Richer Sounds to test it?
Author: Tom, Cardiff Store
(The model tested was the QE55S95C)