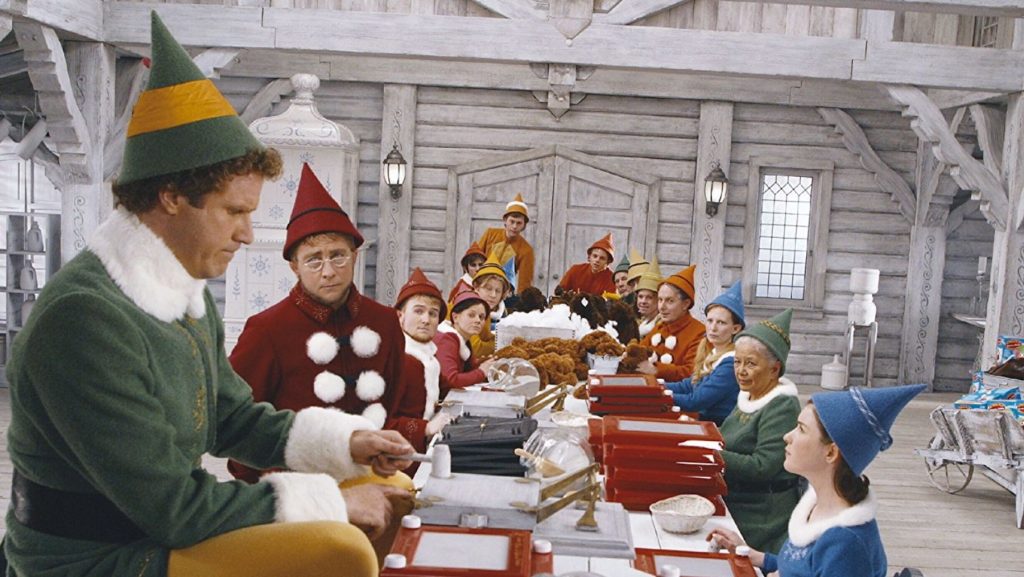 As much a staple of the holiday as its trees, cards and songs, Christmas films fill us with that warm, unique 'Christmassy' feeling, no matter how many times we see them! This list will explore ten of the best available on streaming services today, featuring classics both old and new that the whole family can enjoy.
Netflix:
Netflix is full of festive favourites both new and old. Here are two of their best Netflix Original Christmas movies:
Klaus (2019, PG):
One of Netflix's best sleeper-hits, Klaus earned itself an Oscar nomination and won the award for best animated film at the BAFTAs. The story follows a hapless postman who is positioned at a frozen Northern town, who soon discovers a reclusive toymaker known as 'Klaus'. What follows is a quirky, heart-warming take on Santa's origin, with the big man played with both might and tenderness by the great JK Simmons. The film's gorgeous hand-drawn animation works in combination with modern lighting and texturing techniques to make Klaus into an astonishing visual treat, distinctive amongst its computer-animated counterparts. A new Christmas classic, Klaus is a festive work of art.
Let it Snow (2019, 12):
When a massive snowstorm hits a small town on Christmas Eve, a group of high-school students are brought together and learn more about each other, life and love. One of the service's better Christmas originals, Let it Snow shines with a stellar young cast, delightfully cosy atmosphere and a perfect helping of Christmas 'cheese'. It's sweet, glossy fun that teens will lap up, as will any of their parents who are still young at heart!
---
Amazon Prime Video:
Here are two brilliant Christmas flicks, included in your Amazon Prime membership:
National Lampoon's Christmas Vacation (1989, 12):
Combine the gaffes and guffaws of a National Lampoon with festive soul and you have the gloriously goofy Christmas Vacation. The brilliant Chevy Chase stars as Clark Griswold, the perpetually optimistic patriarch of the Griswold family who is determined to put on the perfect family holiday (despite everything always going wrong). It's impossible not to support the poor Clark as he yearns for a perfect, traditional Christmas – the movie expertly captures how much effort and frustration it can take just to achieve an ideal holiday. One that, really, should be relaxing!
The Holiday (2006, 12):
In a bid to get away from their rocky relationships at home, two pen-pals swap lives and decide to live in each other's homes – only to find new loves just around the corner. The two friends in question are played loveably by Kate Winslet and Cameron Diaz, who both anchor the film with heart and humour. Equally as great are their two new suitors, who couldn't be more opposite to each other in the forms of Jude Law and Jack Black. Law is a dashing Christmas hunk and Black is a spark of wit and energy, both matching unpredictably well with Diaz and Winslet. With fantastically Christmassy set-design and a sweet tale at its heart, The Holiday is a Crimbo classic that never fails to entertain.
---
Now TV:
Sky's streaming service has loads of holiday classics, and below are two all-time greats:
It's a Wonderful Life (1946, U):
Not only one of the best Christmas films ever made but easily one of the best films ever made, period. Director Frank Capra's tale of George Bailey (played by the always amazing James Stewart) is timeless, touching the hearts of millions – both young and old – for generations. When a series of disasters tip the affable Bailey to the edge, he is visited by his guardian angel Clarence (the loveable Henry Travers) and is shown just how much good he brings to the world around him. I'm writing this description through glassy eyes as we speak – It's a Wonderful Life is cinematic perfection that truly exhibits the heart of Christmas, community and human spirit.
Elf (2003, PG):
One of the very best Christmas comedies ever made, Elf is full of holiday spirit and iconic, laugh-out-loud moments. Will Ferrell gives a career-best performance as the lumbering, naïve 'elf' Buddy, who goes in search of his biological father when he learns he's actually a human! A top supporting cast consisting of greats like James Caan, Mary Steenburgen and Zooey Deschanel round out this Christmas classic, which achieves the distinction of being as heart-warming as it is hilarious. Elf has since inspired a musical, an animated TV special, and the accolade of being one of the best Christmas films of all time.
---
Disney+:
Disney+ is home to loads of Christmas movies that the whole family will enjoy, such as these two treats:
The Muppet Christmas Carol (1992, U):
No matter how many times it's adapted, I will always be enchanted and moved by Charles Dickens' A Christmas Carol. It's one of the best stories ever written – and the Muppet rendition may well be one of the very best! With a top-class Scrooge played by the brilliant Michael Caine at its centre, the titular Muppets somehow manage to not only blend in with the story, but embellish it with fantastic, memorable songs, jokes and visual gags. By retaining the heart of the classic tale at its core, director Brian Henson effortlessly blends the Muppet world with Dickens' to exceptional – and surprising – effect.
The Santa Clause (1994, U):
Tim Allen and company manage to turn a pretty bizarre concept into a holiday staple with Disney's The Santa Clause, which sees fraught toy salesman Scott Calvin (Allen) given the duty of becoming the new Santa Claus after he accidentally knocks the current Santa from his roof. What soon follows is a bigger body for Scott and a stressful new job as he must work with his son (Eric Lloyd) and a crack team of elves to keep Christmas on track! Allen is terrific, Lloyd is adorable and the concept is given all of the hilarious antics it deserves. It spawned two successful sequels, but this original is still the best.
---
Freeview Play:
Freeview Play is a great tool to explore what freebies you can find without needing to dash between all the different UK TV apps. Here are two Christmas classics available on the service:
Nativity! (2009, 12, via BBC iPlayer):
Martin Freeman is perfectly cast as neurotic primary school teacher Paul, who is asked to direct a Christmas nativity play at his under-achieving school. Fraught with doubt at their chances of putting on a good show, things go from worrisome to worse when Paul lies to a competing school that Hollywood have expressed interest in adapting the play, and will be in attendance! With a cast of hilarious kids and a uniquely British sensibility, Nativity! is fun for the whole family that builds towards a superbly fun final show that will be seen again and again for many Christmases to come.
Arthur Christmas (2011, U, via ITV Hub):
Father Christmas (Jim Broadbent) runs a slick Christmas operation with his proficient, eldest son Steve (Hugh Laurie), but when their high-tech holiday system misplaces one little girl's present, it's down to his awkward younger son Arthur (James McAvoy) to set out on a mission to deliver the gift before it's too late. Much like the hero at its centre, Arthur Christmas is an unlikely Christmas star: a little animated movie that has since proven itself as a holiday classic thanks to its enormous heart, clever humour and sense of spirit. A joy from start to finish, Arthur Christmas is the season personified.
What other Christmas movies are tradition for you and your family? Let us know in the comments below, or via our Facebook page or Twitter and show some appreciation for your festive favourites!
Author: Tom, Chiswick store