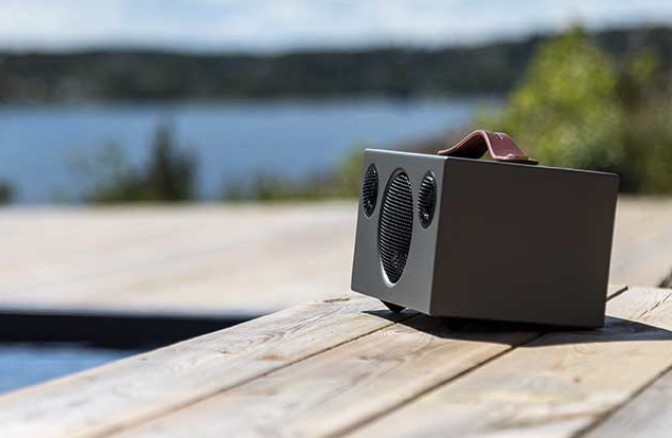 When it comes to updating a classic there is a fine line to be drawn. Do you keep things largely the same but only tweak around the edges, or do you strip things back to only the essentials and build from there? Audio Pro approached this task in their own way with the new Addon T3+ Bluetooth speaker, and updated version of the classic T3 which launched in 2014. Audio Pro has since taken the design and expanded it into a range of wireless speakers and subwoofers, but the classic remains and needed an update. Join us as we find out what path they have taken and if it worked out.
The Addon T3+ is a Bluetooth speaker designed with a certain Scandi flair to throwback to a time of boomboxes and John Cusack outside your window. The rectangular design is dominated by the 8cm woofer and flanking 2cm tweeters on the front of the speakers and the genuine leather handle on the top. You can tell the care put into the design of this product by its eye-catching look. There are many more expensive speakers which struggle to hold your gaze longer than a few seconds.
Round the back there is a reengineered bass reflex port for even more punchy delivery. The original T3 was always an easy grab for punchy bass whether in the park or a Friday night party. It never disappointed and we are happy to report that the T3+ keeps that essential characteristic. There is also a 3.5mm auxiliary jack for connecting an older phone or iPod and a USB 5v port for charging your devices on the go. It always baffles me that more manufacturers don't include charging connections on their wireless speakers as it's a real lifesaver after a day on the beach or at the park.
Speaking of days on the beach, we really do mean days thanks to the T3+ and it's phenomenal battery life. Claimed at 12 hours at full volume and 30 hours at half volume we found these claims to match up mostly with our experience during extensive testing. Even if you forget to plug the speaker in occasionally you aren't going to be punished next time you head out. Unless you are really pushing this thing, it should last a week without the need to charge.
When it comes to sound, as we hinted at already, the Addon T3+ lives up to the bassy character of its predecessor and still delivers the rich mid-range and crisp top end we enjoyed at the same time. Listening to the latest Fontaines D.C. record A Hero's Death, we heard the delightful high hats and symbols we love while still getting blown away by the kick drum when it arrives. Vocals are clear and rise above the noise without things descending into chaos.
To summarise, in a competitive world of Bluetooth and wireless speakers, the Addon T3+ stands out thanks to it's delightful audio quality, fantastic battery and stylish design. We think it is still one of the best portable speakers on the market especially with it's tempting price and you should certainly consider it next time you're looking to bring some music with you wherever that may be.
Find out more about the Audio Pro Addon T3+.
Author: Robert, Brighton store