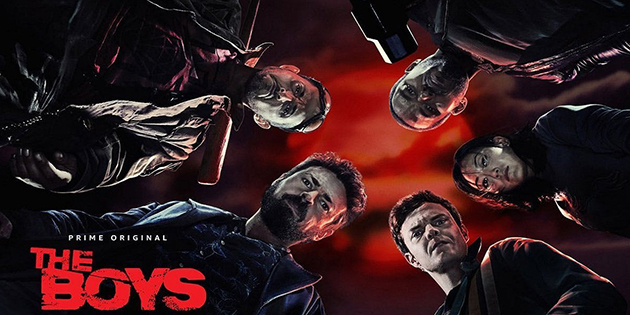 Amazon delivers a big superhero knockout with tragically dark The Boys.
When a speeding superhero causes grisly tragedy for Hughie Campbell (Jack Quaid), he finds himself being scouted by Billy Butcher (Karl Urban), the leader of a vigilante group who aim to expose the lies and corruption of cherished superhero team 'The Seven'. As Hughie falls further into the scheme, he also grows a chance friendship with budding super, and new member of The Seven, Starlight (Erin Moriarty). While his and the group's actions become deadlier and bloodier, Hughie faces the grim reality of chasing revenge.
Before the show had even really began, Amazon's new surprise hit The Boys had me smiling for one reason: lead character Hughie Campbell works in a hi-fi shop, and by the end of the episode, his knowledge in home cinema helps him escape a sticky situation in a big way – I can't look at our display wall in the same way again! This first episode is directed by Dan Trachtenberg, and much like he displayed in 2016's excellent 10 Cloverfield Lane, he opens The Boys with an expert handle over the plot's tonal whiplash, bouncing from dark tragedy to (somehow) giddy comedy. It's a blistering pilot episode, one that successfully navigates the establishment of several characters and plot threads, each with numerous atmospheric and tonal shifts, while keeping it all coherent, entertaining, and most importantly of all, gripping.
It has to be said though, even as modern television shows pivot into the pessimistic and the grim, and even after the likes of Game of Thrones, The Boys is very, very pessimistic and grim. Set in a world where superheroes exist and are worshipped as godly celebrities, it makes every effort to present the danger of such a reality. Almost every member of American super-group 'The Seven' is corrupt, arrogant, egotistical, and frequently, mercilessly cruel. The group is headed by the monstrous leader Homelander (Antony Starr), a mirror to Superman so dark he makes the kid from this year's Brightburn look like Little Orphan Annie. The only entity that exists above their own domineering presences are their corporate 'owners', Vought International, whom oversee their public image, ensuring that they are never seen as anything less than perfect. Head of this is Madelyn Stillwell, played excellently by Elisabeth Shue. The last woman I could imagine to be an intimidating, threateningly subdued villain is Jennifer from Back to the Future, but Shue makes the role entirely her own.
Inverse to this is Karl Urban's Billy Butcher, leader of the show's titular anti-'supe' vigilantes – crass, expressively antagonistic and overtly violent, Urban plays Butcher as if he's channelling the best aspects of Jack Sparrow and Jason Statham. It's great to finally see such an underrated and under-utilised actor be given a leading role in something that has sprung to success. After the unfortunate cancellation of his show Almost Human in 2014, the box office botch of the brilliant Dredd in 2012, and his repeated scene-stealing in the rebooted Star Trek movies, Billy Butcher is rightfully a role for Urban to relish.
Young leads Jack Quaid and Erin Moriarty make for the essential moral hook needed in a show like this. Watching Hughie fall into Butcher's world of life-changing acts and deception makes for gripping viewing, being almost Breaking Bad-esque in the way Hughie acts as both his own Walter White and Jessie Pinkman; getting lost in his own lies while also being victim to a dangerous leader. Moriarty also manages the difficult task of presenting Starlight with such warmth, generosity and moral resilience that you at first almost don't believe she exists in The Boys' ugly world, but instead she proves an essential part of it. While we watch her optimism fade and the terrible truth of her former heroes comes to light, her presence is a reminder that even still, there are good people, and her being one of the 'supes' Billy hates complicates the divide perfectly.
Nevertheless, your tolerance for what the show presents may still vary (and I don't just mean the gore), as for a while, The Boys seems to hint at an eventual feeling of gratification that never comes. Whereas I am still very excited to see where this is headed, there is an argument to be made that its bleakness will become its undoing. This looming worry might put many off, and if it does for you, I can understand why. 2019 is a strange year for this show to release in. In a way, it's perfectly timed anti-Marvel after the comics juggernaut ended its 'Infinity Saga' this year. Yet, with optimistic superheroes proving so endlessly popular, what does that have to say about how people want to escape with such fantasy? The Boys is ever so slightly burdened by its roots, what I've seen described as a retaliatory comic series made during the Bush administration, and the show ultimately doesn't entirely update itself for what it wants to say about the current world. Is this just anti-Avengers, anti-authority and anti-corporate? Or does it want to say something more about what to believe in? I hope with its second season, we get an even more targeted focus, both in plot and ideology.
Regardless, with some fantastic performances, a truly engaging story from start to finish, and some impressive production values, The Boys' first season proves that this the next big show to watch out for. A hard kick to the super-status-quo, whether you think you want that or not.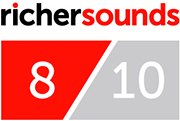 Author: Tom, Prestwich store