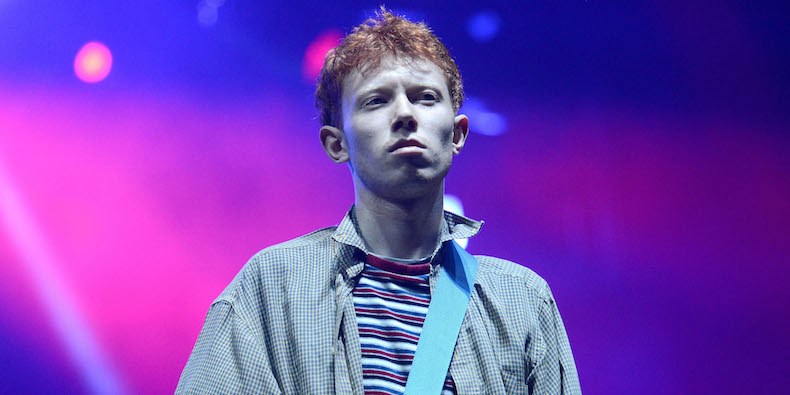 We last wrote about futuristic-traditionalist King Krule back in 2017, when we reviewed his Mercury Nominated Album The Ooz. Since then he has left London and had his first child, will this change of pace have any effect on his musical output?
Archy Marshall also known as King Krule aka Edgar The Beatmaker, actually started off as Zoo Kid back in 2010. A year later he adopted his current moniker, subsequently releasing several EP's and albums. He is a true multi-instrumentalist, taking on the role of singer, rapper, keyboard player, guitarist, bassist, drummer, engineer and probably more. Blending opposing genres such as punk and jazz, his wildly unique style caught the attention of XL Recordings / True Panther, who have released all 4 of his studio albums to date.
As we dive in to the album, Cellular kicks things off in fine style. Alien synth bleeps and confidently loose, guitar string bends fill the space, alongside antique vocal layering; resulting surprisingly in something a little like early Bloc Party material. Elsewhere there are more intergalactic vibes, like the guitar intro on Comet Face which is then joined by an evil bass line that sounds as if it has been plucked with a rusty knife. Theme For The Cross is more abstract, with hardly any vocals, joined by dusty piano, saxophone and rocket ships flying past. Things remain spaced-out on Supermarche, with its clear dub / dubstep influence, featuring twisted guitars and passionate vocals "sleeping through the bottles and corks, of these machines of ours" screamed "let go, let go, let go". Again on Alone, Omen 3, Marshall draws for the tape-echo, as well as utilising dial tone for the tracks introduction. It is undoubtedly one of Man Alive!'s easiest listens, with solid trip-hop drum work, but it is not without surprises. In contrast to this, we also hear songs like Stoned again, where King Krule transforms his voice. This time he opts for a rap style full of rage, and shouted swear words. The track itself is somewhat schizophrenic, at the front of the mix we have demonic vocals and sticky guitars, but just behind them are some pretty guitar strums; covered in chorus bringing some much needed relief.
Opposing energies are displayed throughout the album, one of these being much more sleepy (which is unsurprising as most of the album was recorded at night). Like The Dream, as the name suggests, is very dream-like, sitting just on the edge of in-tune, but often with King Krule it really does not matter. Perfecto Miserable follows on the hazy theme, with no drums for most of the track. Instead we only hear gentle vocals and wobbly guitars, some of which seem to have vibrato turned up to 100 percent. For the most part, these tracks hit the spot, like on (Don't Let The Dragon) Draag On, his jazz guitar chords, slow tempo and what appears to be slowed down vocals, are a great fit. However at times the avant-garde style is taken a step too far. Please Complete Thee, funnily enough sounds incomplete, and Energy Fleets attempts a Radiohead meets Beach Boys mashup that also ends up a little lost. It appears that each decade since the 60's has influenced this album, and on  Airport Antental Airplane its time for some 80's electronic drums. We assume that it is Marshall's voice pitched up in the intro, but it sounds more like Lapsley, (warped bass, guitar, fuzzy noise and tender vocals all combine to create something much cleaner). His love for the 80's carries across to Underclass, King Krule's twisted take on a soulful Teddy Pendergrass-esque love-making song.
Man Alive! Largely sounds pretty similar to its predecessor, and instead of trying out too many new ideas, Marshall has instead refined what we already know and love about him. Maybe his new life as a father has already had some impact though, as we hear a small dose of optimism within his gloomy songwriting. At just 25 years old he has already released so much music, but this album seems like a pivotal moment, and a real step up. Marshall continues to avoid following trends, or attempting to set them. His guitar playing is purposefully sloppy, his production is rough around the edges and his songwriting is charmingly imperfect. In an album full of vintage, nostalgic sounds, he sings about modern technology, and the fast-paced world of smart phones, all at his own slow-motion tempo. We don't love it all, and we doubt you will too, but there are some absolute gems here that are well worth digging out.