Despite being very much USA-based this year for tours and recording, Scottish Synth-pop trio CHVRCHES have delivered their fourth studio album, Screen Violence. How will it compare to previous rave reviews – even being called 'A godless hurricane of kinetic pop energy'?
With tones like something out of a Stranger Things intro, Asking For A Friend then cuts straight through its own tone-led fog with the gentle brogue of Lauren Mayberry and a grasping juxtaposition of some serious bass notes and airy, borderline chaotic high keys.
It might not be a traditional club hit despite the electronics, but it'll light up any arena in the UK lucky enough to host them when they return to these shores in 2022.
Violent Delights takes the same approach with brooding undertones that give weight and structure to the mad, but never messy, synth-pop that is layered over it.
The whole album isn't a lean into electronica however. California is guitar through and through, despite the gratuitous use of FX pedals. They may be classified as synth-pop, but between this track and others like Lullabies and Nightmares, there's an industrial, rocky edge with pounding guitar chords that have been nearly rewritten by the level of pedal-work, that feels distinctly like HEALTH (another of this reviewer's personal favourites…if you're looking for recommendations).
Although the first song they wrote once being back in the studio, He Said, She Said is one of, if not THE, standout hits of the album. Fiercely feminist but still deeply personal, the song is a clear, electro-rock account of gaslighting, retrospective rebellion over previously accepted actions from a partner, and men overall.
Behind the bright and pacy tone, it would be equally at home slowed down with a piano – but is so much better with CHVRCHES' unmistakable sound.
It's worth noting, if there's any doubt to the reasoning behind the song that Lauren Mayberry recently faced abusive threats on social media after merely speaking out about the band's disappointment that a recent collaborator (Marshmello) chose to work with Chris Brown – who also personally (and publicly) stated he hoped they got hit by a bus…
The second lead single of the album, How Not To Drown, will also have something for fans of The Cure – with Robert Smith featuring as a guest vocalist. Between the two vocalists, they manage to harmonise to create a haunting soundscape that feels both expansive and intimate, as vocals have been mastered to sound like they're singing next to you. Meanwhile, the guitar and synths widen out in the refrains, almost feeling encapsulating from all angles, as if underwater with them.
The album closes off like so many others, with a slower and almost acoustic number by comparison, Better If You Don't. It may not be an original closing method, but as they say; if it ain't broke… The track closes off what is frankly, one of the best albums of 2021. With social conscience, chaos, intimacy and most importantly, spectacular music.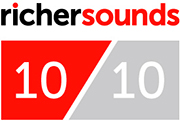 Author: Steve, Cardiff store