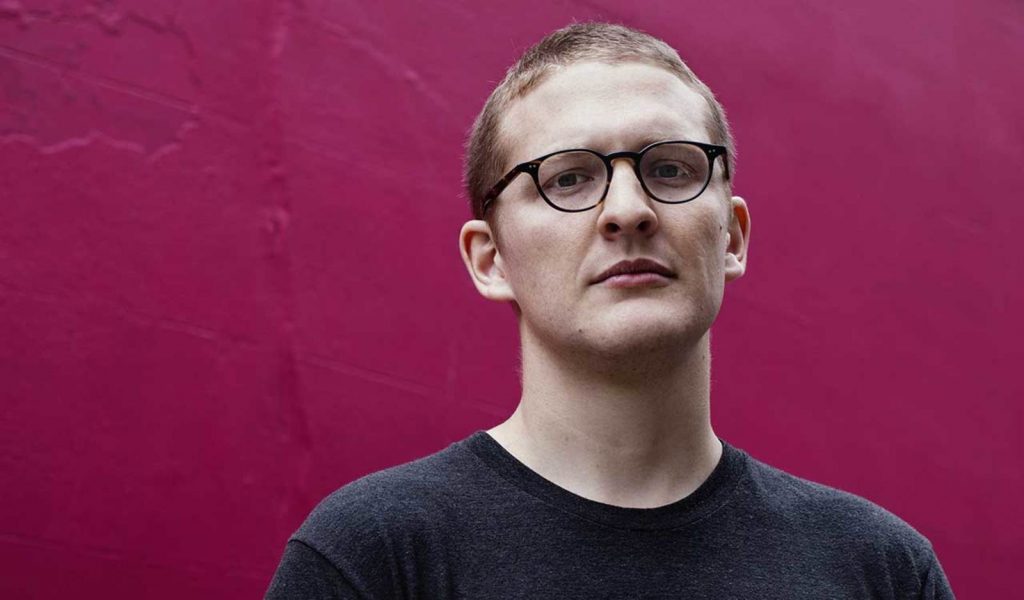 We last reviewed Sam Shepherd aka Floating Points in 2017, and spoke very highly of his experimental Mojave Desert album. Since then he has supported The XX on their tour, and has been presenting a mind-bending improvised live show; how will his latest offering, Crush, compare?
Crush is the third album from this multi-talented musician, producer and neuroscientist originating from Manchester. His output has been steady since he appeared around 2009, but we have not heard anything from him for almost 2 years. Shepherd is an especially creative artist, who draws inspiration from the worlds of modular synthesis and techno, as well as the hip-hop beat making tradition of sampling rare pieces of vinyl. This ethos has gained him a hugely impressive back catalogue, with label affiliations ranging from Ninja Tune to Planet Mu. His early work as a DJ has certainly prepared him well, but his live work has bought him one of his biggest achievements to date. His 16 piece live Floating Points ensemble won "Best BBC Radio 1 Maida Vale Session", and some of you may have caught his band's Glastonbury festival appearance  (which was also aired by the BBC). As well as of this activity, Shepherd also find time to bring out releases from ARP 101, Funkineven, Fatima and more via Eglo records, which he co-founded.
Crush is far less intense than his recent audio visual shows would suggest, and begins with a real statement piece in the form of Falaise. The cinematic arrangement eases in so gently that listeners may find themselves turning up their speakers, and by the time you hear the emotive string section, everything begins to stutter. There is a definitive influence of jazz and classical music here, blending electronic and acoustic elements like Bonobo does. As the exquisite piece builds, so does the tension; and the anticipation of what is to come. A brave silence leads into the broken, glitchy beats of Last Bloom, a less dramatic offering that eases listeners into a more futuristic palette. Fans of Bicep will surely appreciate this one, and many of Crush's tracks also sit in that comfortable space between the dance floor and home listening. Long time fans of Floating Points will be glad to hear a step back towards his former sound, paying homage to the early days of FWD>> nights at Plastic People. On both Bias and Anasickmodular he channels his inner Burial and interprets the era where dark garage was blooming into dubstep, but with a subtle sprinkling of IDM innovation. In fact, UK underground electronic music has infiltrated this album more than once, with nods to jungle and breakbeat also appearing here and there. Shepherd knows what works in a club, and he is not afraid to mix his past and present styles to great effect.
Karakul however is probably the album's bravest point, using space to tell the story. His use of sci-fi clicks, pops, drips and drops, off-kilter, glitchy synthetic sounds and atmospheres make for a bit of a head scratcher; however as an interlude before the pounding techno beat of LesAlpx, it makes perfect sense. Those who became fans of Floating Points through his Mojave Desert album will be drawn to Birth, a spectacularly well considered piano solo, where the instrument is swapped for a much more expressive analogue synthesiser. This more musical, and minimal mindset continues with both Sea-Watch and Requiem For Strings. Each track is without drums or percussion, but the elegance of these tracks could be ruined by additional rhythmic layers. As the projects draws to a close the tempo is raised, and we notice influences from nerdy 90's IDM and fizzy juke. There is a strange beauty surrounding Apoptose pt. 1 and 2, but for some these final pieces could leave a bitter taste.
Shepherd has proved once again that he is a true master of his craft, and any criticisms here have been hard to find. The album is rich and expansive but has moments of quiet, confident minimalism that is unrivalled. Many of the tracks are more like symphonies, and as a whole the album reads like a throughly engaging book. If you have not already heard it yet, we recommend that you remedy that as soon as possible.