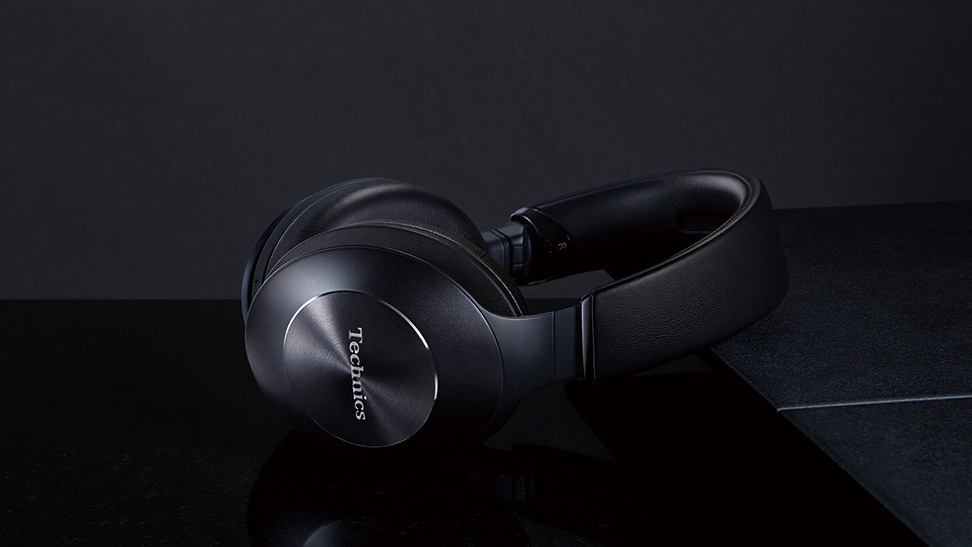 There's an awful lot of competition when it comes to the Bluetooth & noise cancelling headphone market so we're always interested to try out some new blood.
Panasonic-owned Technics are already an established brand in audio circles and boast an impressive pedigree when it comes to audio quality, especially its renowned range of turntables. However, established leaders of the pack such as Sennheiser and Sony have a strong foothold in this area of Hi-Fi so it won't be easy for Technics to grab a piece of the pie.
The EAH-F70N are Technics' premium model of newly released headphones and aim to give high performance in a wired or wireless situation. A 40mm dynamic driver with "newly developed diaphragm" sits in each earpiece with the casing specifically designed to aid airflow for a spacious sound.
Bluetooth connectivity comes in the way of both LDAC and AptX HD codecs meaning that you needn't lose sound quality when wishing to use the cans wirelessly and the inbuilt microphones are compatible with various voice assistants such as Google and Siri. The Active Noise Cancelling (ANC) is adjustable to 3 different modes (low, medium and high as well as off) and the neat "Ambient Sound Feature" of covering the right earpiece pauses audio and amplifies your surrounding noise, allowing you to hear sounds in your area such as people talking to you or public announcements. There are colour choices of black, silver and brown and an average battery life of 20 hours when using the noise cancelling and Bluetooth is pretty reasonable too. A slick and well-designed spec sheet is all very well but the proof is in the audio pudding so let's plug and play!
A handy voice in your ear tells you when you're in pairing mode or when you switch between ANC modes but there are small lights on the buttons that will indicate when these are activated too. The operation is simple enough and we're up and running with a bit of Pearl Jam and their track "The Fixer". The first thing these Technics cans show is a willingness to put forth an exciting and spacious sound which is primarily down to the spritely treble and upper mid-frequencies on offer. Drums are attacking and the multi-layered guitar parts sit proudly amongst the rhythm section. Bass is well defined and tightly controlled despite not being overly deep creating a reasonably well balanced sonic character.
Switching to something with some varied dynamics we plump with Sam Smith's "I've Told You Now" which shows off the EAH-F70N's sense of reach and scale when it comes to dynamics, giving a big and open room sound. It's a great track for showing off detail and conveys emotion which on lesser 'phones doesn't sound nearly as convincing.
Switching to something a little older we try out "Every Kinda People" by Robert Palmer and that midrange shows how pronounced it can be on the steel drums melody line. If you're looking to turn these headphones up you'll need to be wary of this as some with more sensitive hearing may find it a little too forward. However, it's also what gives the EAH-F70N great rhythmical drive so it's not a problem at average volumes.
One of the key features with noise cancelling headphones is obviously how well they perform when trying to block out your surroundings and we're very happy to say that these Technics really do excel in this area. The three different modes available mean that you can tailor it to your choice and when in really noisy environments (the main road outside the shop for example) you're blissfully unaware of all but the most intrusive of sounds.
There really is a lot to like about these Technics – excellent comfort, highly effective noise cancelling and a stylish design. We're also big fans of the Ambient Sound Feature and the fact that when listening via Bluetooth there's a pressure sensor that automatically pauses your music when you take the cans off. Fans of bass heavy music may decide that they need a little more low-end weight behind them but for most music these Technics do a well-balanced job. If you're looking for some headphones that are all about sound quality without sacrificing usability then these very well be what you're looking for. Pop into your local Richer Sounds store and put them to the test yourself.
Learn more about Technics EAH-F70N headphones.
Author: Steve, Bristol store