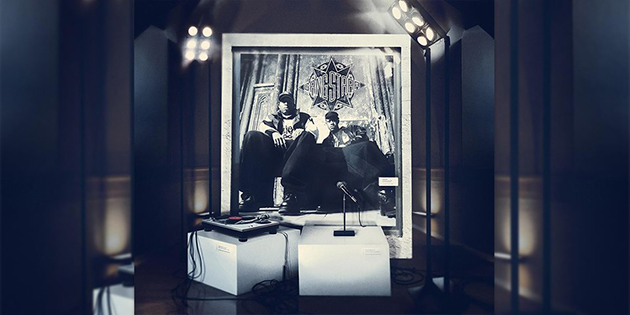 The hip-hop community rejoiced this November as the long awaited post-humous Gang Starr project finally dropped, will One Of the Best Yet prove that they are still one of the best to ever do it?
The original Gang Starr lineup was Guru and DJ 2 B-Down, back in the late 80's, but in 1990 Guru instead teamed up with DJ Premier, creating the Gang Starr we know today. They released several albums in the 90's, but in 2006 Guru explained that the Gang Starr project had come to an end. After his tragic heart attack in 2010, Guru went into a coma and eventually passed a few months later. The pair appeared to have fallen out years before his death, but the hip-hop scene still questions what really happened. The Boston based duo helped to pioneer both the jazz rap, and the New York city hardcore hip hop sound, achieving world wide success with singles such as "Mass Appeal", "Full Clip" and "Above The Clouds" to name a few.
Around 2015, DJ Premier stated that a "posthumous Gang Starr CD/DVD project", as well as a biopic were in the works, but neither happened. Finally in 2019, a new Gang Starr single featuring J. Cole was released, followed by this album. It features rap royalty M.O.P, Q-Tip, Royce Da 5'9, Jeru The Damaja, J. Cole and Talib Kweli. These high profile MC's jumped at the opportunity, doing whatever it took to make it happen (especially Q-Tip who recorded shortly after his throat surgery, and Jeru who offered to write his lyrics on the plane home from his fathers funeral in Chile). Each brand new beat has been crafted by Premier, and Guru's vocals were recorded between 2005 and 2009. These were purchased from John "DJ Solar" Mosher, who Guru worked with towards the end of his life, and in the 18 months that followed Premier put the pieces together. Regardless of how the duo's split was presented by the media, it is clear that these appellants were handled with great respect. In a recent interview, Premier speaks of a daily studio ritual involving a cherished photograph, sage burning, and the kissing of a portion of Guru's ashes that were given by his family. The production process was the opposite way around than before, instead of Guru writing to the beats, the music had to fit the acapellas; Premier clear did not take this responsibility lightly.
Nostalgia hits instantly, the intro track features a live recording of Gang Starr material, and what sounds like thousands of people rapping along as multiple classic Premier instrumentals drop in and out of each other. The first full track we hear is the menacing "Lights Out", Premier's vibe clearly following Guru's energy 'ever since a shorty I was hot headed and angry/and mad complex wouldn't let nobody change me'. The M.O.P feature makes perfect sense, and their rugged vocals are the icing on the cake. There are more harder beats too, like the moody strings on "Hit Man", but those hoping for some jazzy vibes will also have plenty to choose from. Fans of Gang Starr's early material will be glad to hear that much has stayed the same, each instrumental pays homage to their former glory; if anything they are a little more polished ("Bad Name", "What's Real" and "Family and Loyalty" each sound like vintage Gang Starr).
These softer moments are emotional and heartfelt, none more so than the repetitive 'diamonds are forever' lyric from Guru on "Family and Loyalty". J. Cole adds to this sentimental piece with bars such as 'Guru flows forever' and 'between the heavens and the seven circles, where some dead homies may be rest I plan to resurrect a few'. The second half of the album is noticeably weaker, and the throwaway, minute-long "Bring It Back Here" probably should not have made the cut. Their iconic track "Militia" is brought back to life once again for Pt. 4, a decent enough track but maybe Premier should know when to quit.
Unlike many hip-hop legends still releasing music today, Guru's mid 2000's flow sounds as fresh as ever; as do Premier's productions. On "NYGz/GS 183rd (Interlude)", we hear about how rappers were not admired in the way they are now, suggesting that Guru thoroughly deserves his legendary status. We have to agree, these two have been so influential on modern music and it is a pleasure to hear their legacy living on. Whether you're a diehard hip-hop fan or a casual listener, this one is well worth checking out.