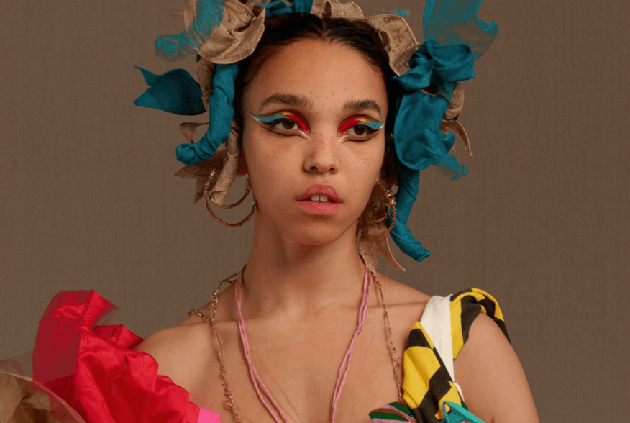 Four years on since we reviewed her debut album, FKA Twigs returns with another rule-breaking alternative pop album. We thoroughly enjoyed her last project, and could not wait to get stuck into MAGDELENE…
The album's title is taken from the New Testament and while Mary Magdalene is referenced a few times, this is far from a Christian pop album. The themes are likely to have been inspired by her education, as FKA Twigs was taught in a Catholic school. In the title track, she sings 'I do it like Mary Magdalene' (which could be a pop at the British tabloids), and on fallen alien, a title that instead suggests fallen angel, there are more religious sentiments 'In this age of satan/ I'm searching for a light to take me home and guide me out'. Health concerns and heartbreak may have inspired much of the songwriting, but these themes are often well hidden within her exquisite poetry.
One of the first things we notice, before even pressing play, is the lack of sentence case for the track names, something prominent in the Soundcloud rap scene. We recently reviewed DaBaby's latest album, where he instead opted for the use of capitals only, something that FKA Twigs has done for this album's title. This creative vision is apparent throughout every aspect of her artistry, and her innovation knows no bounds. Genre-bending, alternative pop acts such as Kate Bush and Björk have clearly made an impact on more than just FKA Twigs' music; their visual influence may have also given her the freedom to be as weirdly wonderful as she is. Their influence is most apparent on the album's opening track "thousand eyes", which boasts an almost medieval church music melody, repetitive chanting and wildly gritty bass; an incredibly bold introduction. MAGDALENE is still full of innovation however, and is possibly even more theatrical than her earlier works. She is a true audio-visual artist and dancer, with self-directed, awe inspiring live-shows and videos to match.
Many of the album's tracks jump between various moods, often from chaos to calm, or rage to regret in an instant. For example the avant-garde, rock hard beats on "home with you" don't last long, and when the storm clears the track explodes into a heavenly array of woodwinds; you almost forget that you are listening to the same track. This happens again on "mirrored hear", and on "sad day", a classy, brave composition which breaks into a club ready beat early on, only to retreat into another delicate masterpiece. Right in the middle of the album she opts for a more conventional song (by her standards anyway), one that is likely to be MAGDALENE's most popular. It's title has yet another biblical reference, "holy terrain" is a collaboration with Future and is the album's first r&b-rap crossover piece.
Her first album had lots of influence from the urban music scene, and here her voice could hold its own against any of the current R&B chart toppers (although we doubt she has even considered the tracks commercial viability), and Future can't help but sound a little weak and unnecessary by comparison. The album's semi-titular "mary magdalene" follows with another of the album's more palatable beat patterns, but nothing is ever normal when FKA Twigs is at the controls.
Finally, "cellophane" features achingly heartfelt vocal delivery and with each heavy breath you can almost hear the tears rolling down her face. The album's last few seconds close with what we might assume is a reference to the media involvement in her relationship with actor Robert Pattinson: 'I don't want to have to share our love/I try but I get overwhelmed, when you're gone I have no-one to tell/they're waiting, they're watching, they're watching us, they're hating/they're waiting and hoping I'm not enough'.
MAGDALENE once again showcases songwriting and production like nobody else, cementing FKA Twigs' place at the top of modern pop. She is a rare jewel, and we are lucky to see an artist of this calibre every few decades. The album may not always be the easiest to listen to, but that is not why you put on one of her records.